TteSports Knucker Plunger Gaming Keyboard Review
---
---
---
Peter Donnell / 9 years ago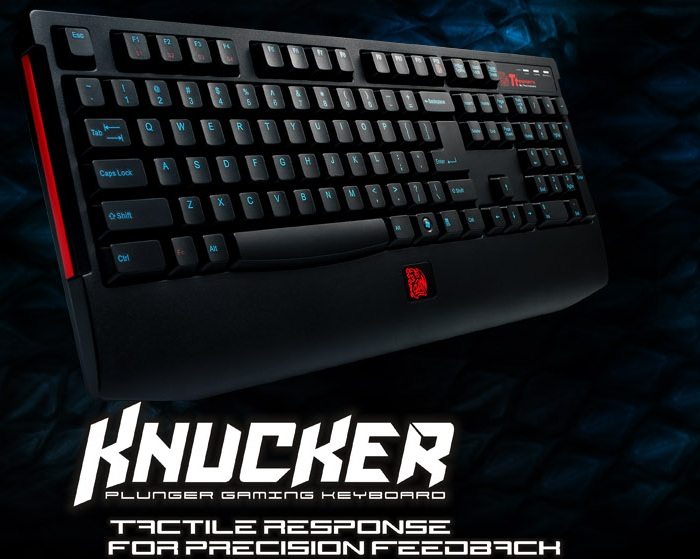 This week I have been putting the Knucker gaming keyboard from TteSports to the test, but this one is a little different to a lot of gaming keyboards on the market as it sets to combine some of the benefits of membrane keyboards with some of the benefits of a mechanical keyboard, yet its going to do it all for a very reasonable price tag, I aim to find out if it's managed to succeed.
A quick search on Google will find you the Knucker available for around £35 including delivery and that sounds like pretty amazing value for a gaming keyboard, especially one from a well-respected brand such as TteSports. Of course for those of you who haven't heard of TteSports before, they are the gaming orientated branch of Thermaltake, who are one of the most popular chassis and component manufacturers on the market, but their gaming brand TteSports have been working at the grass roots level within the pro gaming and eSports scene, even sponsoring a few gaming teams along the way such as Team Infused.
TteSports are building a firm fan base and a good reputation thanks to their strong affiliation with pro gamers, eSports and of course the millions of fans who follow the sport, attend events and of course play the games themselves. Gamers always want the best peripherals to enjoy their game with and if they're priced fairly and performance is up to scratch, then a product can get very popular very quickly, so its important to get these things right.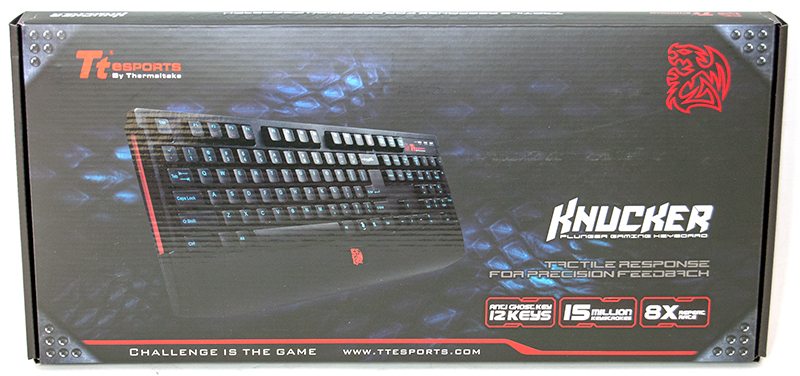 The Knucker comes nicely packaged in the usual Thermaltake / TteSports colours and for a budget friendly product like this its quick a well design package. There are a few logos on the box as well as a few major features such as the anti-ghost, long key lifespan and repeat rate.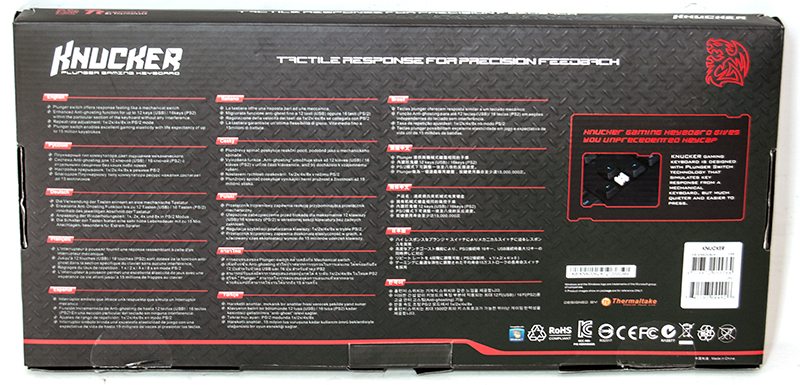 Around the back of the box we have a few more details about features such as the plunger switch, anti-ghosting, repeat rate and key life expectancy, but we'll go into more detail on those shortly. These details are broken down into 15 international languages across the back of the box.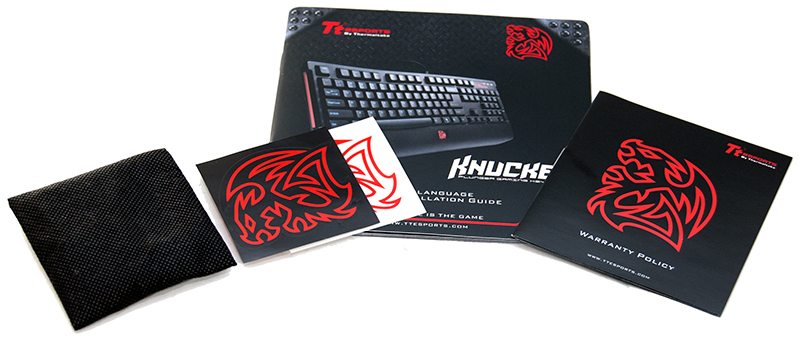 In the box I found a fabric bag containing some extra components, two stickers, the installation guide and a warranty booklet.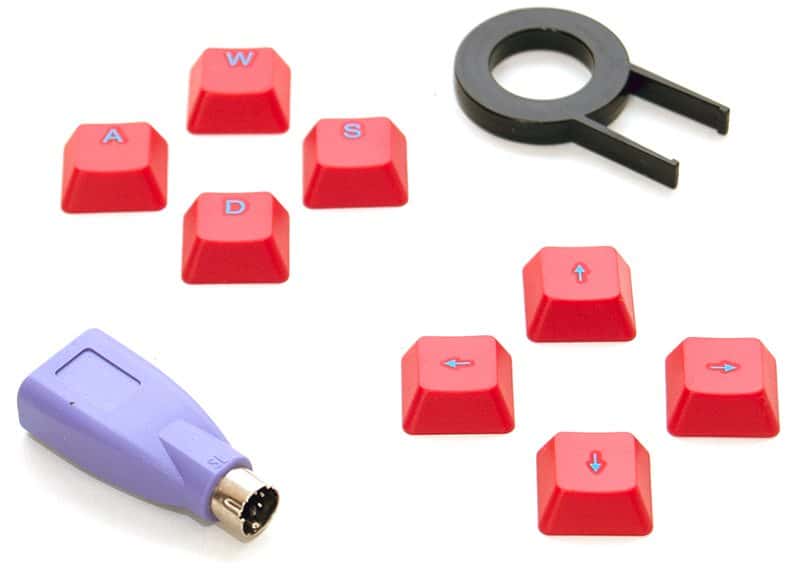 The extra components include a key cap remover, PS2/USB adaptor and 8 red key caps for the WASD UDLR keys.

The keyboard comes with a nice quality black plastic finish to the main chassis and keys, this is offset by a somewhat contrasting sky blue key lettering, some of which also feature red key highlights, it certainly makes the keyboard standout and while it does look a little strange at first, I quite like TteSports colour choices.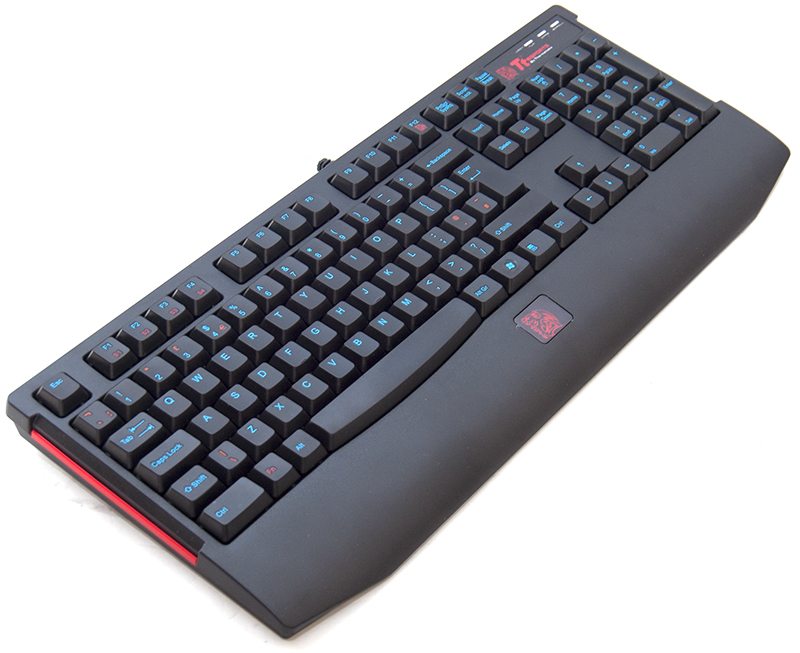 The keyboard comes with a permanent wrist wrest that offers a good typing position, its of a good size too but not so much so that it would over intrude on your desk space.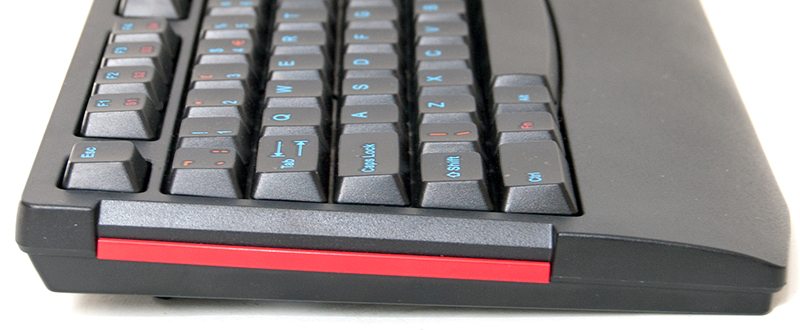 Along the edge we find a stylish little cutaway and a small red plastic strip, doesn't server any practical function but it does add an extra touch of style to the overall design.

The keyboard comes hardwired, but it does feature a good quality braided cable that has a gold plated USB connection.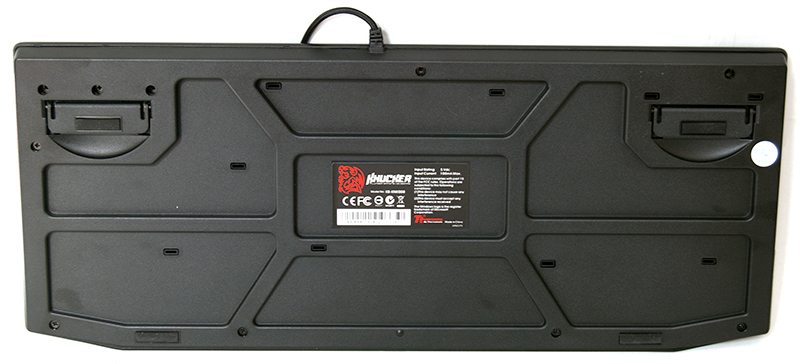 The underside features four small rubber grips, as well as two wide and fairly durable fold out feet, perfect for adding a little extra angle to your typing position.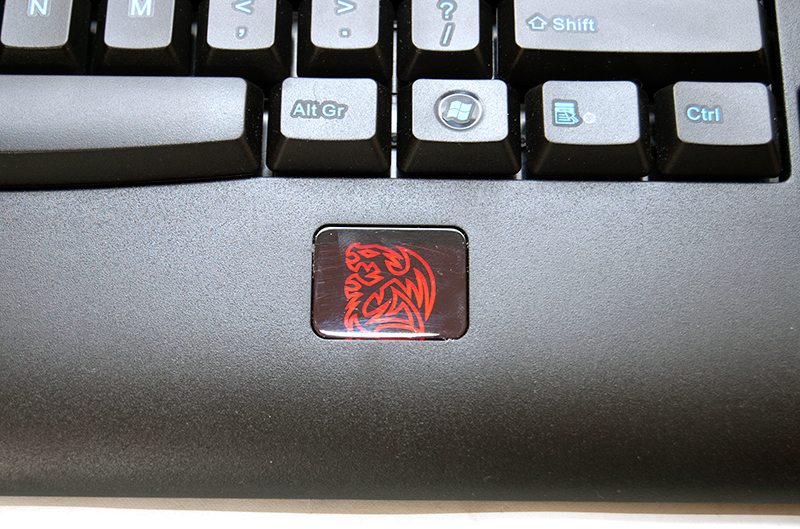 One super cool feature of the keyboard is the dragon logo, press fn + F12 to awaken the dragon (make it light up).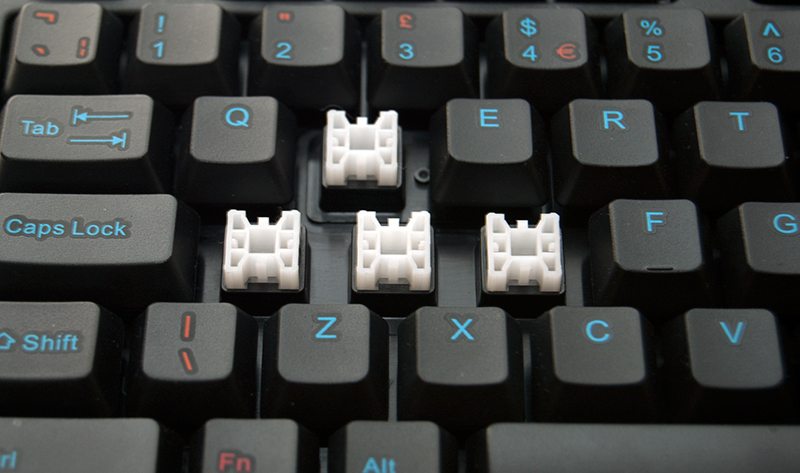 Here we can see the "plunger" key mechanism, lets not fool around, this is still a membrane keyboard, it just has a fancy half mechanical mechanism over the top.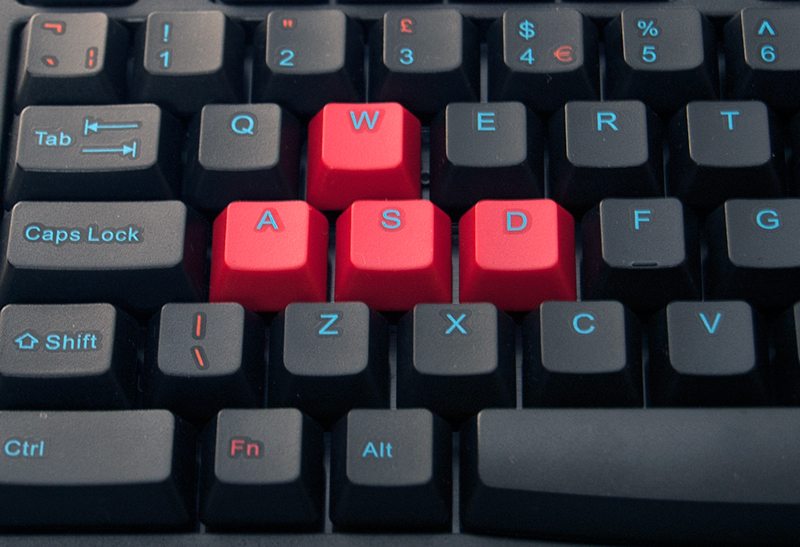 Here we can see the custom red key caps, which do look fantastic and key with the red / blue key colouring of the other keys, but offer a much easier way of spotting those most vital gaming keys at a glance.

Setup & Installation
Setup of the Knucker was quick and easy, of course I was able to use it via USB but I think its great that they've included a PS2/USB adaptor to allow compatibility with older connections. Windows found the drivers straight away and it only took a minute to get the whole thing setup and ready to go.
Gaming Performance
I've been using this keyboard for a couple of days now, so it's helped me nicely through my play through of Bioshock and a few adventures in Planetside 2. tactile response from the keys is really nice to use and while it's not quite as lush as a fully mechanical key, it's better than that of a typical membrane switch, given that the device is technically engineered to be somewhere in the middle of both switches, its easy to understand how it feels like a halfway point in terms of performance, this is of course no bad thing.
The keys are snappy and responsive, perfect for a good few games on any fast paced FPS, or of course any game that requires a keyboard, 12 anti ghost keys means you'll never suffer any lag unless you're a 20 fingered Starcraft wizard, but overall it certainly performs far better than your average membrane keyboard.
General Performance
This keyboard is for lack of a better word, nothing fancy, it doesn't feature a mass array of multimedia keys, or macro keys, in fact, it doesn't include any of those things, about the only flair you will find here is the light up dragon logo and the changeable key caps that add a nice touch of colour to the design. What it does feature however is enough for 95% of users, it's a full size keyboard, has a good wrist rest and it's really nice to type on, I've been working on this for a couple of days and it's certainly more comfortable typing experience than your average membrane keyboard.
I've been playing around with a few TteSports products recently, and one thing keeps coming back to my mind each and every time I try a new product of theirs, how on earth can this be so cheap to buy!? It makes good use of lightly textured surfaces, well finished edges and general ergonomics to make a product that is both a pleasure to use and that is visually appealing, although the blue lettering on the keys is likely not going to be to everyone's taste.
Plunger keys are also a little bit of marketing nonsense, this is just a membrane keyboard at its heart, but it is a very high quality one and the sensation is somewhat close to that of Cherry MX Black switches, but with a lighter force required (similar to Cherry MX Red) and with only a fraction of the noise, similar to that of any other membrane keyboard.  So it takes some of the best qualities of each and that leaves a product that performs, feels and is priced between that of a membrane keyboard and a mechanical one.
The keyboard is incredible value for money and for those who want something that is straight forward, uncomplicated and stylish, typically someone who will be doing more web browsing, work and typing in general, then this is the perfect keyboard for you. Yet on those evenings when your done with your work and you want to fire up your favourite game for a couple of hours, the Knucker isn't going to let you down one bit. Of course if you want something a little more gaming orientated with Macros and other multimedia functions you're going to have to look elsewhere in the TteSports range.