TteSports Saphira Gaming Mouse Review
---
---
---
Peter Donnell / 9 years ago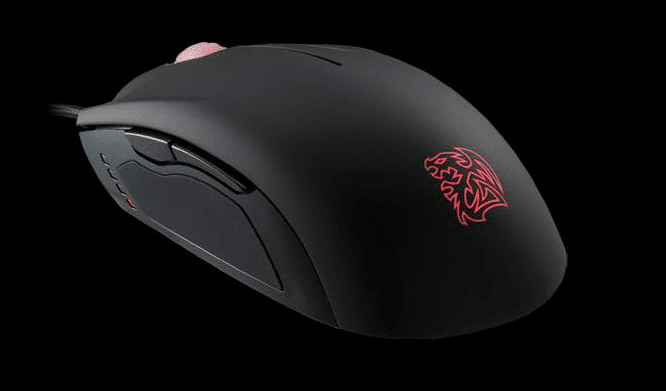 Competitive gaming is big business, quite literally big business too as peripheral brands, pro gaming teams and their related sponsors fight for the lime light much like they do in any other sports. Year on year were seeing huge advances in the popularity of eSports and this has been backed up by an even more robust range of gaming peripherals than have ever been seen in the PC industry.
Go back to the early days of PC gaming and brands like Logitech and Microsoft ruled the roost in terms of keyboard, mice and headsets, yet these days there are countless companies offering the latest and greatest components that are tailored seemingly to any modern gaming requirement. TteSports are one of these brands and in recent years they've been going from strength to strength in pushing eSports and building a solid fan base for their gaming peripherals.
Today we're looking at the Saphira gaming mouse, something that has already gone down well with many eSports players, as well as TteSports sponsored pro gaming team "Team Infused".  Most notably though is that this mouse is fully endorsed by Starcraft 2 legend "White-Ra" and if its good enough for him, then its got to be something a little special. Yet for all its fame you would think this would be an expensive product, but priced at around £30 from many online retailers it's far from pricey, but lets move on and see how the performance holds up on this budget friendly offering.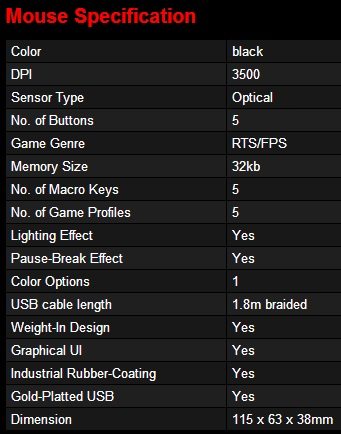 As you can see from the specs above, its well equipped, but not over the top in terms of features. It's got a high DPI, some straight forward macro features, 5 control buttons and a few LED lights, so about on par for this kind of price range.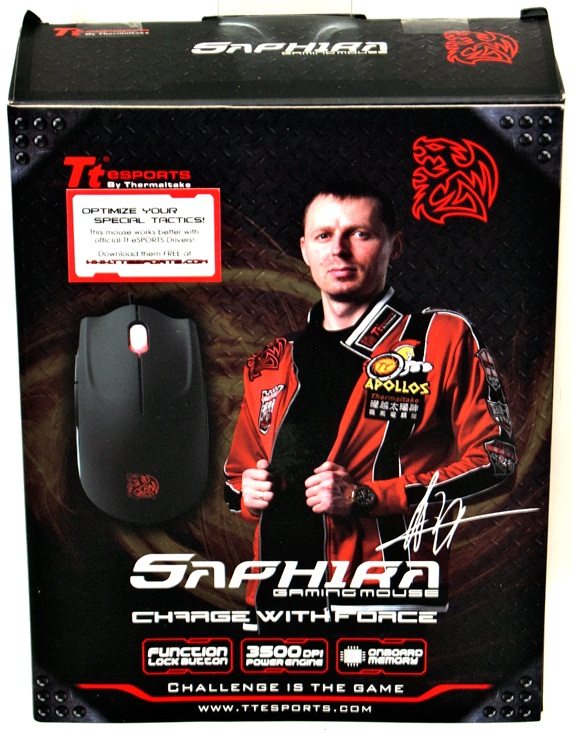 As you can see on the front of the box we have a picture of White-Ra, his endorsement is all over the box, literally. We also have a few feature highlights such as the function lock, 3500 DPI sensor and onboard memory.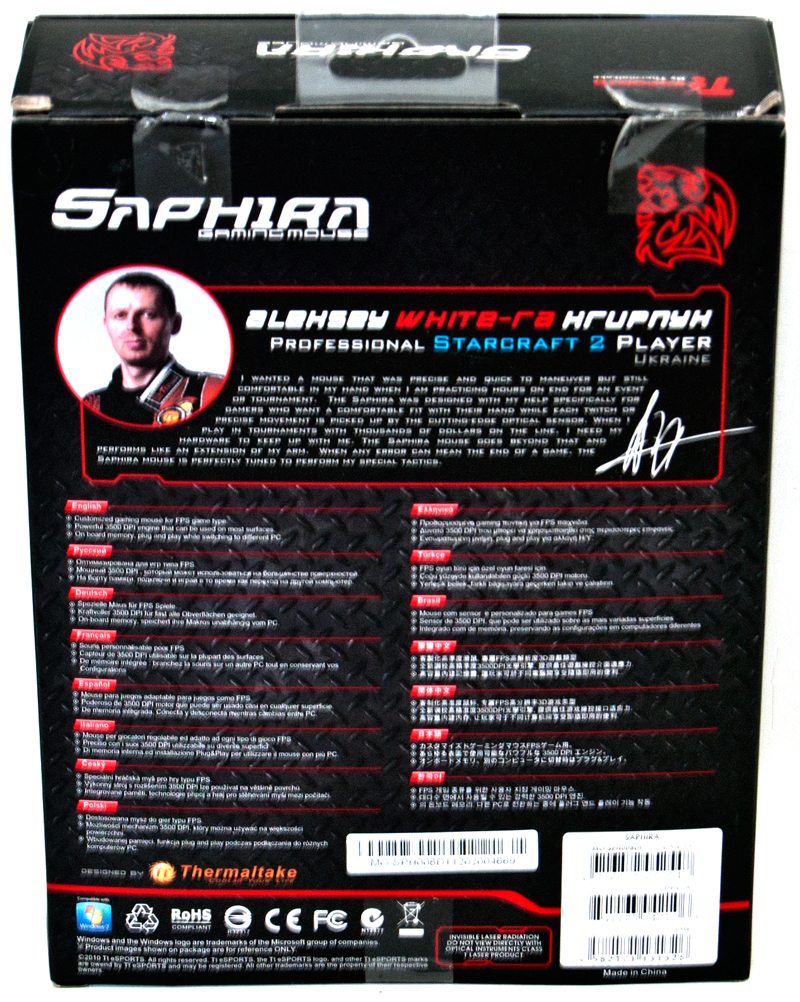 Around the back we have a sizeable statement from White-Ra, as well as the multilanguage breakdown of some of the mouses features.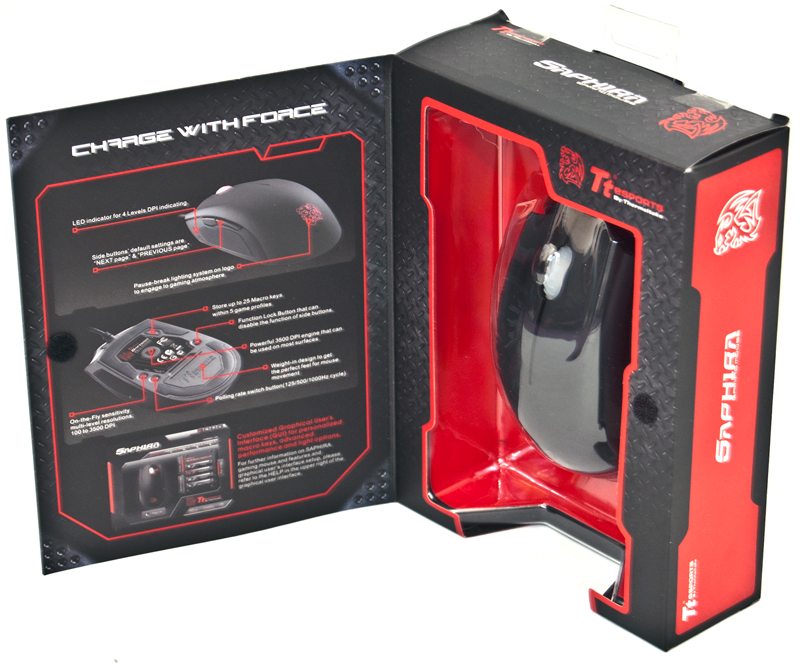 The box also features a velcro panel that allows us to see some more detailed diagrams of the mouses feature set, as well as our first look at the mouse its self, so far so good

In the box I found the usual instruction book lets, the mouse its self and a nice quality protective pouch. Given the price of the mouse I'm amazed that it came with such a well designed box and any extras at all, so this all a very welcome bonus.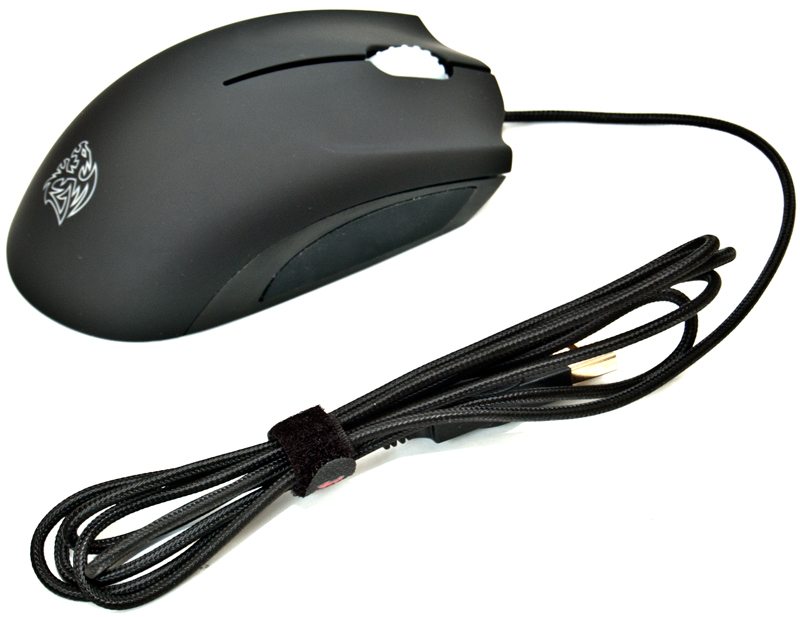 The mouse is hard wired with a 1.8m braided cable, an attached velcro strip to keep the cable tidy and a gold plated USB connector.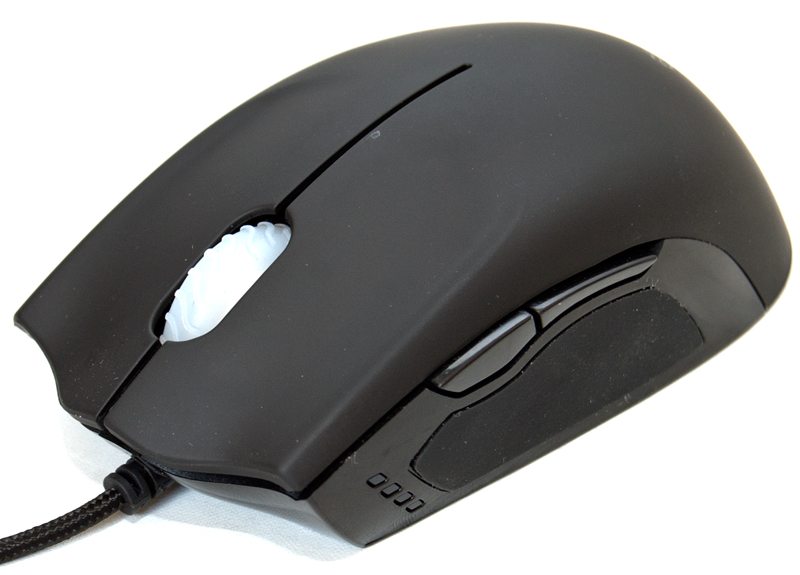 The left side of the mouse features four LED light indicators for the DPI setting, the forward and back toggle switches and a good size soft rubber grip area.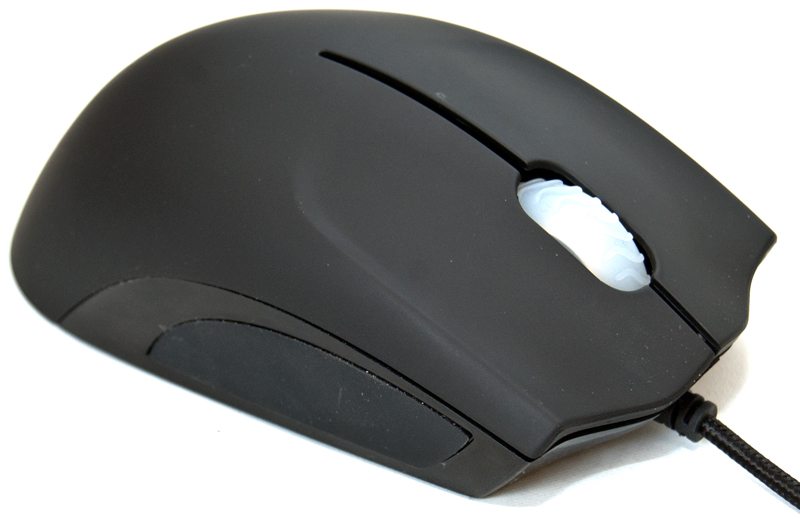 The right side features similar styling to the right, albeit without the buttons, but does feature another soft rubber grip.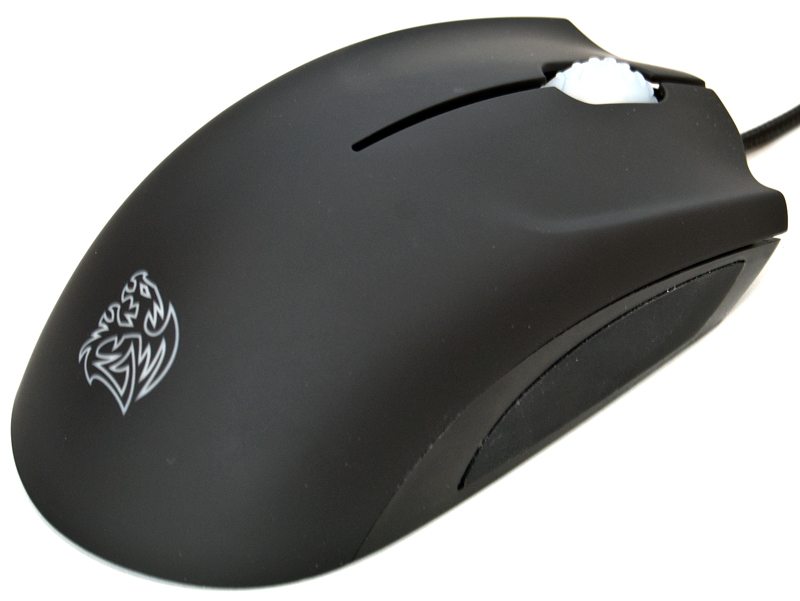 Each mouse button is heavily scooped and contoured and this gives the mouse great ergonomics for right handed players, it also gives a solid resting position for your fingers.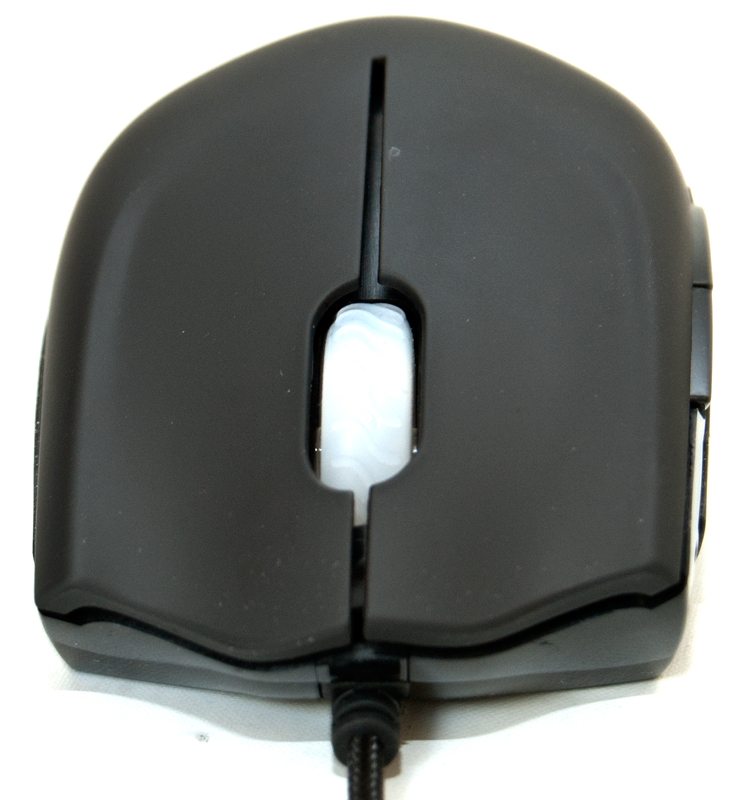 The switches on the mouse feel really nice and responsive, offering up a satisfying tactile click and feedback. So too does the scroll wheel which features a nice rubber grip coating, plenty of tactile steps in its rotation and its also super easy to turn, allow you to rapidly scroll through your web pages, or of course your selected weapons.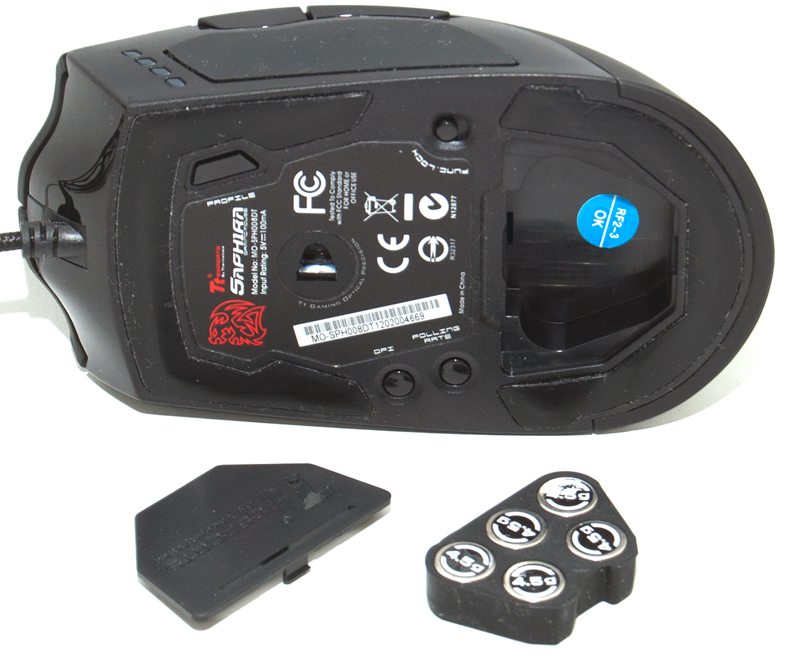 The underside of the mouse is full of features, first we have two absolutely huge Teflon surfaces that should offer plenty of glide, a profile select button (configurable from software), DPI button, polling rate button and a function lock on/off switch. There is also a removable panel that houses five 4.5g weights, I can't remember the last time I found a mouse that had this many underside features! Best not forget the 3500 DPI optical sensor that is sat in the middle.
Setup & Installation
Setup and installation were quick and easy, the mouse is fully plug-and-play compatible, and because the bulk of its features can be toggled from the mouse its self, you need not worry too much about the software for general day to day use. The included software will allow you to customise DPI, Macros and a few lighting features to your liking, it's not overly complex and it goes a long way to adding extra value to the mouse.
Gaming Performance
The 3500 DPI optical sensor is remarkably accurate in frantic gameplay and I never once found my self doubting anything but my own ability, a few hours of Planetside 2 and Max Payne 3 certainly left me happy with the mouses gaming performance. I'm not one for Starcraft II, lack of talent might be to blame there, but a quick spin on Torchlight II was good enough for me to see why White-Ra is happy to endorse this mouse and having the additional macro features are always welcome too.
General Performance
The first thing that really stands out about this mouse is how well it glides, those large Teflon surfaces really work well on a soft and smooth surface such as the Zowie G-CM or TteSports Dasher. It's just as comfortable on harder fabrics too but I guess that's just a matter of personal preference. The button layout is nicely balanced and overall ergonomics are great. The fact that this mouse features an adjustable weight system makes for an overall enjoyable experience, or at the very least one that can be slightly adjusted to your preferences.
I am simply blown away by the Saphira, is it the best gaming mouse on the market today? Not really no, does it have one of the best optical sensors on the market? Not really, does it have the most features and most extensive customisation, best software and anything else on the market? Again no not really, but there is one thing that I just can't shake from me head, it's price.
I must have googled this 6 times to confirm, I even contacted TteSports to confirm the RRP and they say its typically around £35, yet I've found many placed online where you'll get change from £30 after shipping. Which brings up some very interesting conclusions about the mouse, what else can you find for this money? Some of the budget end MadCatz products, some older Logitech stuff and the Ozone Xenon and at a push the Mionix Saiph, none of these come close to the Saphira in terms of features and quality. None of the competitors offer weight customisation, but none offer a full range of custom macros via software, customisable lighting, or DPI, polling range and profile changes directly from the mouse its self.
I'm a firm believer that this is by far the best mouse you can buy for under £40, with performance and features that sit between the mice I've just mentioned and more mid range offerings such as the R.A.T.5, Sensei, M90 mice, but with a price tag below most companies budget models. I'm happy to award this with our Bang for Buck award for many obvious reasons. Its not just a good product because its cheap, its a great product and its cheap.