Tt eSPORTS Shock 3D 7.1 PC Gaming Headset Review
---
---
---
Peter Donnell / 8 years ago
Performance
---
I've been looking forward to getting this headset plugged in and tested, not only because it looks like it can perform great, but because virtually all headsets I've tested from TteSports in the past, such as the Dracco, Chronos and Level 10M, to name but a few, have left me thoroughly impressed. Fortunately for TteSports, the Shock 3D is no exception and from the very first few seconds of music playback, I knew things were going well.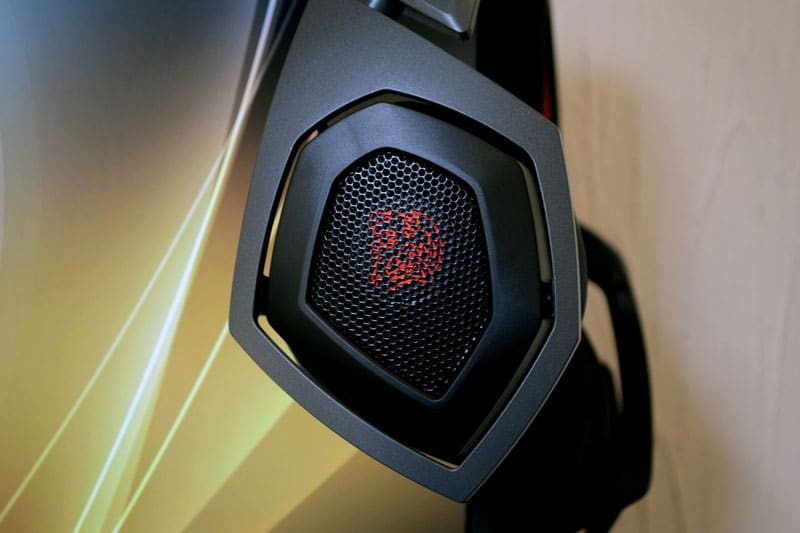 The headset gives an immediate wow factor just based on volume alone, at 100% volume you're feeling the strain a little, certainly not where you would want to be listening for extended periods of time as you would damage your hearing, but if you're trying to boost a quiet audio source, it's nice to have some extra range when you need it. The EQ buttons take this even further and with the most boosted mode enabled, I couldn't get past 75% before I had to save my ear drums from destruction. What impresses me the most is that no matter how loud I push the volume, the headset remains crystal clear. I often find loud volume on headsets equals a harsh and out of balance sound, but that simply isn't the case here.
Bass performance is great, there's a detailed low-end thump, especially so with some of the EQ settings on offer. Need to focus on the higher end of the EQ range for competitive gaming? Just tap the EQ button to flick through the four presets and you'll find one that suits your needs. I usually find the EQ buttons on headsets leave a lot to be desired, but all the modes on the Shock are usable and offer tangible benefits to the audio, making it great for movies, music, gaming and voice chat.
Picking through my music collection, I was impressed by how well the headset handled heavy metal music styles, often high volumes, excessive bass and wailing guitars can cause headset drivers to falter a little, but there were no issues here. The sound is a little unrefined, in the sense that a blind study would likely have you picking a set of Sennheiser over these, but when compared to similar priced gaming headsets, the Shock is likely to score a lot of favourable votes.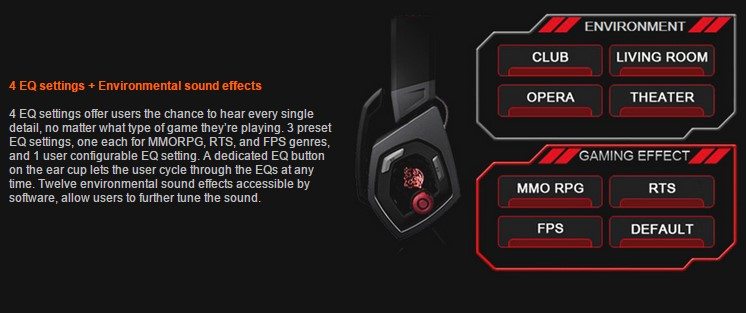 Gaming performance is sublime, lots of detail and clear sound for both game and chat audio. The only gripe is that the sound is a little direct, so you don't get that big open soundscape, although the surround feature does improve this a lot, I think the punchier sound of the 2.0 mode is better, but there's a range of 3D environment settings that may suit your needs; no doubt everyone has their own preference here. The microphone is bright and clear, whilst doing a good job of not picking up too much, if any, background noise. The fold up to mute function is also a welcome bonus, but it would have also been nice to have independent chat and primary audio volume controls.