Tt eSPORTS Shock 3D 7.1 PC Gaming Headset Review
---
---
---
Peter Donnell / 8 years ago
Introduction
---
TteSports products have been a popular choice with gamers around the world for many years now, the companies unrelenting focus and dedication to the gaming scene has seen them produce some of the best performing and some of the most competitively priced peripherals on the market today and hopefully, we'll be seeing a repeat of that again today. I have in my hands the new TteSports Shock 3D Gaming Headset, which comes with all the usual bells and whistles you would associate with a gaming headset. There's virtual 7.1 surround, customizable EQ, built-in volume controls, a fold away auto-muting microphone and more; all of which should appeal to both casual at home gamers and the eSports community alike.
The SHOCK 3D 7.1 headset offers users true in-game immersion via enhanced 3D virtualized surround sound. Giving users one of the best spec'd headsets on the market. The 3D 7.1 virtualized surround sound technology is the first on the market to offer a 360° feel that most traditional 5.1/7.1 headsets can't. 4 EQ settings offer a way to fine tune the sound for any game. The microphone automatically mutes when it's pivoted up. LED accents further add to the gaming atmosphere of the headset.
Check out the official product trailer below!
https://www.youtube.com/watch?v=UZeHe9B3Ltk
The Shock 3D 7.1 is powered via USB, features a pair of high-quality 40mm drivers and an omni-directional microphone.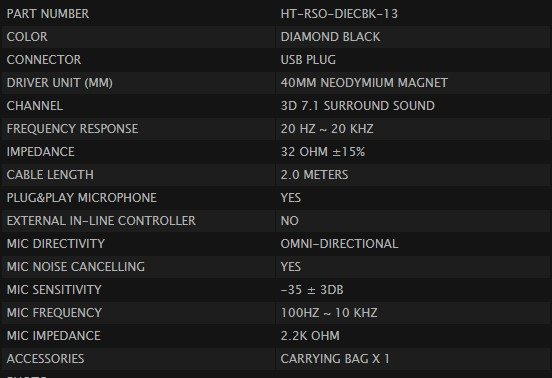 The packaging is nicely designed, with a good photo of the headset on the front, as well as a peak-window to show off the actual design. A few of the major features are detailed on the front of the box, but let's get it out of the packaging and take a closer look ourselves.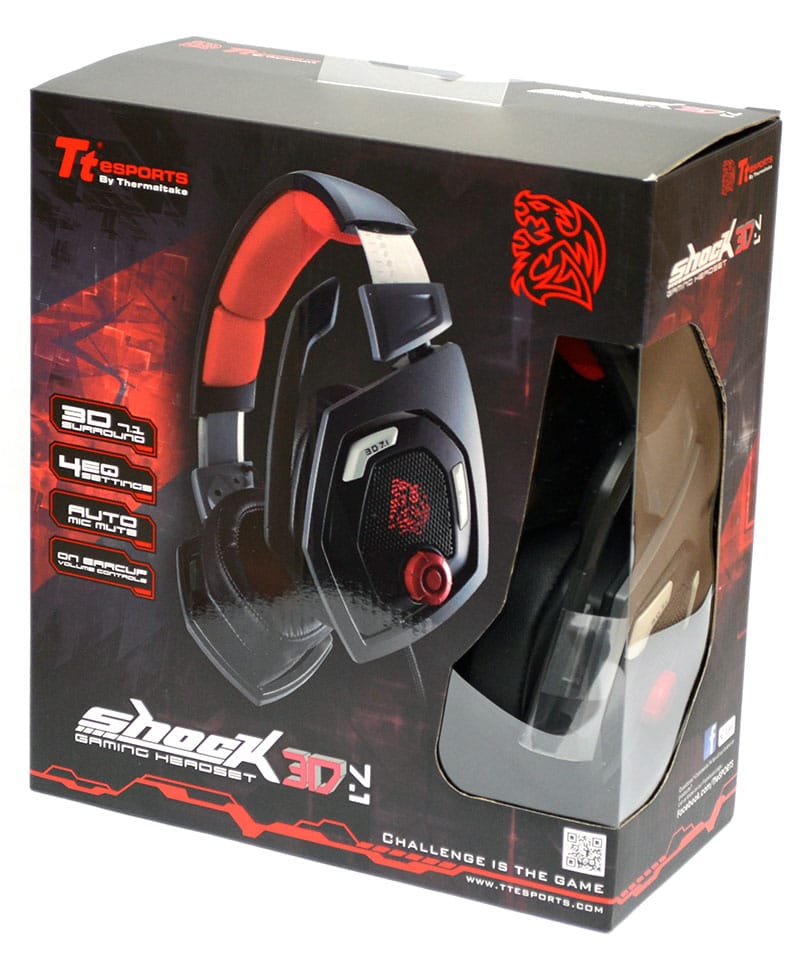 In the box, you will find a hard-wired headset, a protective carry pouch and a small collection of documentation.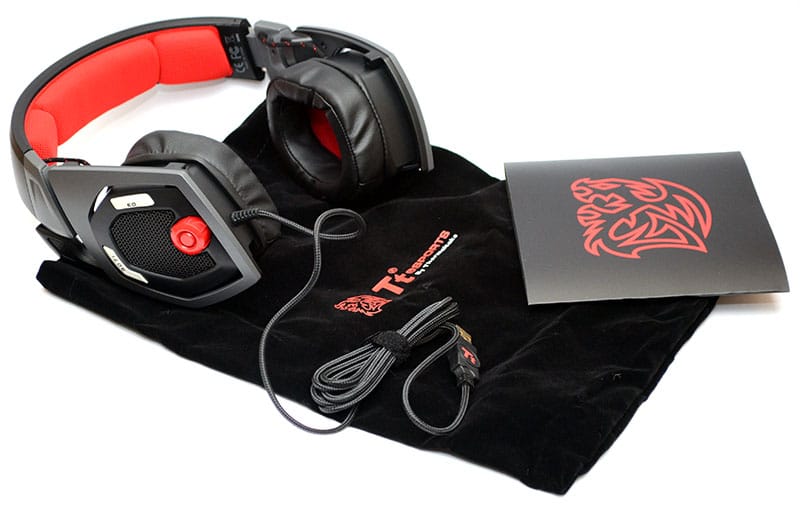 The cable is 2 meters long and comes with a good quality black braiding, a custom molded and gold-plated USB connector; all of which should help improve the lifespan of the components.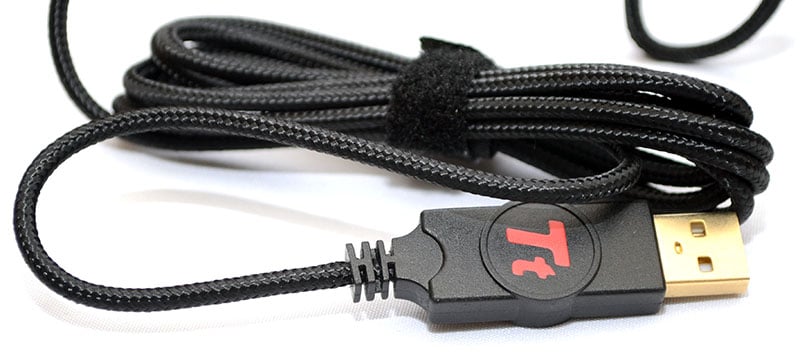 The headset its self is really nicely design. the black and red theme may not be to everyone's taste, but there's no doubt that it has been designed to appeal to a gaming audience.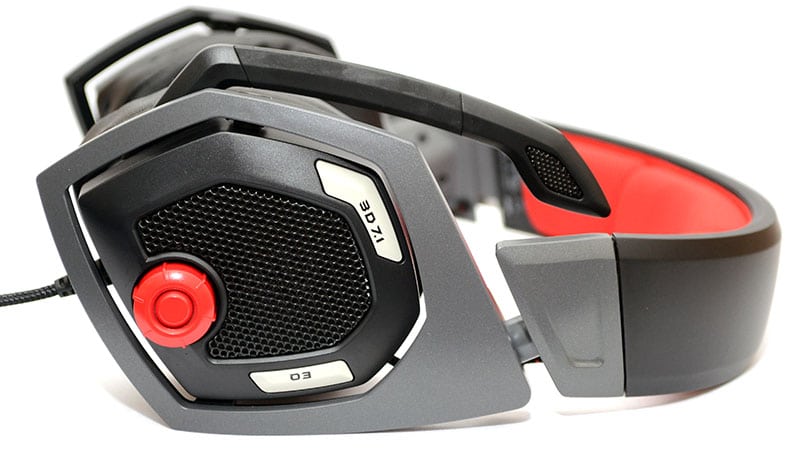 The left ear cup is fitted with a fold up/down microphone boom, as well as an infinite turn volume dial, the 3D sound button and the EQ control button; everything you need is within easy reach.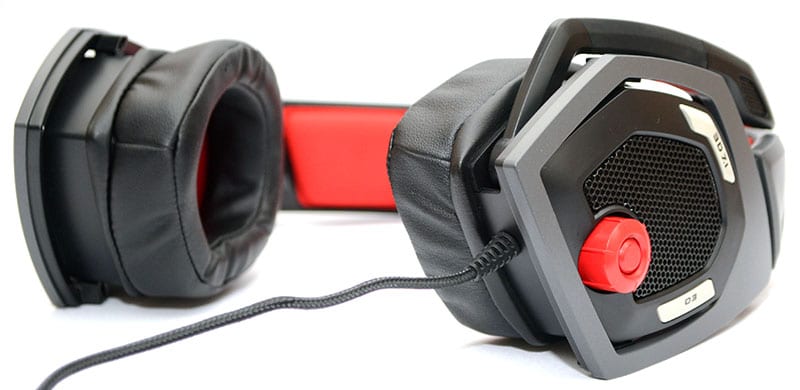 The microphone is straightforward enough, just fold it down when you need to use it. The centre part of the boom is a flexible rubber, which helps you adjust it, but also helps prevent it from snapping should you catch it on something. When you want to mute the microphone, just flick it back up out-of-the-way and you'll be able to speak in private again.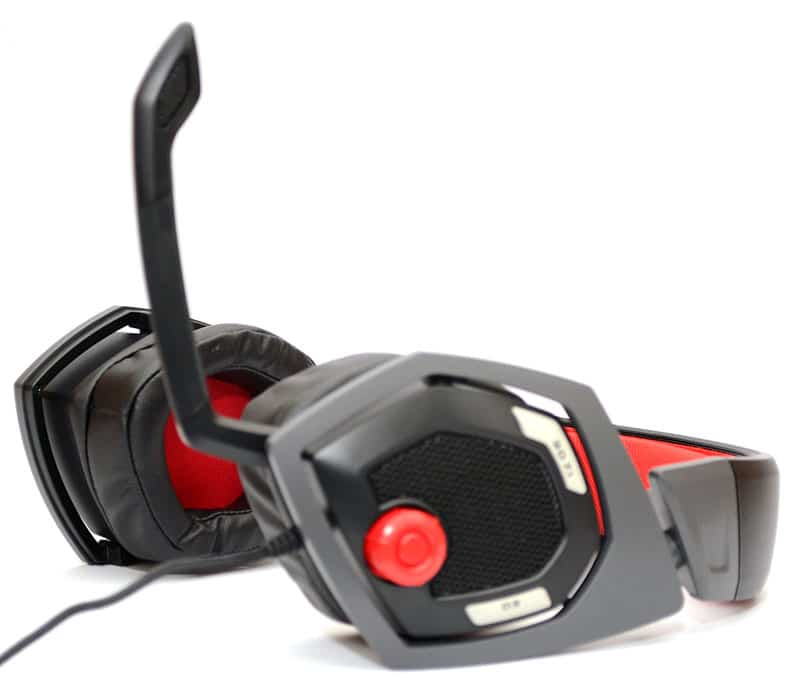 The right ear cup is the same design as the left, albeit without the extra control buttons.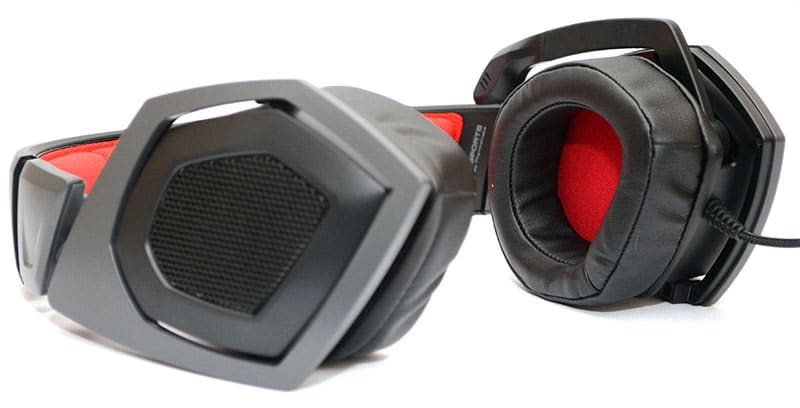 Both ear cups can be rotated inwards, this is great for transporting the headset as it's easier to store, but it's also help provide a better fit over your ears or around your neck between games.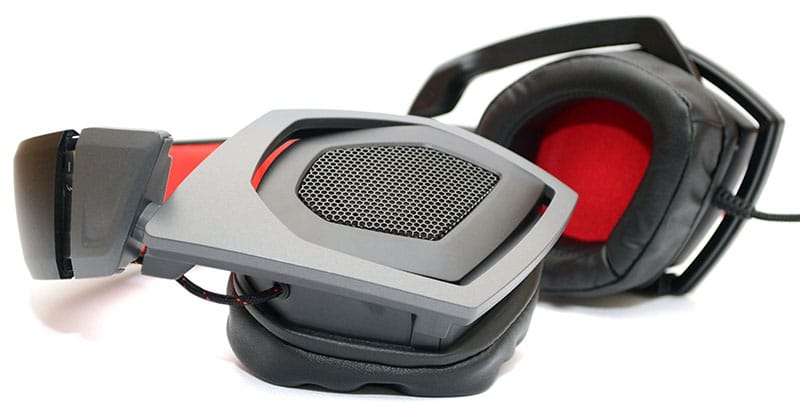 There's a durable metal slider on each side of the headset, allowing you to tailor the fit even further.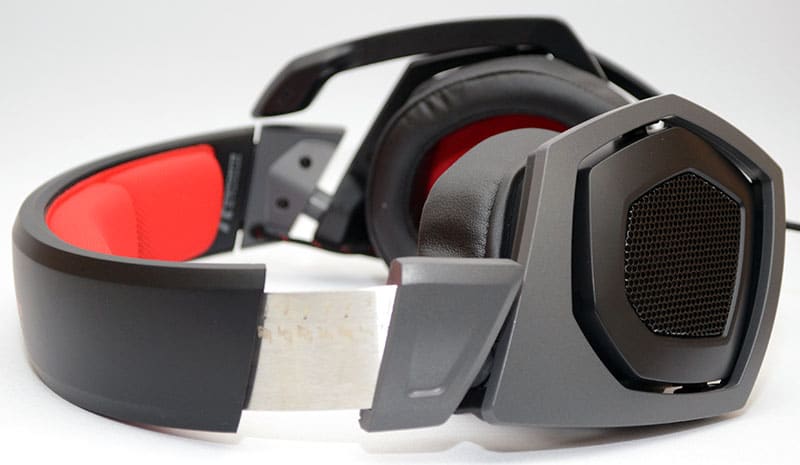 A three-section memory foam padding provides extra comfort for long gaming sessions and also helps prevent the headset from slipping off your head in the heat of battle.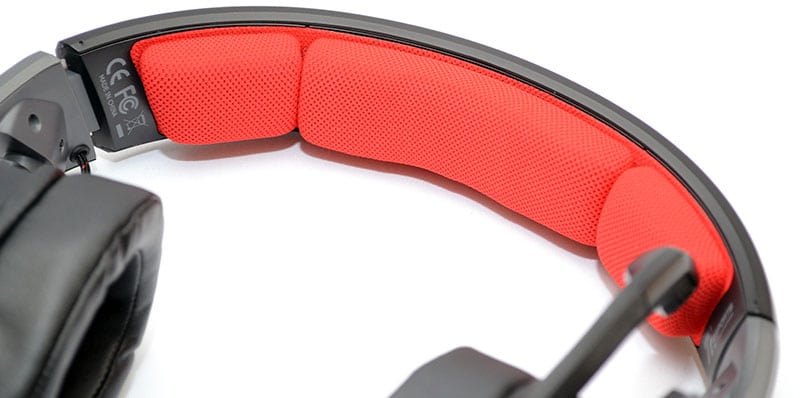 The matte finish headband looks nice enough, with a small Tt logo in the top centre.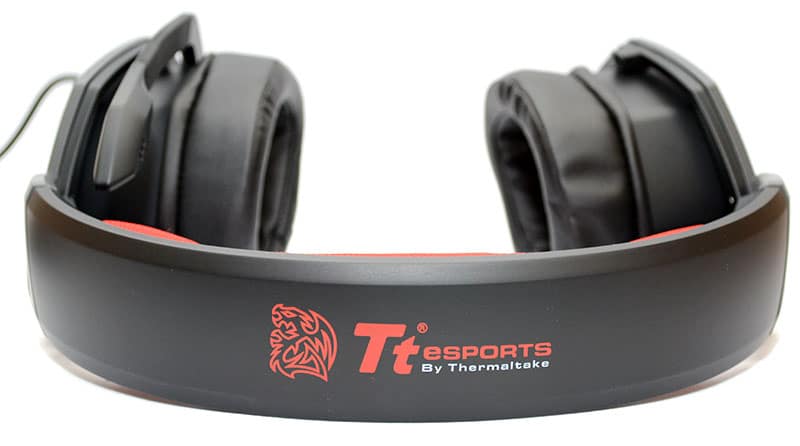 There's no doubt that this is a great looking headset, although if I could make on adjustment, it would be that the volume dial plastics look a little cheap and could be improved upon.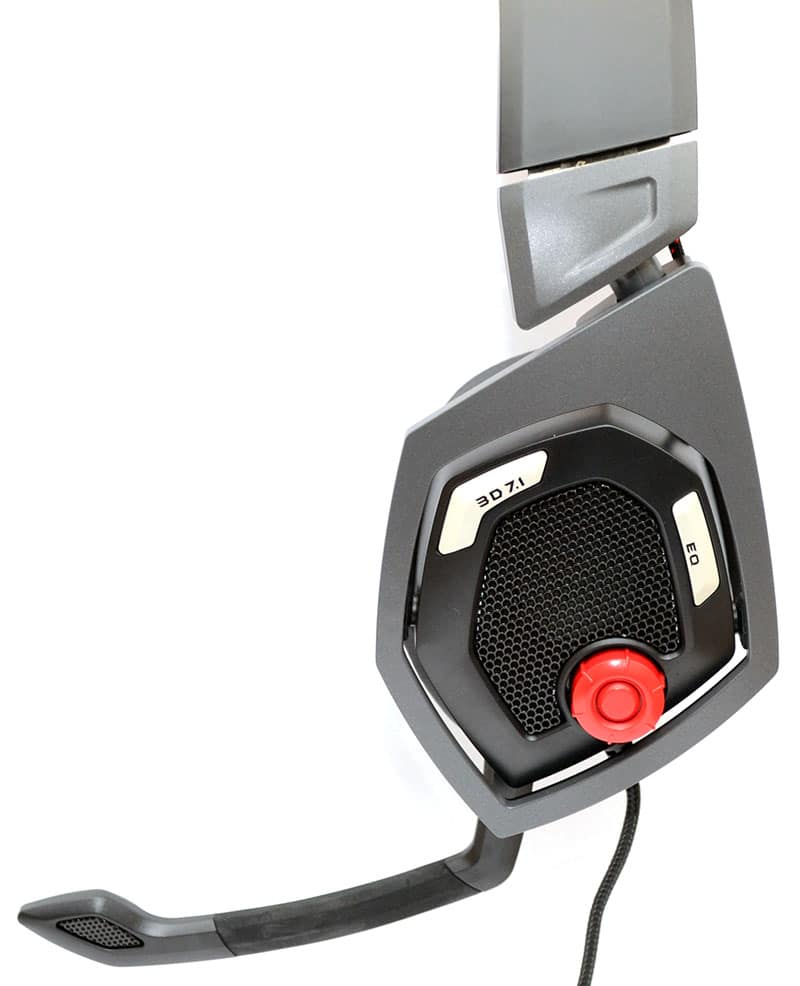 The mesh on the back of the drivers looks nice, but there's a hidden Tt dragon logo behind them, which lights up and responds to the audio being played; we'll take a look at that shortly.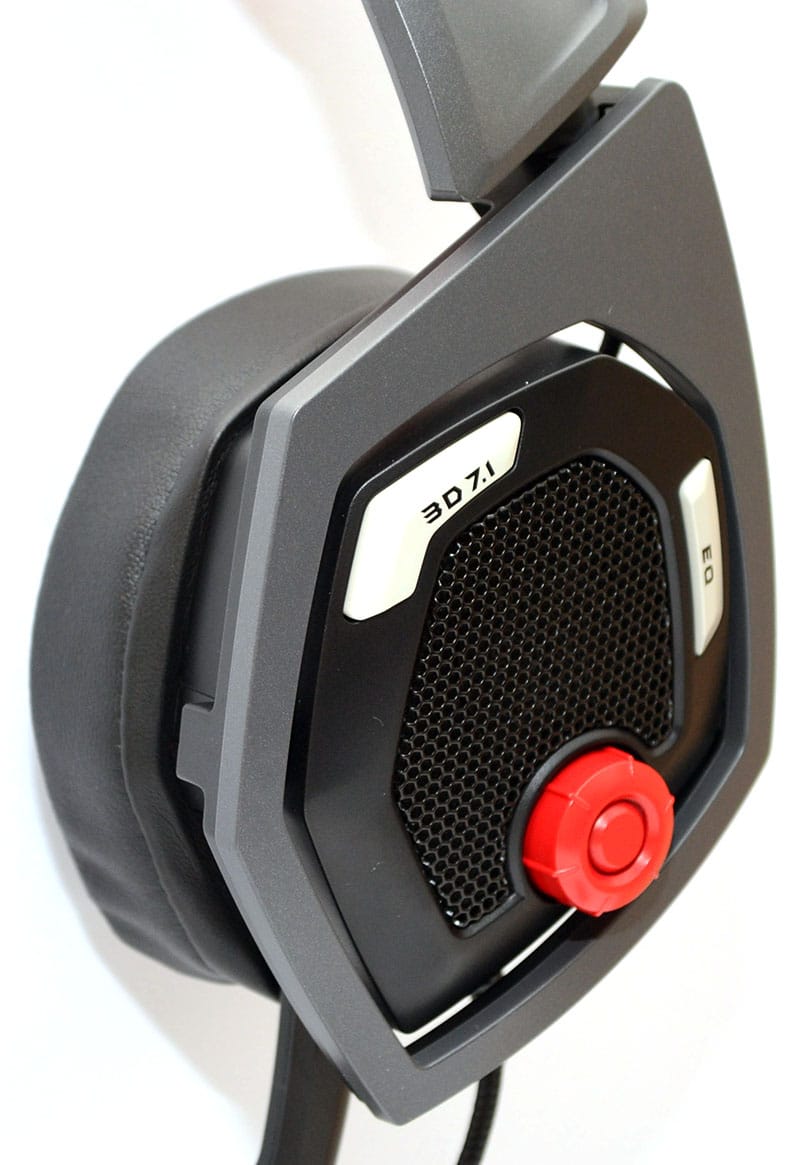 The drivers have a thick layer of padding that fits snugly over your ears, helping block out external noise and helping you stay focused on your game. The soft leather covering is super comfortable, but could leave you a little uncomfortable if you're playing in a hot environment.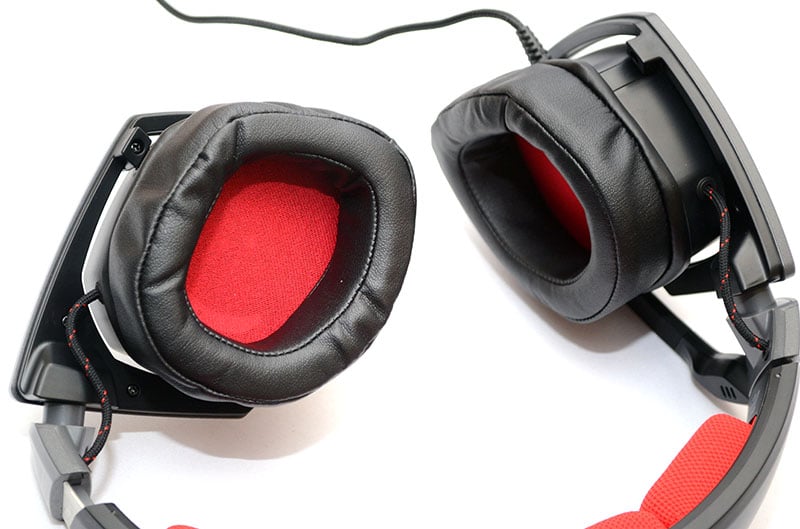 The included carry bag is nice, as it'll help keep your headset free of scratches when you're transporting it.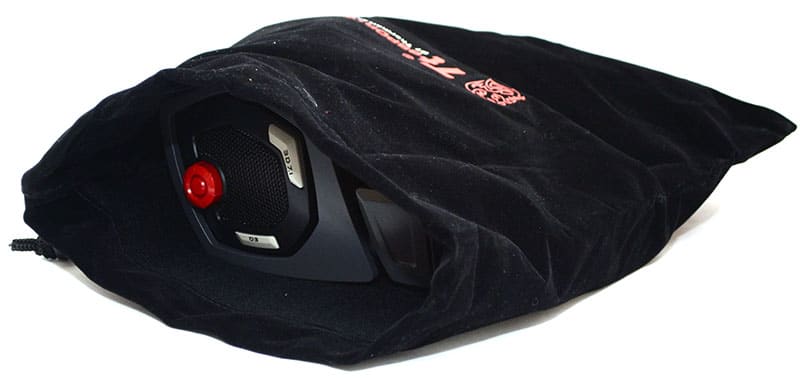 ———————–
Performance
---
I've been looking forward to getting this headset plugged in and tested, not only because it looks like it can perform great, but because virtually all headsets I've tested from TteSports in the past, such as the Dracco, Chronos and Level 10M, to name but a few, have left me thoroughly impressed. Fortunately for TteSports, the Shock 3D is no exception and from the very first few seconds of music playback, I knew things were going well.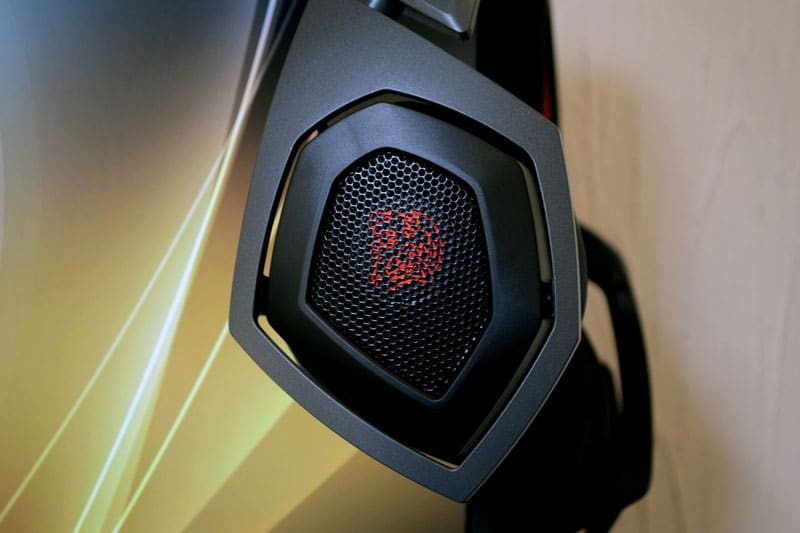 The headset gives an immediate wow factor just based on volume alone, at 100% volume you're feeling the strain a little, certainly not where you would want to be listening for extended periods of time as you would damage your hearing, but if you're trying to boost a quiet audio source, it's nice to have some extra range when you need it. The EQ buttons take this even further and with the most boosted mode enabled, I couldn't get past 75% before I had to save my ear drums from destruction. What impresses me the most is that no matter how loud I push the volume, the headset remains crystal clear. I often find loud volume on headsets equals a harsh and out of balance sound, but that simply isn't the case here.
Bass performance is great, there's a detailed low-end thump, especially so with some of the EQ settings on offer. Need to focus on the higher end of the EQ range for competitive gaming? Just tap the EQ button to flick through the four presets and you'll find one that suits your needs. I usually find the EQ buttons on headsets leave a lot to be desired, but all the modes on the Shock are usable and offer tangible benefits to the audio, making it great for movies, music, gaming and voice chat.
Picking through my music collection, I was impressed by how well the headset handled heavy metal music styles, often high volumes, excessive bass and wailing guitars can cause headset drivers to falter a little, but there were no issues here. The sound is a little unrefined, in the sense that a blind study would likely have you picking a set of Sennheiser over these, but when compared to similar priced gaming headsets, the Shock is likely to score a lot of favourable votes.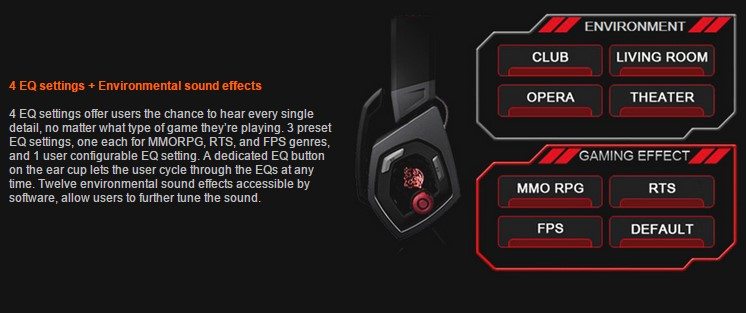 Gaming performance is sublime, lots of detail and clear sound for both game and chat audio. The only gripe is that the sound is a little direct, so you don't get that big open soundscape, although the surround feature does improve this a lot, I think the punchier sound of the 2.0 mode is better, but there's a range of 3D environment settings that may suit your needs; no doubt everyone has their own preference here. The microphone is bright and clear, whilst doing a good job of not picking up too much, if any, background noise. The fold up to mute function is also a welcome bonus, but it would have also been nice to have independent chat and primary audio volume controls.
———————–
Final Thoughts
---
Price
The TteSports Shock 3D PC gaming headset is available from Ttbuy in the US for $79.99. This is undoubtedly a competitive price and puts it alongside the Shogun Bros Ensense, Ozone Blast, Asus Orion, to name but a few, although I'd personally still pick the Shock 3D over any of them at this price range.
Overview
TteSports have done it again, creating another headset that won't make your wallet run in fear, but that will deliver more performance than you would expect within this price range. TteSports have always been an industry leader when it comes to offering impressive price vs performance ratios and the Shock 3D is certainly no exception to that.
Powerful drivers, with a clear and punchy sound are always a welcome feature on a gaming headset, but despite its gaming aspirations, the Shock 3D is just as versatile for movies and music, making it a great all-round performer. This is obviously a good thing, because we don't all just play games on our computers 24 hours a day. The addition of a good quality microphone is nice too, as it means the Shock 3D is as adept at in-game chat as it is for making those important Skype calls.
The headset is a little hard fitting at first, but the durable memory foam on the headband, as well as the padding on the ear cups will take time to wear in a little; so don't be disheartened if it feels a little uncomfortable at first. This headset was certainly built to last, from the durable foam to the reinforced metal headband extenders, it all feels very well put together. As an added bonus, the headset also looks great, the only minor gripe being the cheap looking plastic on the volume wheel.
Pros
Durable build quality
Powerful drivers
On-headset controls
Virtual surround and EQ modes
Fold-up auto-muting microphone
Cool looking design
Good price vs performance
Cons
No separate volume control for chat audio
Volume dial plastics could be improved
"The TteSports Shock 3D 7.1 is a powerful and versatile headset with a competitive price tag, it's not perfect, but it still manages to tick all the right boxes and it's easily one of the best performing mid-budget headsets we've tested."
Thank you TteSports for providing us with this sample.