TteSports Theron Gaming Mouse Review
---
---
---
Peter Donnell / 8 years ago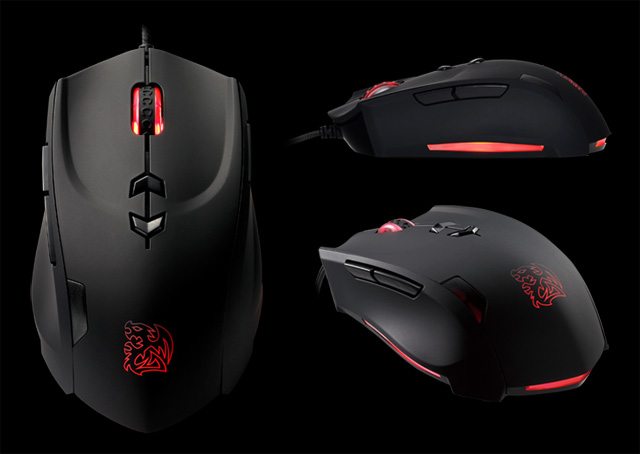 In the office today I have the fairly unique looking Theron gaming mouse from TteSports, a gaming mouse targeted right at the heart of the RTS scene and if previous TteSports products are anything to by, I really can't wait to get this thing plugged in and put it to the test.
TteSports have a rock solid reputation in the gaming community and as the eSports scene and its supports grow, so too does TteSports. As a company they are firmly rooted in the gaming community, attending events, sponsoring gaming teams, they have their peripherals by some of the biggest gamers in the industry (White Ra for example). All of this adds up and it's always been clear to me that TteSports really care what gamers thing and that they listen to what gamers want.
There are three things that really stand out in the TteSports range, unique designs, plenty of features and wallet friendly price tags, and it looks like the Theron has already ticked off one of those by being priced at £50, although a quick online search can easily find you one closer to £40. This puts it in line with a lot of other gaming mice that are on the market, but price is almost irrelevant if you don't have the features and performance to match it, so lets move and take a closer look at what TteSports have to offer in terms of design, features and performance.
The box for the Theron is really nicely designed, in fact all TteSports products come well packaged and the fact that they've taken time to design fancy graphics, show clear images of their products and have technical details on the box show that they're confident in their products.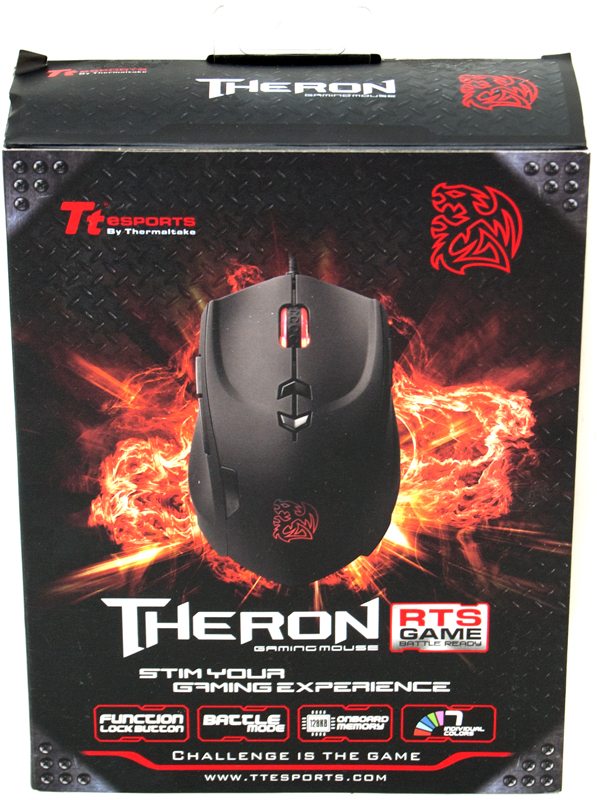 As with some of the other Tt products, there is an endorsement from one of the biggest eSports players around giving his approval for this mouse, definitely a good sign.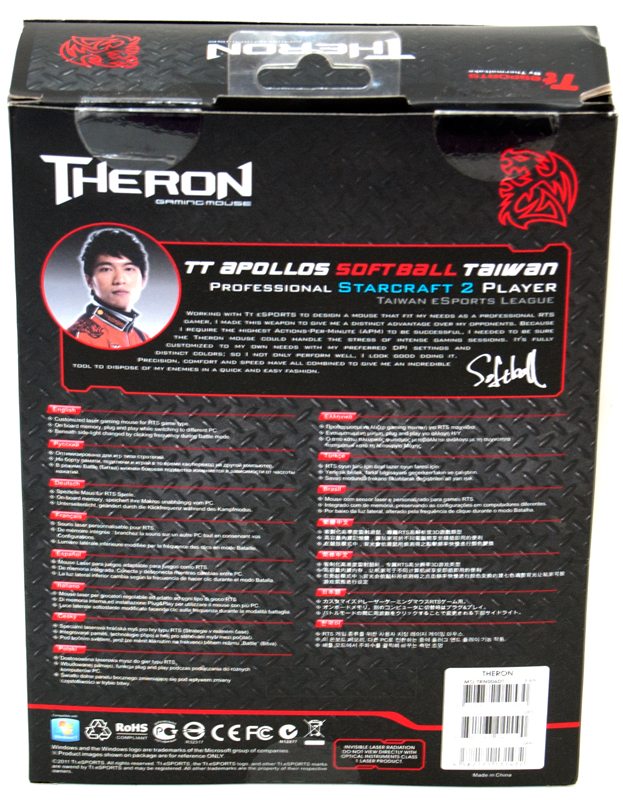 The box folds out given us a direct look at the mouse, as well as a break down of some of the major features.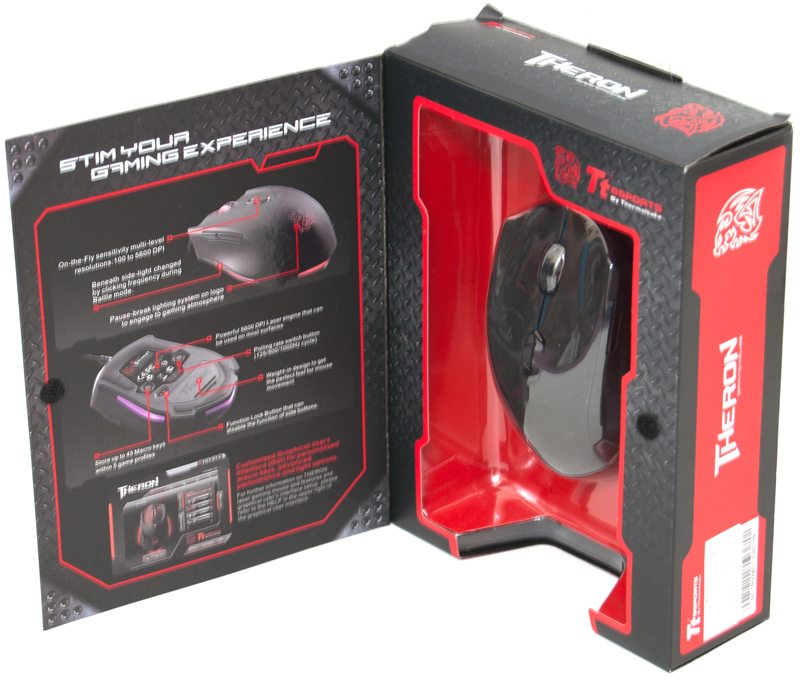 In the box I found a nice little bonus, a soft zip-up pouch for storing the mouse, handy for when you want to chuck it into your backpack to head out to a gaming event.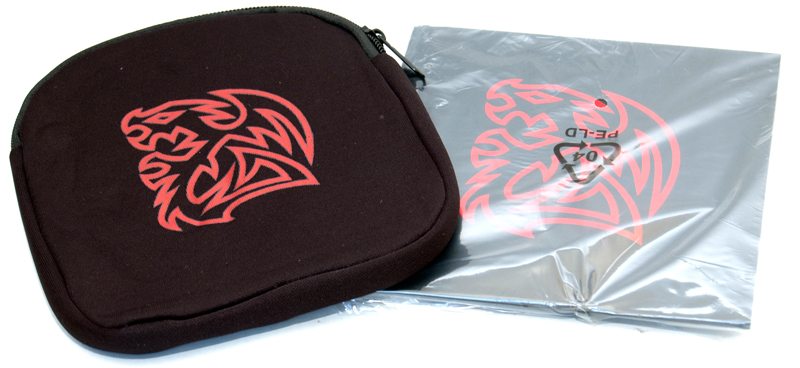 The mouse its self is hard-wired with a nice high quality braided cable, it also features a permanently attached velcro strap to aid with storage and a custom moulded, gold-plated USB connection.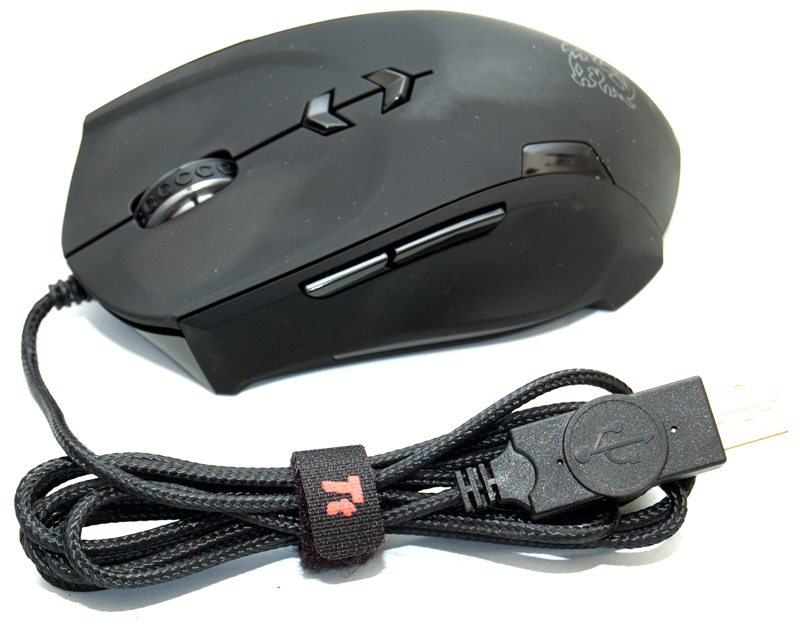 The mouse features a steep ergonomic slope towards the front, this promotes a palm rest play style, but also offers plenty of clearance for those who prefer a claw like grip on the mouse. The left and right mouse buttons are formed from the main shell of the mouse thanks to a split design and the center of the mouse features a nice quality notched scroll wheel and a pair of toggle switches.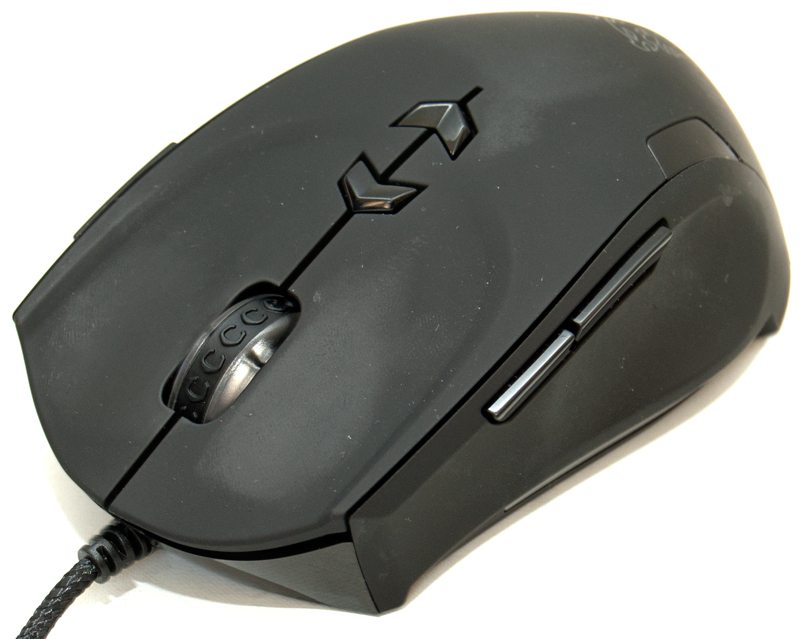 Down the left side we have another pair of switches, as well as some more ergonomic lumps and bumps.  Further towards the back we have a clear panel that covers some LED indicators and a back-lit Tt dragon logo.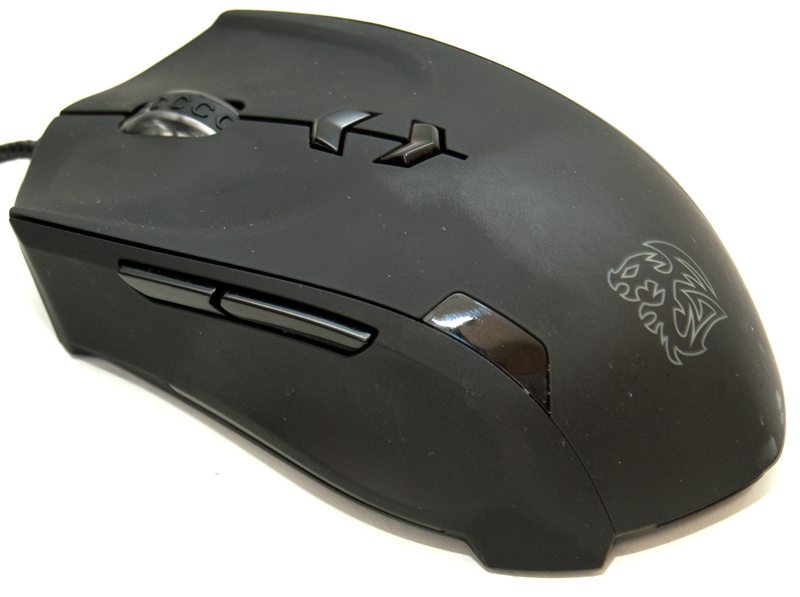 The right side of the mouse features yet another switch, bringing the total up to 7, not counting the clickable scroll wheel.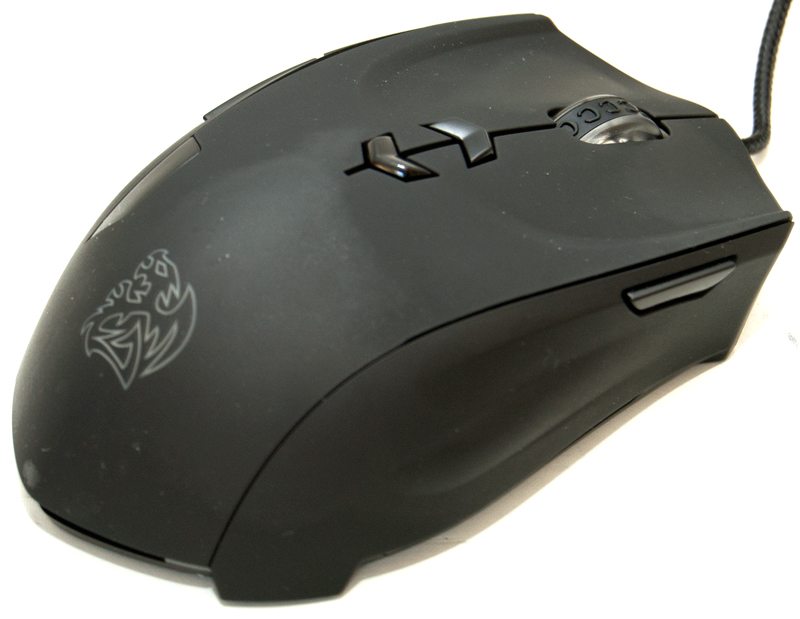 Overall the design is really nice and the shape of the chassis is a little unique compared to many other gaming mice on the market, giving the Theron a very defined and bold look.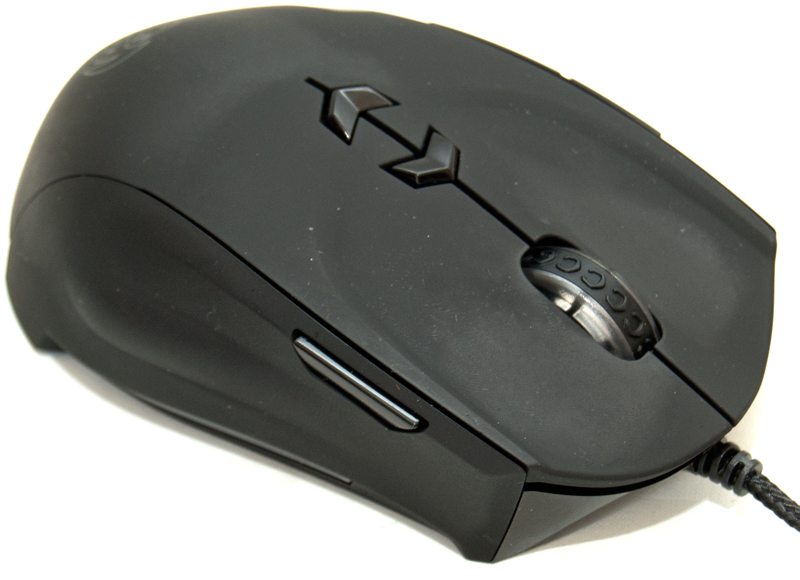 Two large Teflon surfaces should provide us with plenty of glide, but the real good stuff comes from the on-mouse polling rate switch, a profile select switch and a lock / unlock settings switch. This gives you extra flexibility over your settings without leaving your game, meaning you can drop out to a more offensive or defensive macro preset between respawns, handy!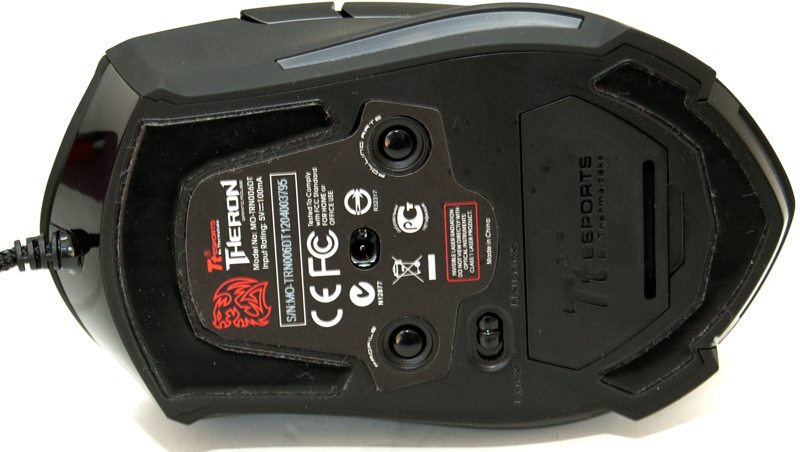 Another welcome feature comes from the removable cover, behind which you will find 5 x 4.5g weights and a rubber mounting block. This helps you customise the overall drag/glide of the mouse to your liking.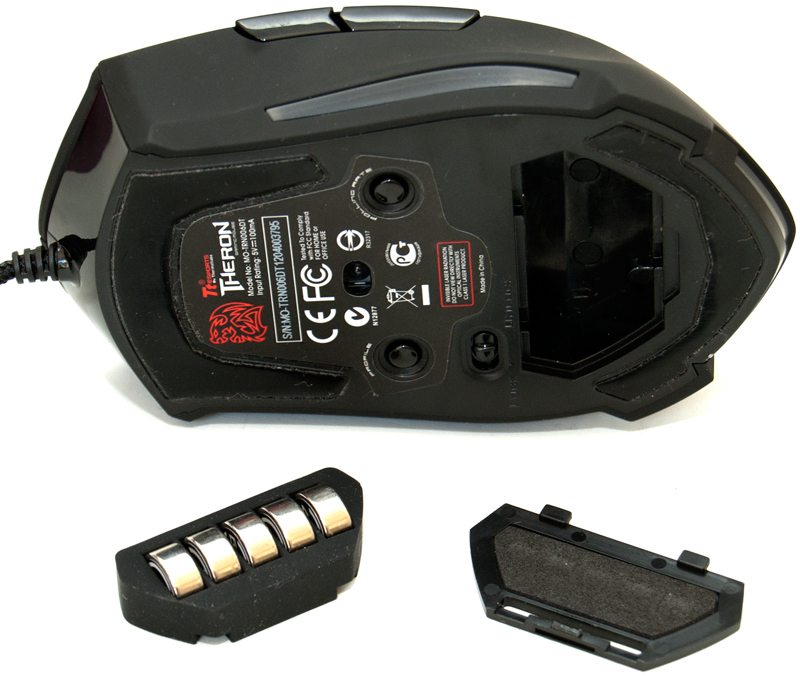 Setup & Installation
Setting up the Theron couldn't be any easier, if you want to get straight into the action and enjoy the basics of the DPI settings and polling rate, then you can. Just plug and play and your straight into the action. Yet I strongly recommend you download the excellent software from the TteSports website as this allows for customisation of Macros, tweaking of the LED lighting, profile configuration, DPI adjustments in steps of 90DPI up to 5600 with four settings configurable to each profile. You can also configure the complete button layout to your liking, something that you don't often see on mice in this price range.
Performance
There are some nice features on the Theron and the software is pretty flexible too, the high DPI sensor is perfect for RTS gaming but I would have liked to have seen configurable X and Y speed settings, but only having a combined setting is hardly a deal breaker really. I performed some simple acceleration tests on the sensor at multiple DPI settings and there is definitely some very light acceleration at lower DPI and a subtle deceleration at higher DPI settings when moving the mouse at high velocities. This is quite common however and while it may bug enthusiast FPS players, this likely won't be an issue for the RTS or MMO crowd. There were no acceleration issues at lower velocities.
Angle snapping is auto-set to off and didn't provide any issues for me, prediction and angle snapping might be handy for some day-to-day desktop tasks (albeit I can't think of any) but it's definitely not a feature you want in your gaming.
Liftoff distance isn't great, hovering close to 2mm! This isn't ideal for those who like to play with a lift-off technique, but it's not the worst I've seen either. Unfortunately this isn't configurable and is generally something you would have to take into consideration if you play with a lift off technique.
The Theron didn't disappoint when put to the test in RTS games, Starcraft II and End of Nations benefitted greatly from the macro settings, but most enjoyable for me has to be that this mouse offers "just enough" in terms of features. It's not too fussy and this meant I could focus on my game without glancing at my mouse ever other minutes looking for macro keys.
FPS gaming wasn't too bad, it's perfectly capable of getting you through a few games of Battlefield but for FPS gaming I would suggest you stick with something like the TteSports Saphira. The Theron is better suited for MMO and RTS gaming, there is no doubt about that.
Final Thoughts
I really like this mouse and when it comes to RTS and MMO gaming it is an absolutely joy to work with, it gives you all the features you need to bring the pain to your enemies and having multiple profiles for DPI settings and macros only goes to extend its feature set. I found this especially handy for games such as League of Legends, where I like different settings for different champions.
Day to day usage is also pretty cosy, the ergonomics of the mouse lend well to heavy usage and a few days of using this mouse in Photoshop, checking Facebook, working on reviews etc proved very favourable. The only downside for me is the acceleration / deceleration issue, it is however only a minor occurence of it and I doubt many will even notice it! The lift off distance is high too, but since I don't play with a lift-off technique, this isn't something I have issue with, but worth taking note of if you're a player that does.
Those two minor issues are the only things I can things I can find wrong with the Theron and for a product that I can go purchase for just £40 that is a pretty awesome trade-off as I find there is more often than not at least one or two things I don't like about near any gaming product on the market. Yet given its feature set, stylish design and above average performance for this price range, the Theron is surprisingly good value for money and if your on a tight budget and take your RTS / MMO gaming seriously, you'll be hard pushed to find better for this kind of money.
Pros
Cool design
High quality build
Braided cable
Easy to use software
Customisable weight
Nice ergonomics
Cons
Mild acceleration / deceleration issues at high velocities
High liftoff distance
eTeknix says: "TteSports have done it again, providing a uniquely styled product, that packs plenty of features and still offering a super competitive price tag that is going to make a lot of gamers happy".