TteSports Volos MMORPG Gaming Mouse Review
---
---
---
Peter Donnell / 8 years ago


TteSports are making big impressions in the gaming world, especially when it comes to eSports. They've been integral to the eSports community and its development for years now, both through sponsorship deals, operating gaming teams of their own and by creating some great peripherals that have proven popular with both the premium and budget ends of the eSports market.
While they may cater to the high-end with their Level 10m headset, or mechanical keyboards, they also have the best range in terms of price vs performance on the market. Their mice and keyboards are often some of the cheapest on the market and still offer impressive performance. Value for money and great performance are becoming the hallmarks of a Tt product, so they will be the two main things I'm looking for today.
One extra feature that has become the norm for TteSports is novelty, a little fun twist that makes them stand out from the crowd and that is something that is truly apparent on the Volos which features "console style" buttons on the side, an interesting diversion from the usual configurations and I really can't wait to see how they perform in a gaming environment. Lets move on then, get this thing out of the box and see just what it has to offer.
The Volos comes in a really nicely designed and colourful box that is fairly typical of other Tt products, there is a nice image of the mouse on top and a few specifications at the bottom that detail that 8200DPI sensor, 4MB on board memory and 16.8 million colour LED lighting. There is also a sub heading that reads "MMORPG Game Battle Ready".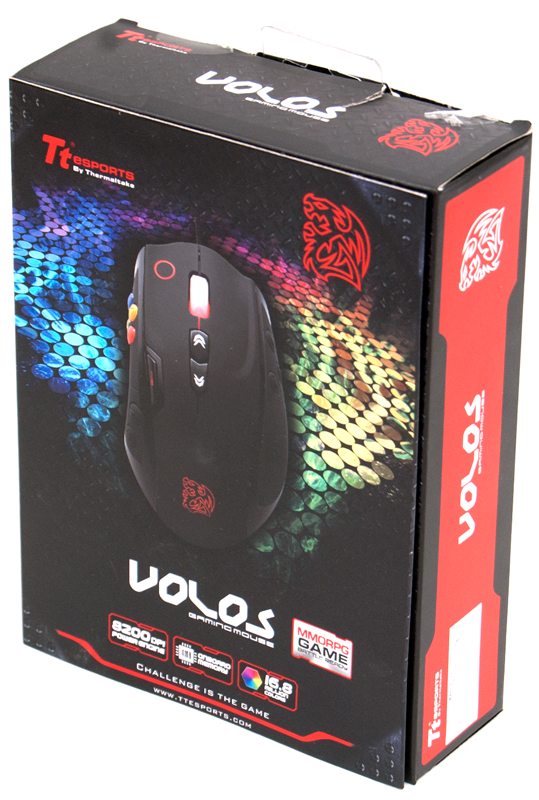 Around the back of the box we have a screenshot of the GUI of the software, don't often see this on the back of products and it's a good indication that TteSports are confident about their software.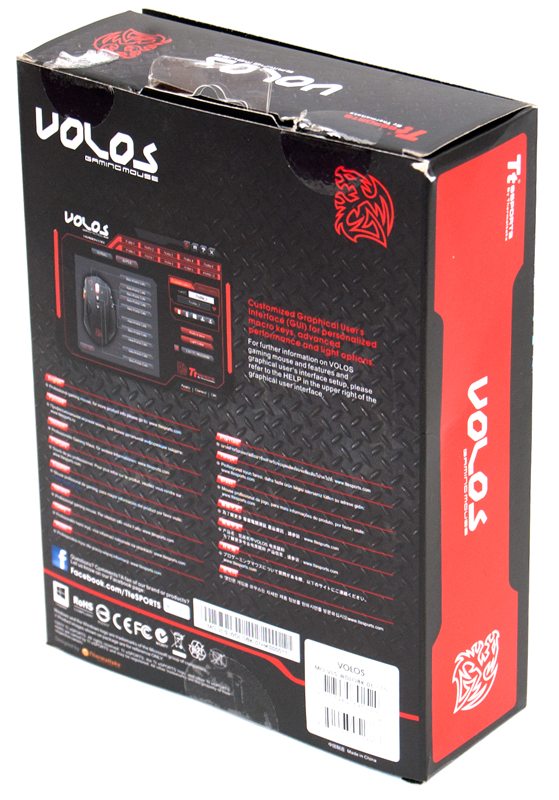 Out of the box we see that the mouse is hard-wired with a braided USB cable.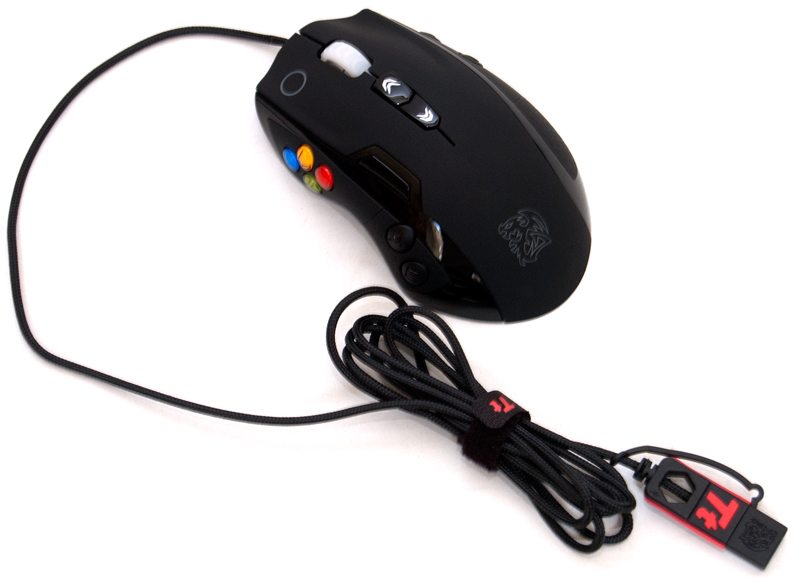 The cable is really nice quality, features a pre-fixed velcro strap to help keep it neat and tidy and a flip-top USB cover that will help protect it when not in use.

The left side of the mouse features a six buttons, the most noticeable are the Xbox colour theme buttons (blue, yellow, green and red) that feature PlayStation style symbols (Cross, Square, Triangle, Circle). Behind that we have two more buttons labeled A and B, these are rubber coated unlike that harder gloss finish of the more colourful switches at the front.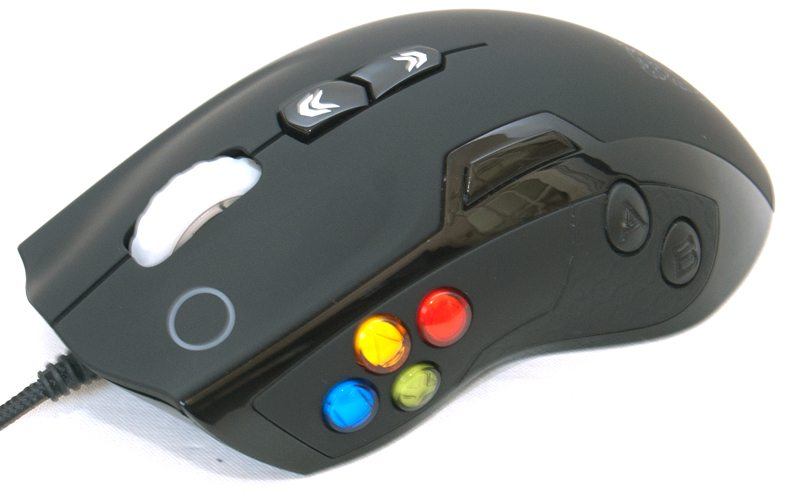 Just between and above the side buttons we have an extra switch with a slim LED indicator in the middle, the brings the total buttons on the left side of the mouse to 7.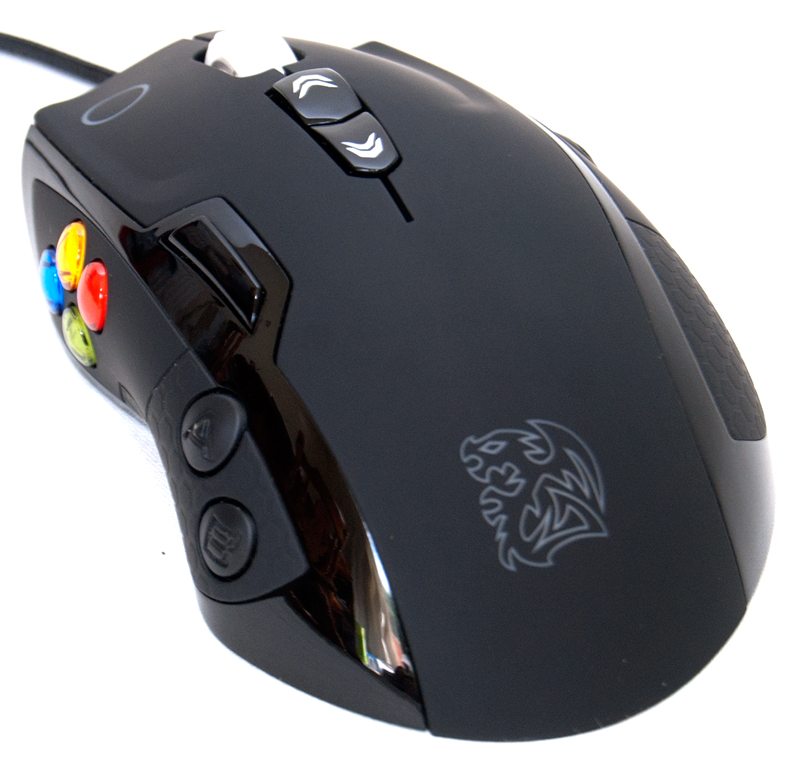 Not content with just those, we have another three large rubber buttons on the right side of the mouse labeled C, D and E. Just like the left side of the mouse this side features some firm rubber grips that are separated from the top panel with a stylish gloss plastic.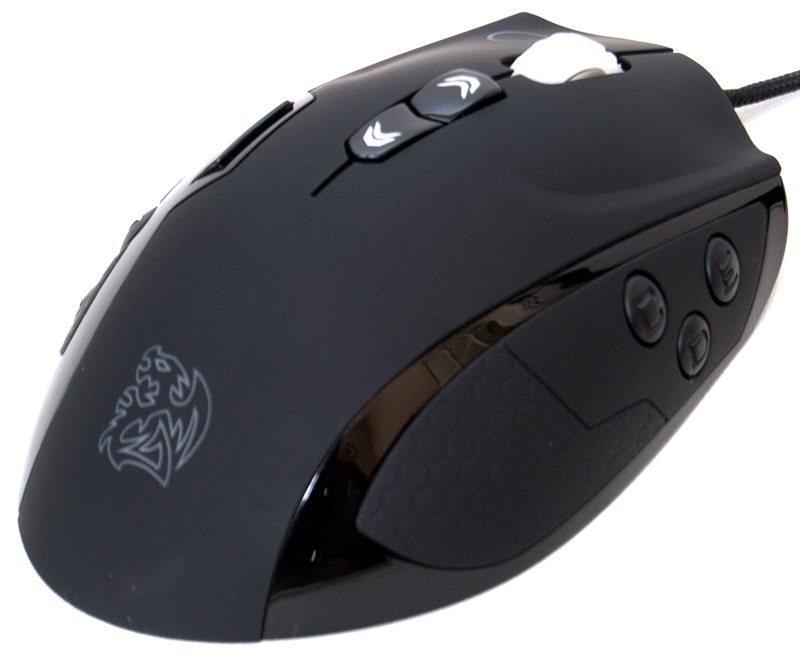 The left and right mouse buttons features firm switches and a deep cut out design that provides a good resting position for your fingers. The mouse wheel is coated in a clear and grippy rubber that will provide good control and also allow the built-in LED lighting to shine through brightly. Behind that we have an extra pair of buttons that are typically used to change DPI settings, but all buttons are configurable via the included software.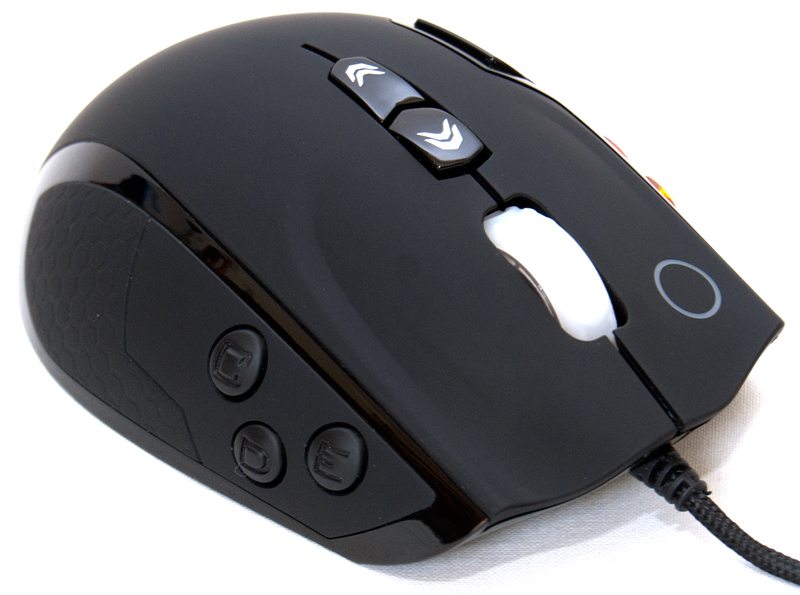 Another unique feature I've never seen before is the circle on the LMB, this is LED back-lit and can be set to change due to click frequency or a pre-defined lighting settings.
Around the back we have the Tt dragon logo, which is also LED backlit. More importantly though is the ergonomics of this mouse. As you can see it is heavily contoured and very wide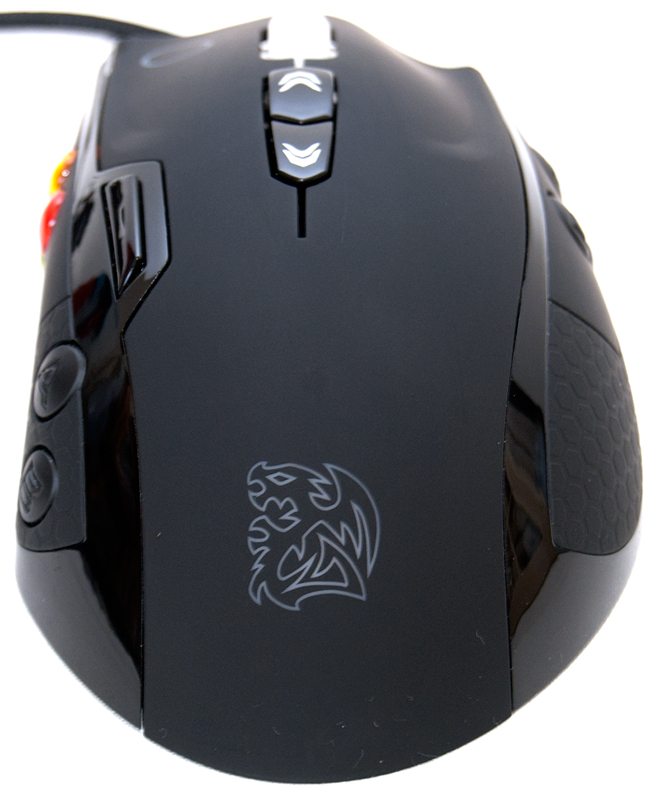 On the underside we have a laser sensor, a lock switch and two slim slip mats.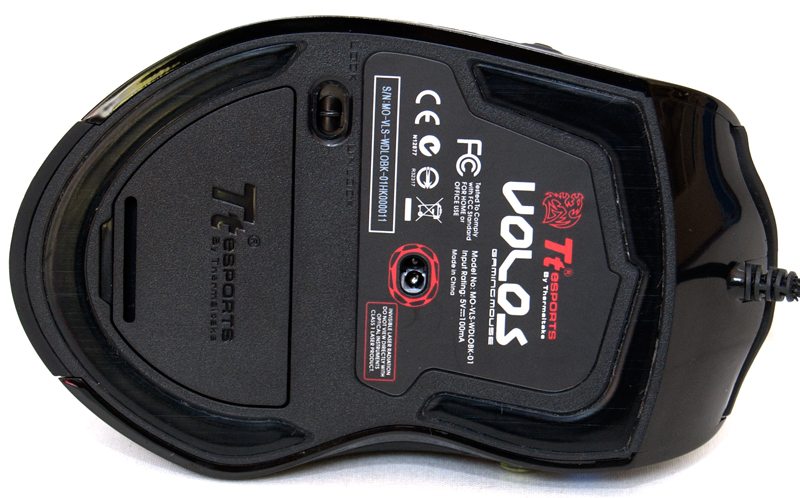 The back of the mouse features a small compartment with a rubber mould that can hold five 4.5g weights, allowing you to adjust the glide and balance of the mouse to your play style.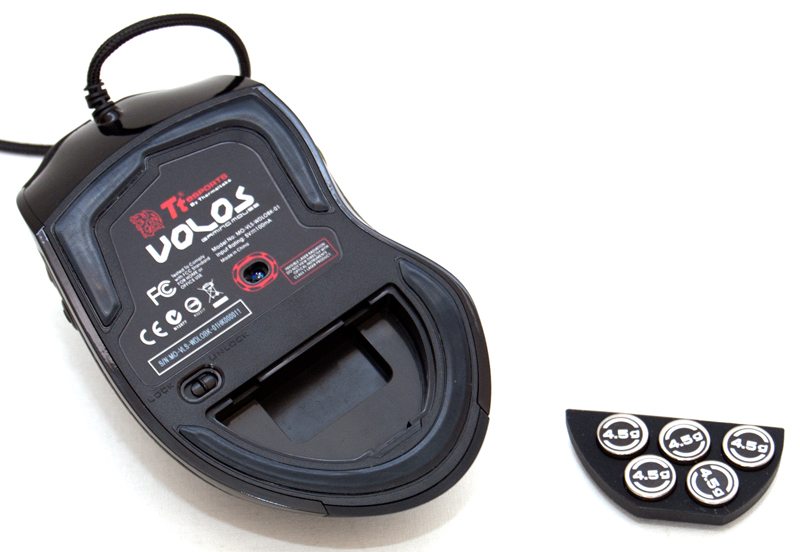 Connecting the mouse via USB brings up the LED lighting, there are four light up areas on the mouse, the LMB circle, the scroll wheel, the top left side button and the Tt dragon.
Once connected via USB and you have the software installed you can customise the mouse to your liking, this is super easy thanks to a drop down menu system for each button as well as a whopping 10 profiles to save your settings to. Each profile can be renamed, have its own macros, performance settings, lighting options and a choice of battle or normal mode. Battle mode changes the LED lighting to react with click frequency.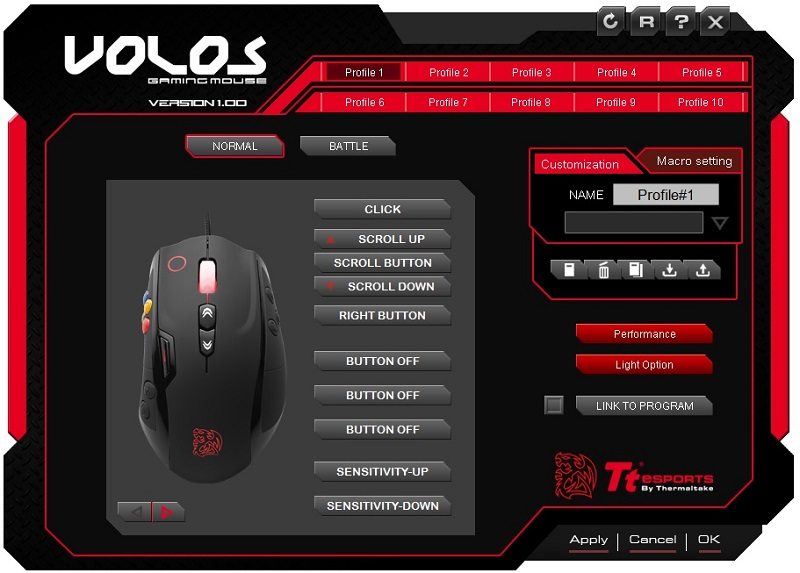 Each of the five DPI presets can be configured to have a range of 100 to 8200 DPI, polling range has a range of 125 to 1000 and lift-off can be adjusted also.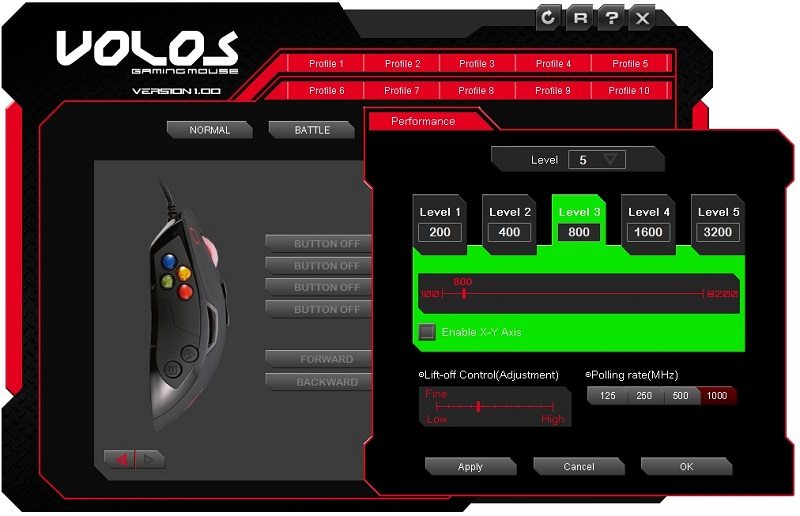 Each of the four LED lights of the mouse can be configured individually via a simple colour chart.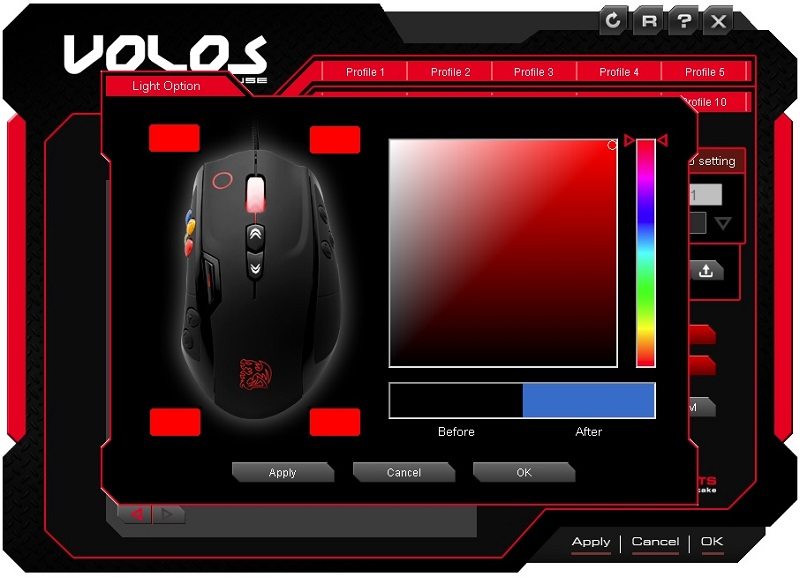 Macro recording is easy too, allowing plenty of tweaks for even the most complex of configurations.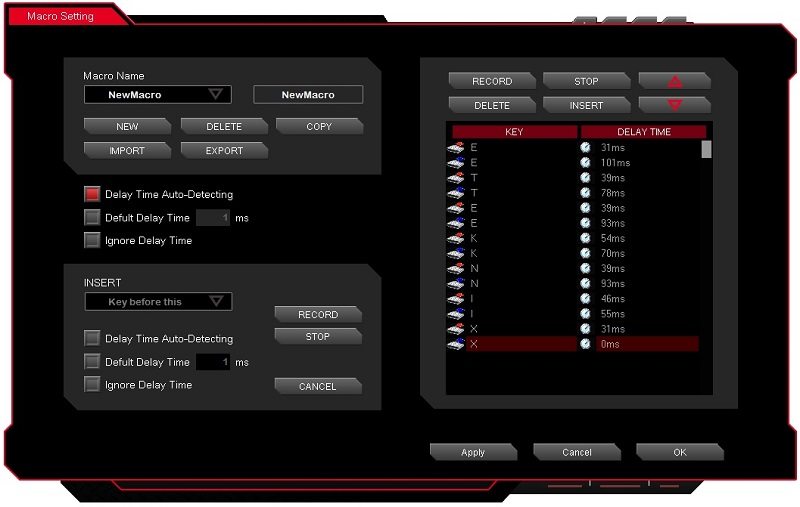 Performance
The adjustable lift off height proved impressive, dropping the sensor lift off to below 1mm with ease and should you really need to you can take that up to around 4-5mm with the simple slider. A simple acceleration test showed that the sensor looses some data at high velocities at the upper half of its DPI range, but this isn't uncommon and was minor enough to not be noticeable in any real world gameplay environment. Sensitivity is fantastic even as low settings and there was no prediction, angle snapping or jitter to be concerned with.
Gameplay was impressive and playing anything from Battlefield 3 to League of Legends was a pleasure, but it did take me a while to configure the unique button layout to my liking as the configuration is no like any other mouse I've used. The four colour buttons are not that easy to reach in a full palm rest hand position, you need to move to a slight claw grip to press them and that's fine as it keeps them out of the way and means you can take a solid grip of the side of the mouse, great if you like to use a lift-off technique. The buttons on the right side are a little tricky to navigate and press but with a little practice that does improve, they're certain handy for less frequent spell casts, such as something you may use before entering battle, bringing up a scoreboard or a multimedia shortcut for your music.
The mouse feels responsive and smooth while playing as much as it does while performing daily tasks, I've been using the mouse for nearly a week now and it's easily the most comfortable mouse I've used as it promote a comfortable resting position for the full width of my large hands, something that most mice on the market do not as they often feature a slimmed body toward the rear of chassis.
Having 14 macro configurable keys per each of the ten profiles is incredible and any MOBA or MMORPG fan will love the extensive configuration options. The lock switch on the bottom of the mouse is great too as this can be used to turn macros on or off at a hardware/software level, meaning you don't accidentally fire off something you weren't support to pre or post battle.

Final Thoughts
I really enjoyed working with this mouse, so much so that I've decided to start using it on my main system for work and gaming. When I first saw this mouse I thought it looked seriously stupid and in some ways I still do think that, I can't say I'm sold on the design aspect at all and it looks like some console controllers were melted down with a gaming mouse. Yet for all its quirks I also think it looks cool and all the wacky looking design comes along with a lot of clever design features that gives some great ergonomics to the mouse that I really like.
What I'm trying to say is don't judge it by its looks, once its in your hand it feels great and the mixture of the soft-touch top panel, thick rubber grip panels on the side, gloss trim, customisable weight and balance and large surface area make it a joy to work with regardless of your play style. It is rare I find a mouse that suits palm rest, claw grip and lift-off techniques in one unit and it's just another reason for that visually unique ergonomic shape that the Volos features.
TteSports fooled me with this mouse, I was expecting this mouse to be pretty poor and just a gimmick to get console gamers to like PC gaming by giving them "familiar controls" but that really isn't the case. This is a PC mouse for hardcore PC gamers, which features a unique design theme that may appeal to a console gaming fan, but that visual aspect is where the similarities end. The extensive macro options, profiles and sensor configurations are going to be suitable for any kind of gaming, but MMORPG/MOBA gamers will certain see a lot of benefits.
The biggest benefit for the Volos is easily its day-to-day abilities, while most hardcore gaming mice are great for gaming, they can be a pain to use for tasks like Photoshop, web browsing and other daily tasks. The Volos is comfortable in any environment and even if you're not much of a gamer you'll be hard pushed to find a better and more versatile mouse within this price range.
Pros
Comfortable
Versatile software
Budget friendly
Reliable sensor
Customisable weight
Cons
eTeknix says: "TteSports have done it again, this is easily one of the best mice on the market today and it only gets better when you see the price tag (around £50). There are a few unique quirks about it that make it stand out from the crowd and in a market flooded with familiar products I think a fresh design is a great thing to see."