Turtle Beach Atlas Three Gaming Headset Review
---
---
---
Peter Donnell / 4 years ago
Introduction
---
Atlas Three
Tired of your boring old headphones, or maybe your current headset is just getting a bit worn, sounding a little weak? Then enter the Atlas Three amplified headset. It's still a wired headset, but it features a built-in rechargeable battery pack that's designed to power a built-in amp and EQ system. Why would you need that? Well, it takes the normal audio, then gives it the added WOMP! and WOW! you may desire. If you're gaming in a noisy room, or simply want to put the punch back in your movies, music and gaming, this is the way to go.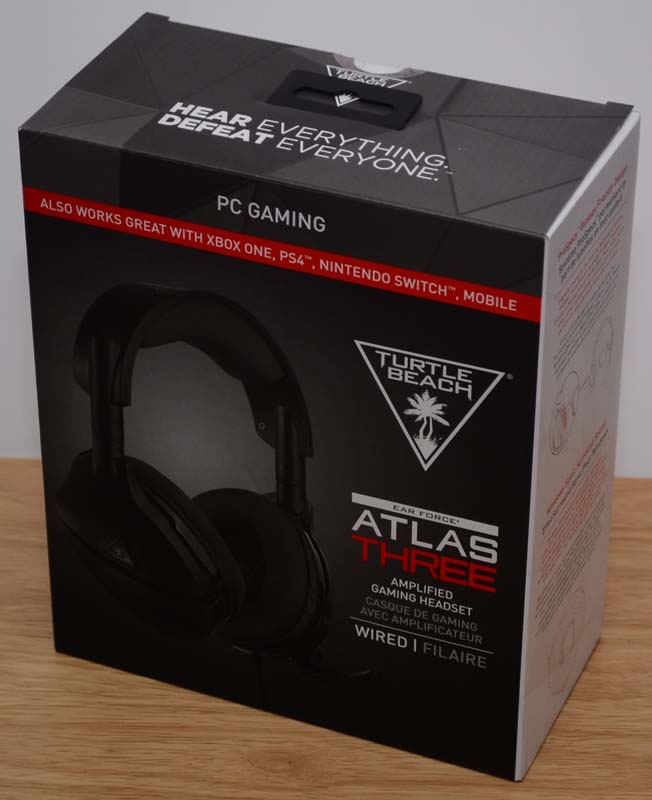 Now, it's not the first headset with a built-in amp we've tested, as Turtle Beach has been making similar models for many years. However, the Atlas is their latest lineup of gaming headsets and aims to tweak and improve where it can. It still comes with all the usual adornments one would expect from Turtle Beach too, but let's just dive in for a closer look!
Features
Powerful Amplified Audio – Louder is better! Immerse yourself in your PC games with rechargeable battery-powered amplified sound

Surround Sound Ready for PC Gaming – Optimized to deliver immersive Windows Sonic for Headphones surround sound

Flip-Up Mic – Turtle Beach's renowned high-sensitivity mic picks up your voice loud and clear and flips up to mute

Glasses Friendly – Unique Prospects comfort-driven design removes pressure on your glasses while you play

Audio Presets, Including Vocal Boost – Customize the way your game sounds with three audio presets, including Vocal Boost
Specifications
For in-depth specifications, please visit the official Turtle Beach product page here.
What Turtle Beach Had to Say
"The Turtle Beach® Atlas Three PC gaming delivers powerful amplified Windows Sonic for Headphones surround sound, crystal-clear chat, and unmatched comfort built specifically for PC." – Turtle Beach
Product Trailer
What's in the Box
The Atlas Three comes hard-wired with a 4-pole 3.5mm cable. This means it'll hook up to just about any audio device easily enough. However, for PC use, it comes with a Y-splitter for headphone/microphone jacks that also acts as a cable extension. Finally, there's a standard USB to micro-USB cable for recharging the built-in battery for the amp.