Turtle Beach Ear Force XP Seven Tournament Grade Gaming Headset Review
---
---
---
Peter Donnell / 10 years ago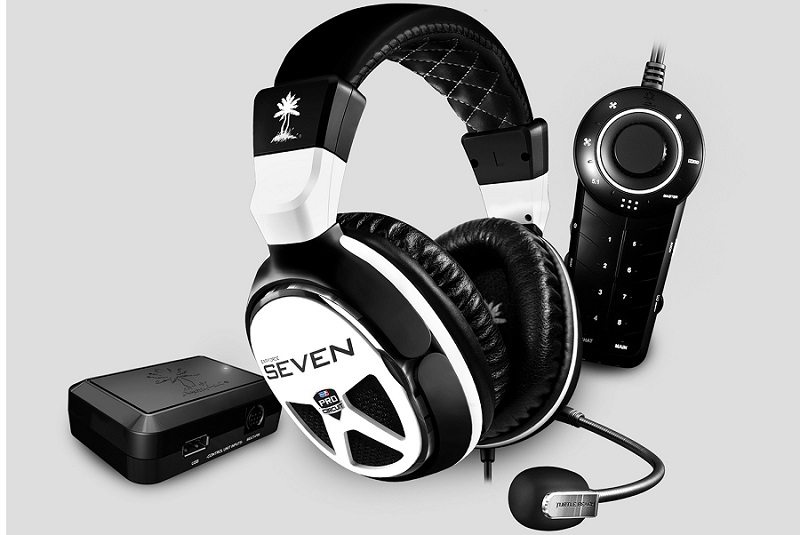 Today we take our look at one of the biggest names in gaming audio, with the Turtle Beast Ear Force XP Seven Tournament Grade Gaming Headset, which I'm sure you'll agree isn't exactly a snappy product name and it's more descriptive if anything, so we'll just refer to them as the XP's for this review.
I feel a little privileged if I'm honest, this is our first Turtle Beach review here at eTeknix and while I'm personally more than familiar with the products Turtle Beach produce, having used a few of them myself in the past, not to mention selling them when I used to work in retail, I was stunned when I realised I was getting to review their brand new MLG grade gaming headset. Premium grade headsets are few and far between in the gaming world, each year you might see a small handful being released, more often than not they are revisions to a current model.
To my mind, having the MLG logo on your product is a big badge of honour, much like the THX badge is a sign of a well authored movie, Blu-Ray or DVD. For those of you who don't know what the MLG is, it stands for Major League Gaming and its one of the highlights of the eSports scene, that caters to many areas of the pro-gaming scene. Much like any other professional sport, the MLG has rules, regulations and standards that must be adhered and the XP headset must be one of the weapons of choice that meets those standards.
The headset isn't cheap though and with a price tag of a little over £200 I'm expecting nothing short of perfection in terms of features, build quality and of course performance because for that kind of money a consumer deserves nothing less and lets not forget that Turtle Beach have a reputation to protect.
This headset packs a lot of features, so our usual format of features then performance may seem a little mixed as I aim to discuss some performance features throughout the review as we have a lot to cover here.
The XP's come nicely boxed in a large presentation box with a few features detailed on the front and side such as the surround sound, EQ, mobile/mp3 player compatibility and that the headset can be used on Xbox, PS£, PC, Mac and Mobile platforms.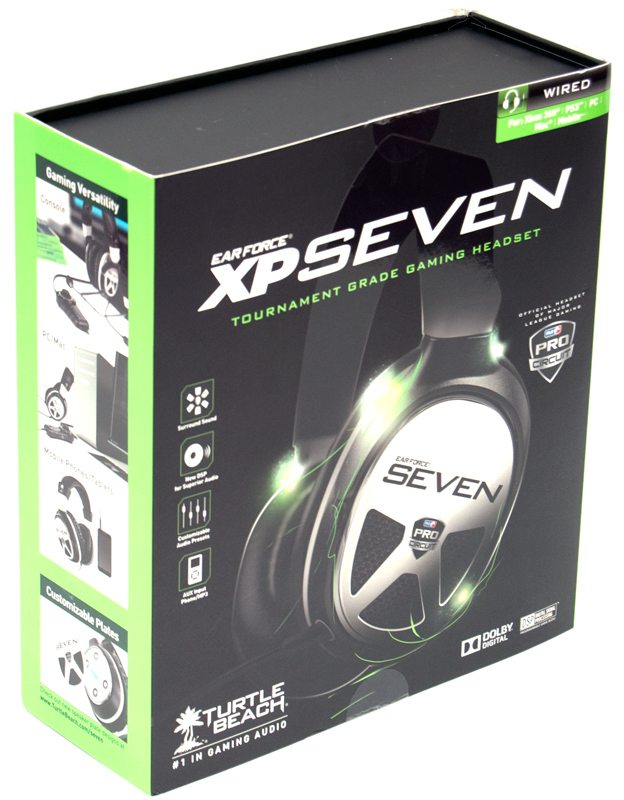 Around the back we have a much more complex run down of the features and you could be here for 20 minutes just scanning this part and still no know everything about the headset, so we'll move along and take a closer look at these features in a moment.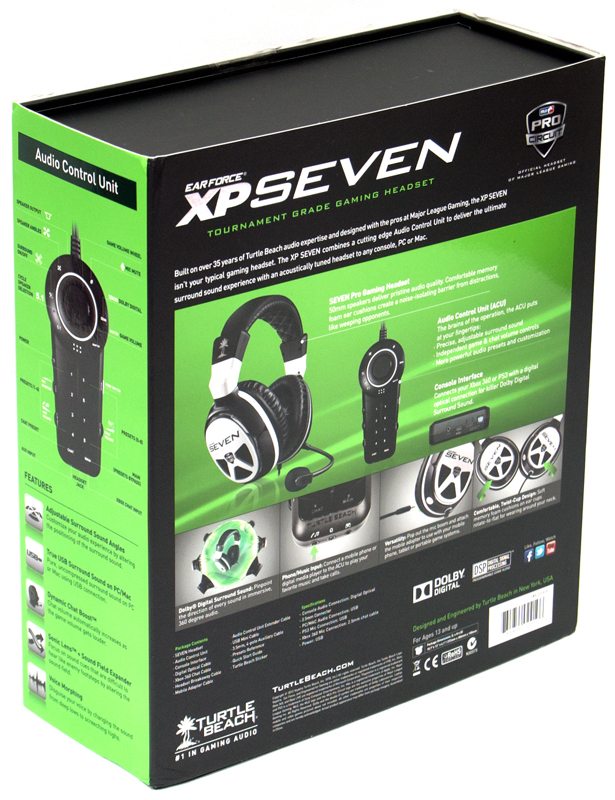 Remove the slip cover from the presentation box and it folds out to display the headset and all its components neatly tucked away, so far, so good.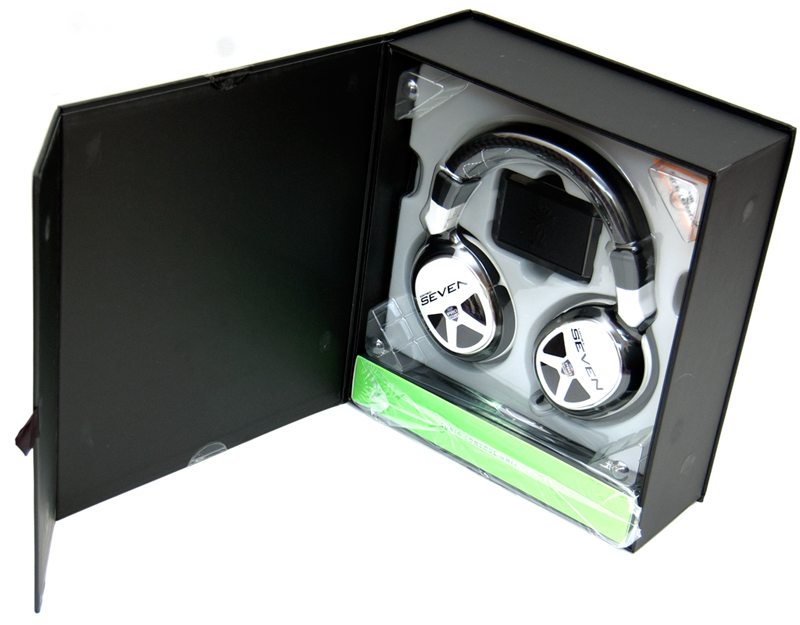 Out of the box we finally get to see the headset and its major components. We have the audio control unit, a small hub device, the headset itself of course, the cable & accessories box and a collection of instruction booklets in a CD clip case.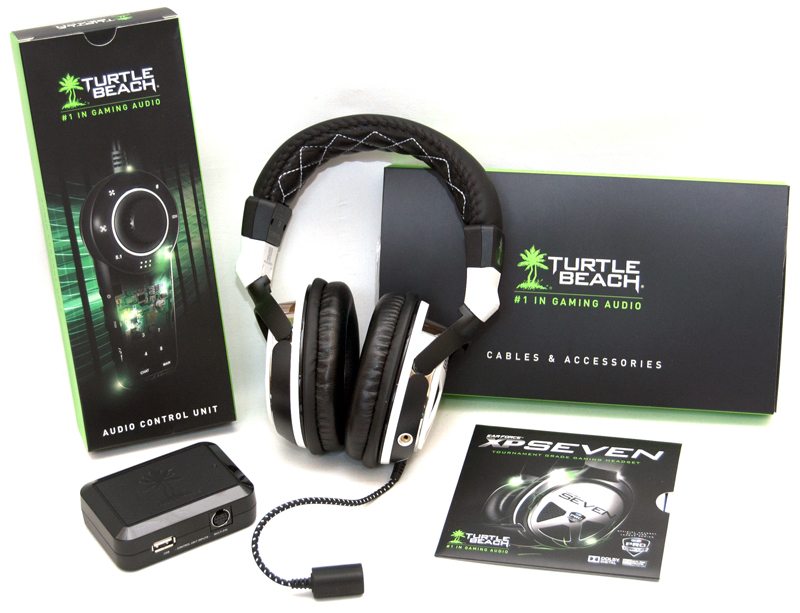 The control unit hub is a simple and lightweight device needed for console connections, it provides a multi-pin and USB connection needed to hook the headset up to your console and TV. This device is not needed for PC connections unless you have a sound card or motherboard that provides an optical link up that you would like to use, otherwise you can just use the USB connection on your headsets audio control unit.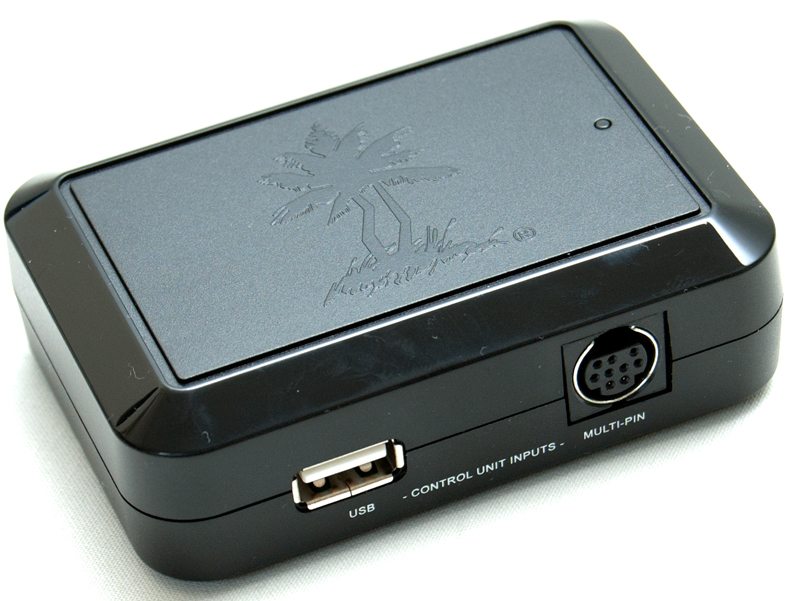 The rear of the device features AUX in for connection external audio devices, allowing you to stream other audio sources into your device, a micro USB and finally optical input and output Toslink cable connection. This also allows for Toslink pass through, so you don't have to disconnect your surround sound or similar device each time you want to swap between that and your headset audio feeds.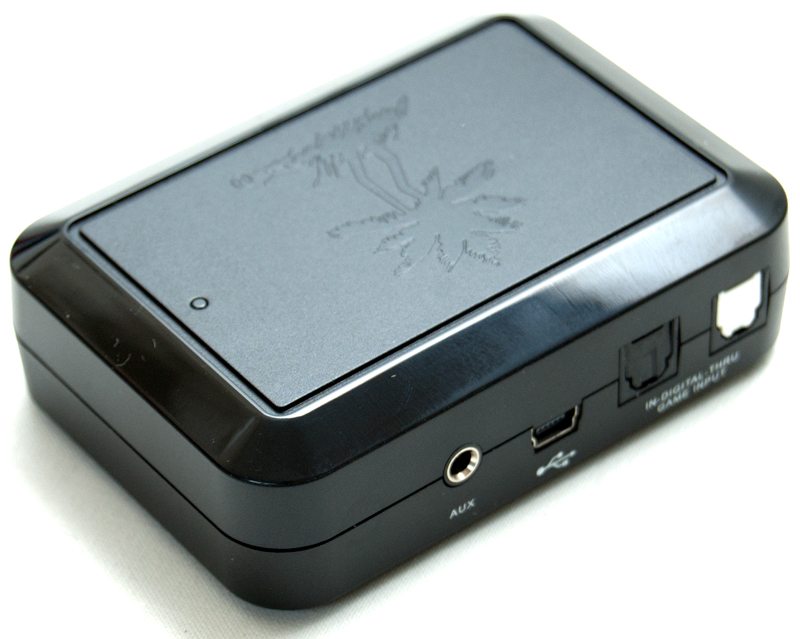 Booklets included are a quick start guide, general instruction manual and warranty information as well as a few funky stickers.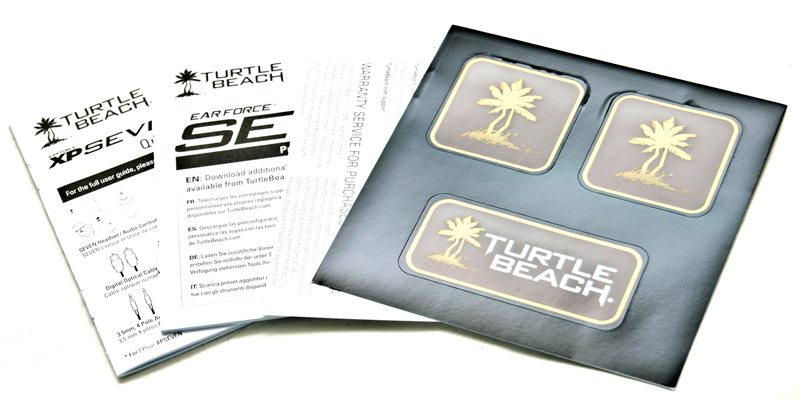 The Audio Control Unit is hard-wired and in its self looks a fairly complicated device, lucky it comes with its own setup and control reference card.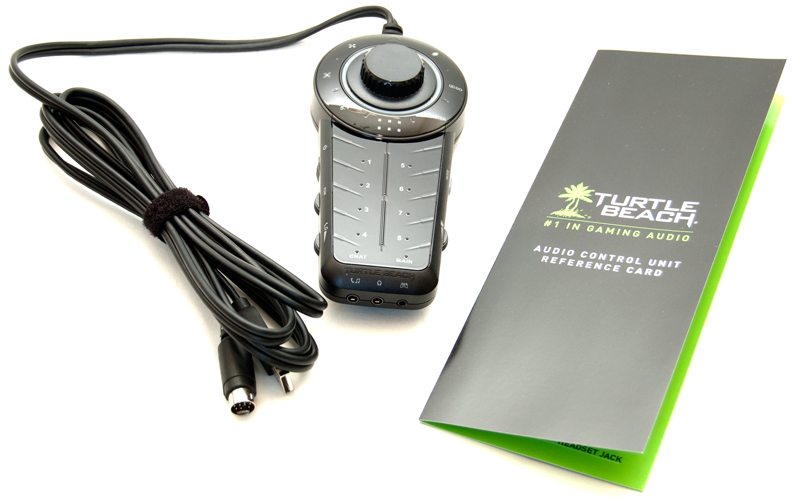 Down the left side we have a two-way power toggle switch, PGM and audio music mix, down the front edge we have phone / music line in, headset line out and controller line in (for Xbox controller link cable). The top features a large dial with infinity turning in both directions, but this can also be pushed in as the master mute button. The outer ring of the top circle area features touch sensitive controls for each of the sound modes from master audio, Dolby surround, surround sound type and even the ability to select each individual speaker (see the six dots on the bottom of the dial) and this allows you to tweak volume of each channel to your liking and even after listing all that I feel I'm over simplifying the top part of the controller.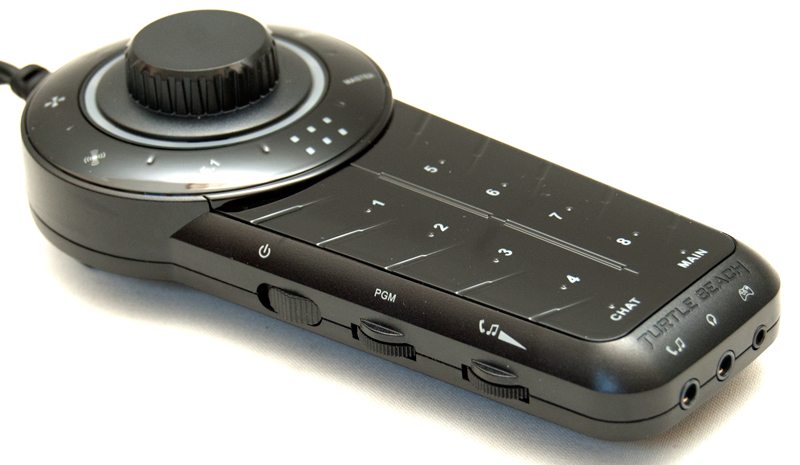 The right side features a master voice level control dial and a mode button, mode is used to switch between USB audio, optical, etc. Now only the 1-8 buttons and the main / chat buttons near the bottom. Each of the buttons here are touch sensitive, press chat for chat mode and you can then select from 8 voice presets for your microphone. Some of these are a little silly, allowing you to sound like a robot or an alien and nonsense like that but others are pretty handy, adding or removing bass, thickening the sound and in many environments these could prove useful for boosting chat audio in a busy environment such as a pro gaming event.
Use the main button and then the 8 control buttons change EQ, this allows for some pretty impressive results that can offer simple audio boosts, heavier bass, richer mid tones or screaming high frequencies, to that classic "?WOW" cranked everything effect. One of the most interesting however is number 7, it strips all bass and clears up the high-end, giving a fairly tinny sound but one that is often favoured by eSports players as it makes hearing the footsteps in FPS games much easier.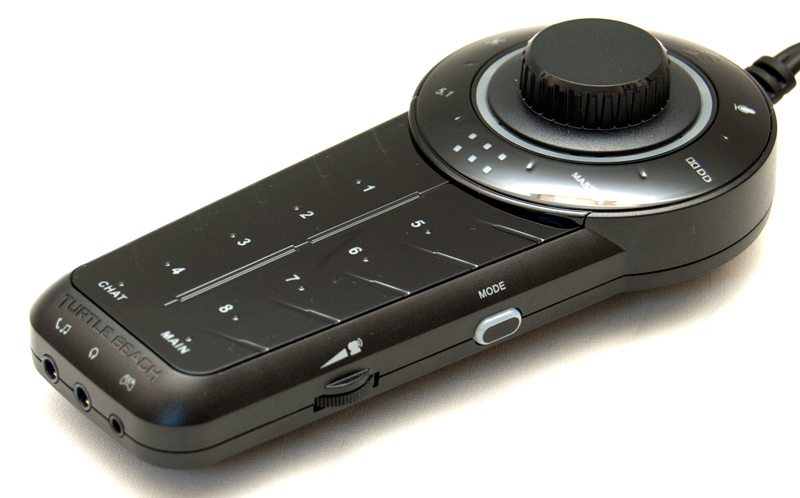 Around the back you see that there are three sturdy legs with rubber grip feet, perfect for placing it desktop, but should you need it there is also a durable clip.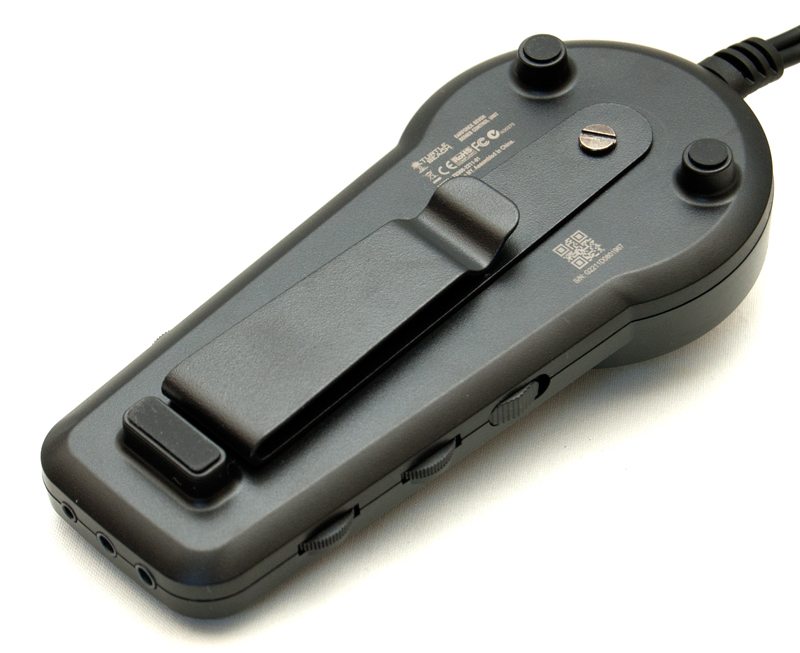 As stated before the control is hard-wired and comes with a dual cable that uses USB and a multi-pin connection for hooking it up to the hub, but you can just use the USB cable only if you are hooking it up to your PC or Mac.

The XP comes equipped with the most comprehensive cable collection I've ever seen and from left to right we have a 4pin 3.5mm braided cable, 4pin to multi-pin braided cable, boom microphone, another 4pin to multi-pin braided cable with a lapel microphone attached, a 2.5 straight to 2.5mm L-shape rubber cable, a standard USB to micro-USB rubber cable, a dual cable for USB-Multi-pin male to female extension and finally a Toslink optical cable. Each one offering a way to extend you headsets reach, hook up to your smart phone, mp3 player, Xbox controller, use the headset as headphones, use them on consoles, PC and any multitude of devices you can think of given that there appears to be a cable for everything, impressive.

First impressions of the headset are really good, the headband is finished in a durable black leather with white stitching. It's pretty tough at first but it is intended to shape to the user over time and should last longer and provide better comfort in the long-term over softer fabrics which often wear out or rip.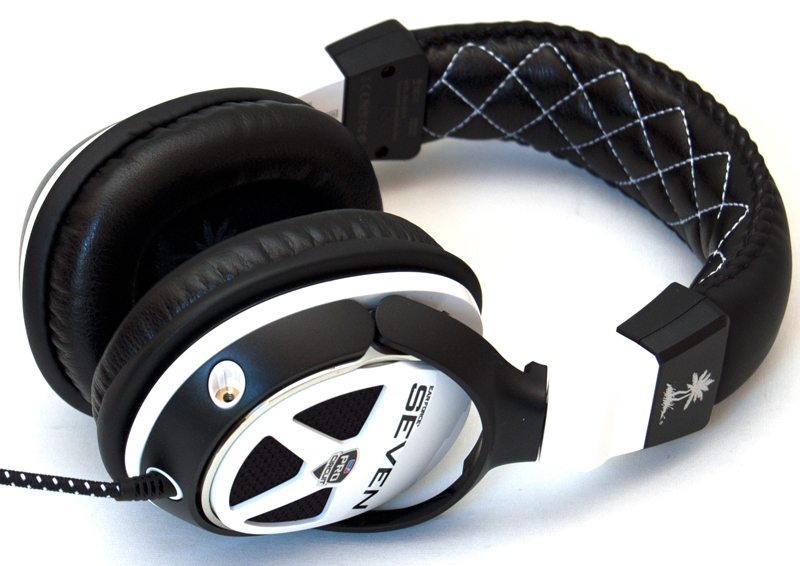 A nice feature of this headset are the removable backs on the headphones, which could allow for customisation and this is something that will no doubt prove popular with eSports teams who could get their logo printed on the panels.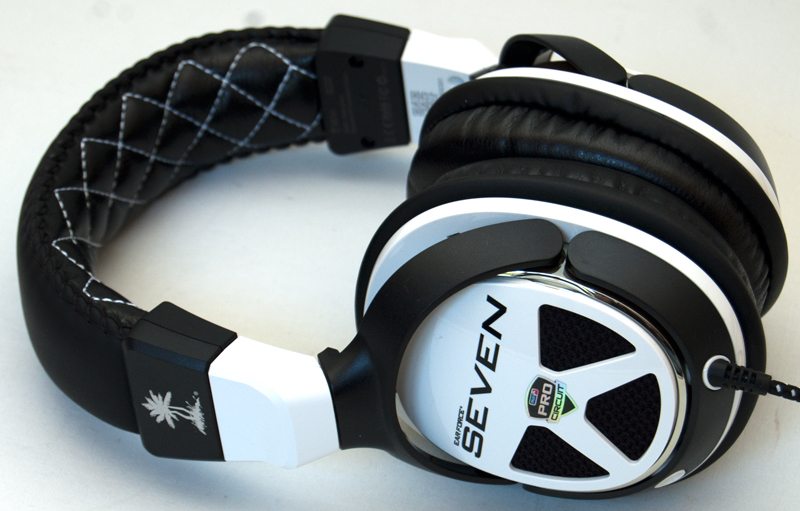 The drivers are finished with some reflective silver trim around the outside, with the inner cups being finished in a soft leather that provides a clean tight fit, blocking a lot of external noise but in a warm room this could become a little uncomfortable as there is little room for airflow to your ears.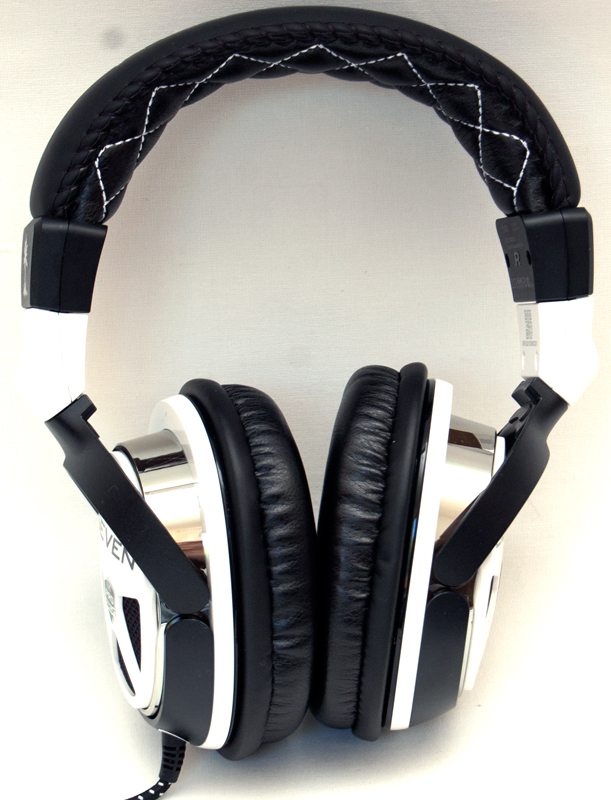 Another feature I like is very subtle, the ear cup mounts are reinforced and pulled inwards, given a "close" feel to the side of the headband, often I see headphones where the bracer for the drivers sticks out 3 inches from your head and your left with a huge gap between the headband and your head on the left and right side, that isn't the case here and Turtle Beach are one of the few headset makers who seem to understand what shape a human head is likely to be.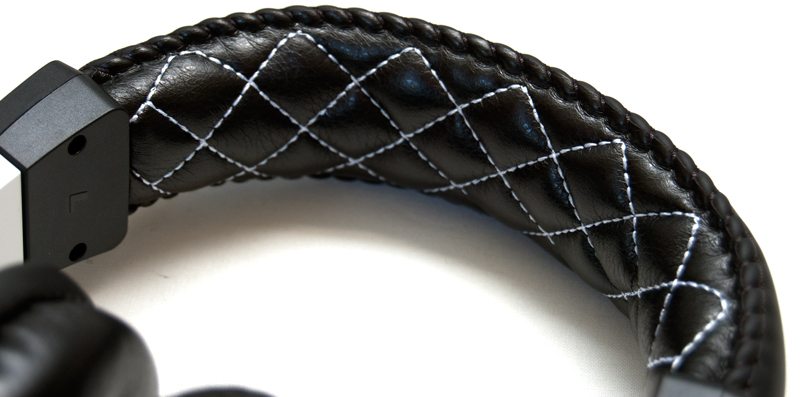 The top of the headband is finished is a dull leather and features a lightly embossed Turtle Beach logo.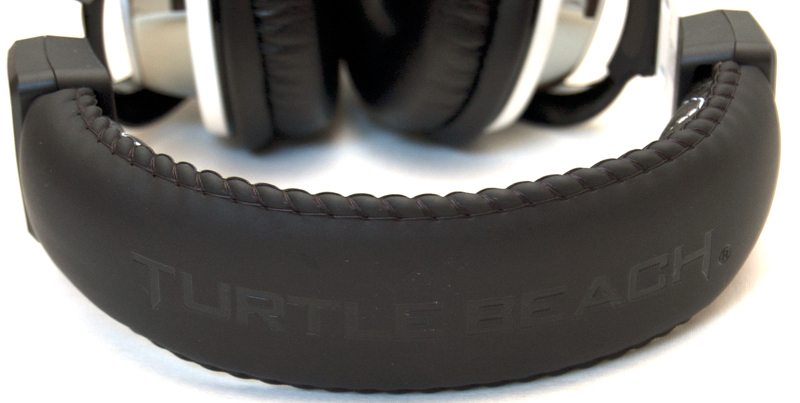 There is a simple pivot mount on the drivers that help provide a clean fit to your head, here you can see the wired connection cable and the port for the boom microphone.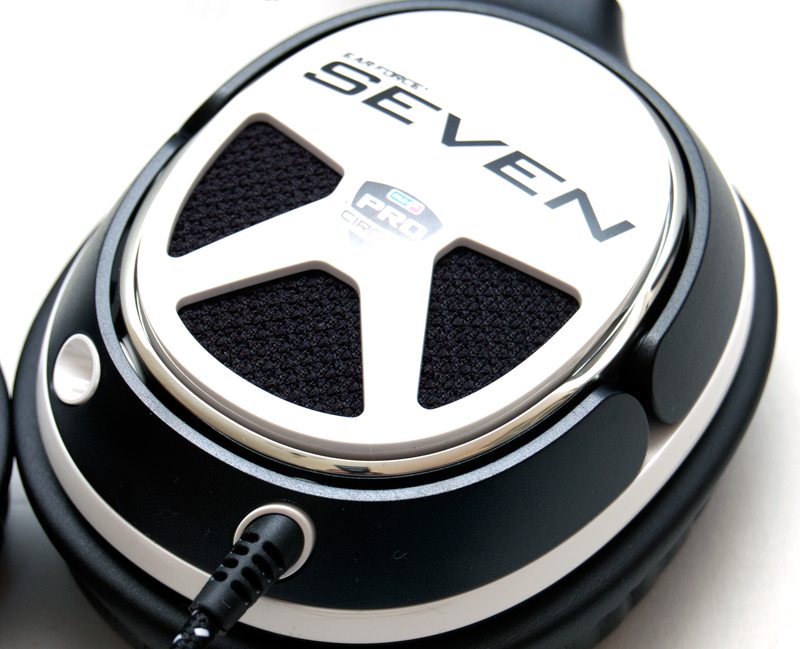 The cups on the headphones can be rotated 90 degrees outward, this makes resting them around your neck easier.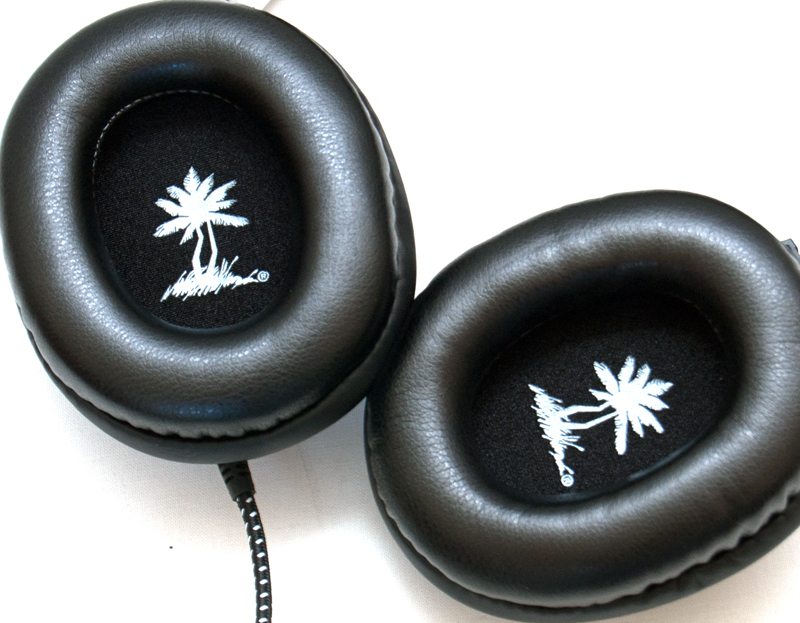 Setup & Installation
Now my first impressions of this headset were put simply "OMG! So many cables" but let's be honest, you don't buy a headset like this unless you've got some impression of the features you need and it's really not that hard to get up and running. If you want it on your Xbox 360 you take the optical from your Xbox to your hub, connect a USB cable from the Xbox to the hub for power, you connect the controller hub to the hub, then the headset to the hub with its two cables, then you connect the controller to the hub with the controller cable and if you want your smart phone plugged in there is a cable for that too so you can answer your calls via the headset, oh just remember to connect one of the TWO microphones also. OK so that does sound complicated but it really isn't, it's immediately obvious that each cable serves a single purpose, it's all clearly labeled and in the real world it took me a couple of minutes to get it all up and working without a glitch.
Setup on the PS3 was the same, but setup on the PC was much better, hook up the USB cable from the control unit and bam! Device found by windows, even better is that it adds two audio devices to windows sound manager, one of which is Stereo audio and the other a multi channel surround, meaning you can adjust each channel volume directly from Windows, a welcome feature for PC gamers.
Another added bonus for PC users is the downloadable software that allows you to create and customise the EQ settings and voice changing features, these can then be uploaded to the Turtle Beach website to be shared or you can download extras that other users have created. While this might sound silly it's actually been used by gaming studios to tailor EQ settings toward their game (eg: Call of Duty) as the default ones on the headset might not always be best for that game, so it's well worth a look and once the new profiles are loaded onto the headset you can still use them on your consoles.
Performance
This is what really matters, gimmicks and features aside because without blinding audio performance this isn't going to be worth a damn thing. I decided to start out on my Xbox 360 and PS3 where I opened up a few chat sessions to test the audio and while I found both the in-line and boom microphones to be great to use the boom microphone was a clear winner, literally. Both are better than the stock Microsoft headset, but the boom is in a league of its own and everyone that had to suffer a conversation with me said I sounded much better via the boom.
Having absolute control over each source, be that party chat, game audio or the music I could stream from my phone into the headset is stunning and while many of the EQ settings were not to my liking I can see many practical applications for them for those in noisy environments, not to mention everyone's hearing is different and may need the boosted frequencies. The voice EQ are a lot of fun too and while again some of them are not essential they're certainly a lot of fun for winding your friends up as they can be enabled and disable with ease.
Audio performance is exceptional, so long as you can find the setting that works best for you and your game. There are so many EQ settings, surround sound modes, volume settings and input options that if you can't find one that sounds good then there is seriously something wrong with your hearing. While I know the input and controller thing sounds complicated, it couldn't be further from the truth and the touch panel interface is a breeze to operate and you'll be flicking through modes in no time.
I also hooked the headset up to my PC and found that gaming audio performance was just as great as it was on Xbox and PlayStation 3. I also put it to the test on some of my favourite albums and while I won't be shifting away from my dedicated music headphones any time soon the XP's do sound great, but they're definitely better suited to the world of gaming were voice, music, action and everything else can be mixed on different levels to your liking.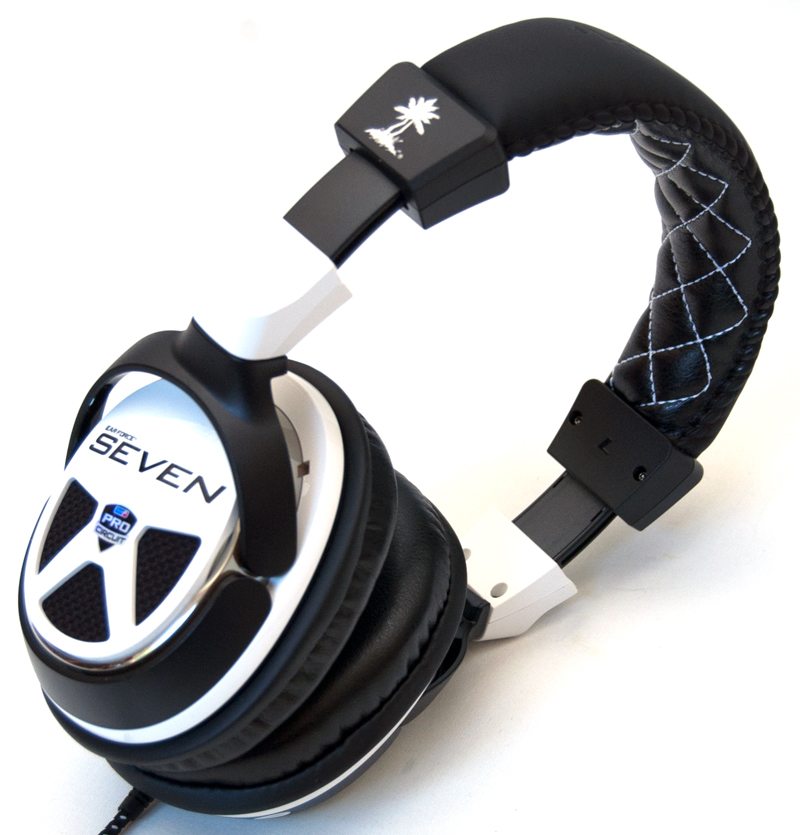 Final Thoughts
The Turtle Beach Ear Force XP Seven Tournament Grade Gaming Headset has clearly been made with one goal in mind, be all things to all gamers and them gives them even more things that they didn't know they needed until they had time. There are features just pouring off of this thing and I dare admit I think I may have missed a few on the way here, but I think I've made a fair enough point in conveying that this headset has more features than just about any other headset on the market, at least that I can think of.
For all its complexity it's still easy to use, even if from reading this review it sounds anything but straight forward. If you plug it in it will work, if you want to tinker and customise it all to your liking after that then you can do and the touch panel interface is stupidly simple to figure out and a lot of thought has no doubt gone into its functions and design to make it visually appealing and easy to use.
From a technical point of view the headset is somewhat of a masterpiece and the features that it offers are a mixture of fun and entertaining gimmicks, albeit gimmicks that work well, but also highly functional features that can improve your gaming experience endlessly and while many of these features are geared towards pro gaming and eSports, they'll prove just as entertaining to the average game, well… the average gamer who can afford them at least.
The price really is a sticking point, this is immensely expensive but in many ways its great value for money, Astro, Tritton and Steelseries all have premium offerings around this price range but not one of them packs this many features, not by a long shot and that makes this a great value for money option, relatively speaking.
eTeknix Says: "If money is no object and you want a headset that can cater for every major console and PC out there, while offering you some of the most versatile audio customisation features on the market, Turtle Beach have the answer here."