Twitter Posts Shows America Has Discovered the Chip Butty
---
---
---
Mike Sanders / 4 years ago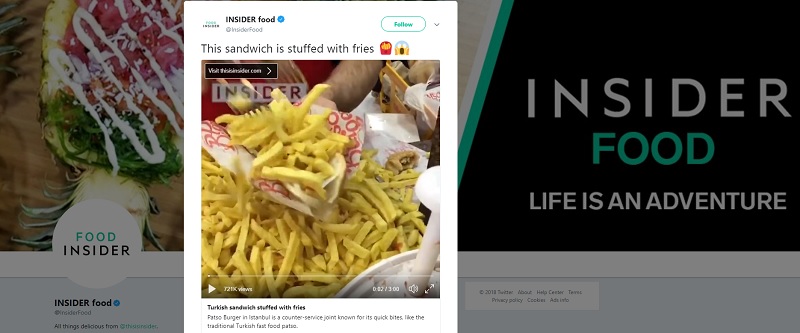 America Discovers the Chip-Butty
You may recall that last year, America finally found out about chip-butties. They way the talked about them was also as if they invented them. Well, it seems that America is again discovering a British classic with complete ignorance of the fact of how popular it is here.
Yes, in a Twitter post, Insider Food has revealed that America has discovered the chip-butty. As you can imagine, British readers are doing what we do best and responding with some grade-A sarcasm.
The post!
In the post, Insider Food reveals that a restaurant in America has come up with the quirky idea of getting a batch and filling it with chips. If they weren't enough they also put ketchup on it! Admittedly I cannot entirely endorse the idea of mayonnaise, particularly in that quantity, but this is America after all.
They are treating this, however, with all the shock and awe as if they'd just discovered penicillin.
This sandwich is stuffed with fries ?? pic.twitter.com/cFk9Rq7z8B

— INSIDER food (@InsiderFood) April 7, 2018
The British are coming!
As you can imagine, British readers have been pretty quick to point out that not only is this discovery not unique, it's not even unusual. At least, not on this side of the pond. They have, however, been doing me proud in pointing this fact out to Insider Food.
Americans: English food is terrible.
Also Americans: https://t.co/AgNTmDcjuF

— Ben Naylor (@Naylorben) April 7, 2018
Yes, it does seem to contradict a long-held stereotype of us.
Every person in the UK right now pic.twitter.com/9zmKjMQH5e

— Iheartgraff (@IheartgrafDrew) April 7, 2018
Bringing out the big guns, we have the slow clap.
Nothing revolutionary there. Us Brits put anything on bread ?? and you think chips are ?

— StormWalker (@__Go0N__) April 7, 2018
That is largely true. Very few meals I have are not accompanied by bread of some description.
I can't wait till they find out about bangers and mash.

— Zane Sibiya (@SibiyaZane) April 7, 2018
Whats going to be their next big discovery?
It is, if nothing else, mildly amusing that a chip butty has been treated with such reverence and I doth my cap to responses. Britain, you have done me proud!
Personally, I can't wait until America discovers beans on toast. If they were impressed with a chip-butty that will really blow their minds!