Uber Now Tracks Users Up to 5 Minutes After Ride Ends
---
---
---
Ron Perillo / 7 years ago
Privacy advocates such as the Electronic Privacy Information Center have raised concern regarding the latest update for the Uber ride sharing app which tracks user location even when the App is not being used. Uber calls this feature "Trip Related Location Data" and it is collected from the time the trip request is placed up until five minutes after the trip concludes and the rider reached their destination. This was designed to further improve rider pickups, minimizing that guessing game of where to coordinate a location to meet and according to Uber, it is for the user's own safety.
The Electronic Privacy Information Center disagrees however and they have previously filed a complaint last year with the US Federal Trade Commission about the ride sharing app's increased data collection when the update was still in the proposal stages. The FTC did not take action and the update went through. In January, Uber was made to pay a $20,000 in New York after an investigation revealed that the app's "God View" tool allowed employees to track individual riders in real time.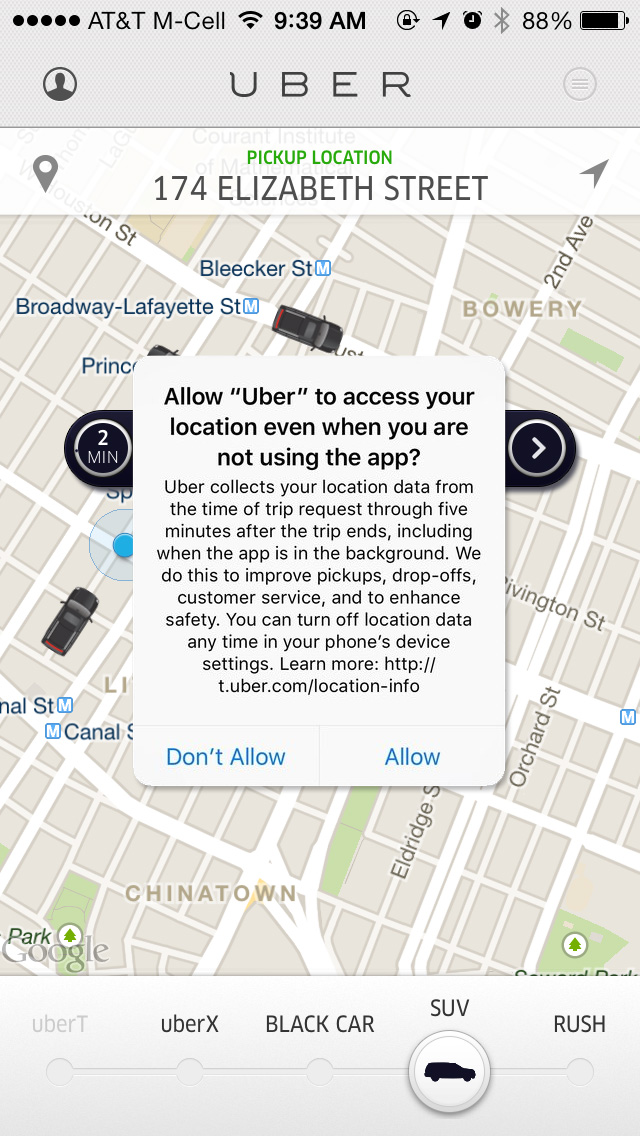 In iOS, the location-sharing choices changed from having 'Don't allow' share location option to 'always', implying the app can collect data even when the user does not have it open. Uber claims this is not the case however and that the Trip Related Location Data is collected at the following instances:
When you are interacting with the Uber app and the app is foregrounded and visible.
When you're on a trip: from the time you request a trip until when the trip is ended or cancelled by the driver, even if the app is running in the background and not visible to you.
Up to five minutes after the driver ends a trip, even if the Uber app is in the background.
Users have the option to turn off the ride sharing app's data collection by disabling location services through the device settings.
On Android: Settings → Apps → Uber → scroll to "Permission" → toggle "Location"
On Android Lollipop (5.1) and earlier: Settings → Location → toggle Off
On iOS: Settings → Privacy → Location Services → Uber → choose "Never"