Ubisoft Raises Prices for Rainbow Six: Siege – Angers Fans
---
---
---
Ron Perillo / 4 years ago

What are the Changes to Rainbow Six: Siege in 2018?
Ubisoft's Tactical shooter game Rainbow Six: Siege has had an interesting 2017. Despite launching in 2015, the game is now more popular than ever. It is holding its own despite the rise of battle royale-style games. Ubisoft of course, wants to take advantage of that popularity and are announcing a price restructuring for the game.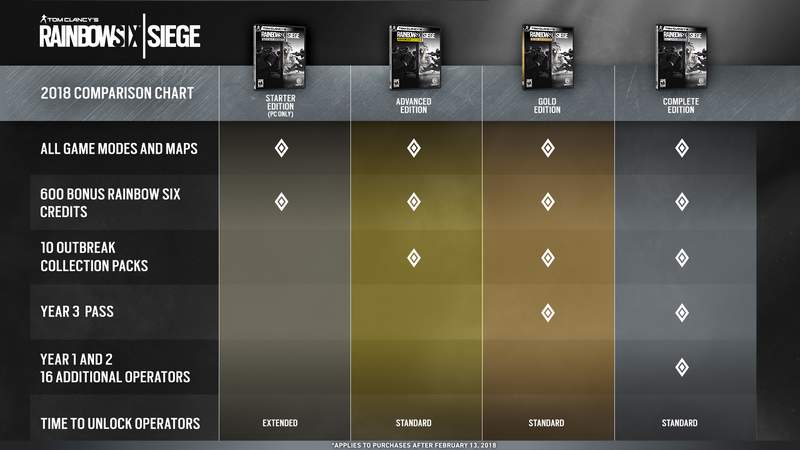 The game itself is available in various editions: Starter, Standard, Gold and Complete. In 2018, the Standard edition is being dropped for the new Advanced edition. It includes everything from the Standard edition but with 600 Rainbow Six Credits and 10 Outbreak Collection packs. These contain cosmetics for the upcoming Outbreak Event. The Standard edition costs $40, but the new Advanced version costs $60.

The Gold Edition also gets a $20 price bump, pushing it from $70 to $90. It has all the content from the Advanced Edition with the year 3 content season pass. The Complete Edition also gets a $20 bump from $110 to $130. It has all the content from the Gold Edition plus 16 bonus operators from the Year One and Year Two content.
Those who purchased the Year 2 Complete Edition gets everything at the time of purchase. However, this excludes the 600 bonus credits, the 10 Outbreak packs, and the Year Three season pass.
Ubisoft Backing Out After Fan Outrage (Somewhat)

The move obviously does not sit well with fans. The /r/Rainbow6 sub-Reddit was flooded with comments after the announcement. A few hours later, Ubisoft had to respond with an official statement explaining that they are listening to fan feedback.
Our passionate and dedicated fans are the reason why Rainbow Six Siege is a success, especially the ones who have been with us from Day 1. Following yesterday's announcement, we have seen the frustration from our current players rise to the top of the discussion. Below you will find our next steps for addressing these concerns.
For our current players, any of you that play an online match between now and March 6th will receive the upcoming Ash Sidewinder Elite skin for free. The Ash Sidewinder Elite will be automatically granted to your inventory at the launch of Year 3 Season 1.
For our newcomers and those of you concerned about introducing your friends to the game, we will be keeping the Standard Edition in the store at the current price.
For those of you who have raised concerns over the Starter Edition when it comes to acquiring Operators, we will be sharing more information about our next steps during the Six Invitational. We recognize that this has been a point of frustration for new players, as well as existing players bringing their friends into the game, and have been working on how to make this process more fluid.
The Standard Edition is the most popular option so it is a good move for Ubisoft to keep it. Especially at the original price.