Ubisoft Store Launches Massive Spring Sale – Up to 75% Off
---
---
---
Ron Perillo / 5 years ago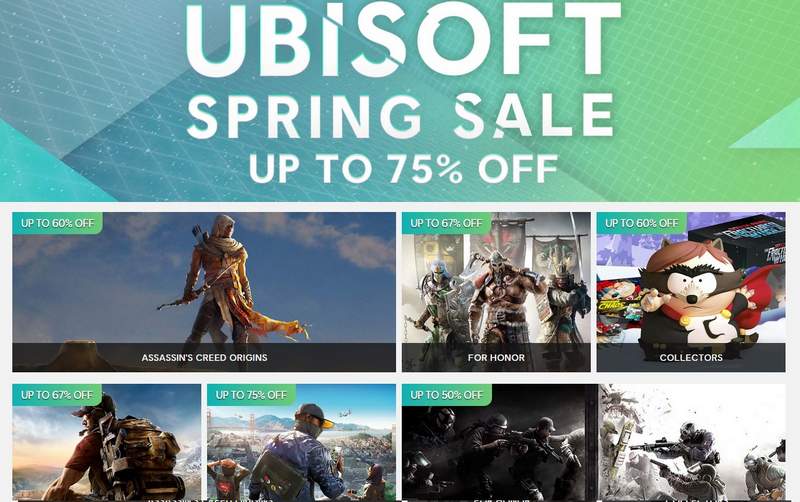 Spring Celebration with a Store-wide Sale Event
The first official day of spring is here and Ubisoft intends to celebrate with a store-wide sale. That means discounts on their most popular (and some not-so-popular) games. Furthermore, many of the game-related accessories and merchandise are also hugely discounted. In fact, discounts of up to 75% are in effect and game prices are cut in at least half.
What Noteworthy Sale Items Are Available from Ubisoft?
The latest entry from the Asssassin's Creed series, Assassin's Creed Origins for example is currently 50% off the regular retail price. This is much better than the current sale price that Steam is offering for the game which is only 40% off. The caveat is that you have to buy it from the Ubisoft store.

For Honor, Rainbow Six Siege, the Division and Ghost Recon Wildlands have matching discounts on the Ubisoft store and on Steam. However, Watch Dogs 2 is surprisingly lower priced on Steam with a 66% off discount while it is only 50% off at the Ubistore. Although the newly released Far Cry 5 is not on sale, all previous Far Cry games are. In fact, they are all 60% off their current retail price.
One advantage of buying from the Ubisoft store is that there are matching merchandise discounted as well. Various Assassin's Creed Origins hoodies and jackets are 50% off. Even South Park merchandise and games are part of the sale. Fractured but Whole is 67% off while many South Park Merchandise is 50% off.
Click here to check out all the items on sale. All sales worth over $99 USD are eligible for free shipping.
When Does the Ubisoft Sale Event End?
The sale is currently ongoing and will wrap-up on March 31st, 2018.