UK Programmer Releases Free Eye-Tracking Software
---
---
---
Ashley Allen / 7 years ago
It used to be that people suffering disorders that prevented them from operating computers – whether via mouse, keyboard, pad, or even speech recognition – were forced to fork out thousands for commercial eye-tracking software. Now, a UK programmer, Julius Sweetland, has developed a system to rival the best commercial offerings, and he's made it available for free.
Sweetland's OptiKey was developed during his spare time, working around his office hours during late nights, early mornings, and weekends, and allows severely disabled people to operate a computer using eye movements alone. "[My day job has] nothing to do with eye-tracking stuff," Sweetman explained. "I've been writing financial software." While OptiKey requires the user to have a PC and an eye-tracking camera, the software itself is absolutely free.
Sweetman was motivated to create the free system by a family tragedy. "I started at a hedge fund. My Aunt [Gill] died of Motor Neuron Disease [MND]," he says. "It was quite fast … and [it] took away her faculties and her ability to use her body and communicate. But when your fingers are failing you, these [keyboards] don't really work. It's just fiercely unfair."
"That's what sparked the whole thing. I just thought, 'There's technology that's letting people down here. Maybe I can do something.'"
Knowing "absolutely nothing" about eye-tracking software, Sweetman spent years learning and developing his own version. "One of my first drafts was an old plastic pair of glasses with no lenses," he said. The prototype used a modified PlayStation camera and an old set of glasses with the lenses poked out.  "It's quite amateurish," he said with a chuckle.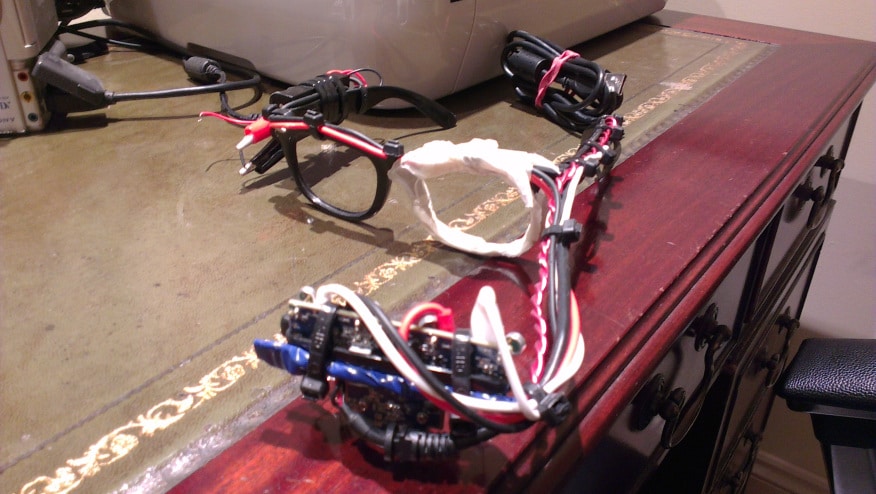 Later models incorporated a 150fps "lab quality camera" and these big LED things stuck on a bracket that my dad helped me drill and stick together on bits of wood." Finally, Sweetman honed the product to the point that he was ready to test it on a real-life subject.
He made a trip to the Putney Hospital for Neuro-Disability, where his first official tester was, aptly, a former software developer. "It was a bit of a baptism of fire to see if he liked the code, [but] his feedback was all very positive," Sweetland said.
After successful testing, Sweetman gathered a number of volunteers to localise OptiKey into 40 or so languages and develop a Mac-compatible version.
The current iteration of OptiKey even has a voice bank facility for those who still have the power of speech but are at risk of losing it. "Should you lose your voice through the progression of your disease," he said,"…[Voice banking programs] allow you to install your own voice and sound a little bit like yourself."
More information on OptiKey can be found at Sweetman's Patreon page.