Upcoming Game Releases For October 2018!
---
---
---
Mike Sanders / 4 years ago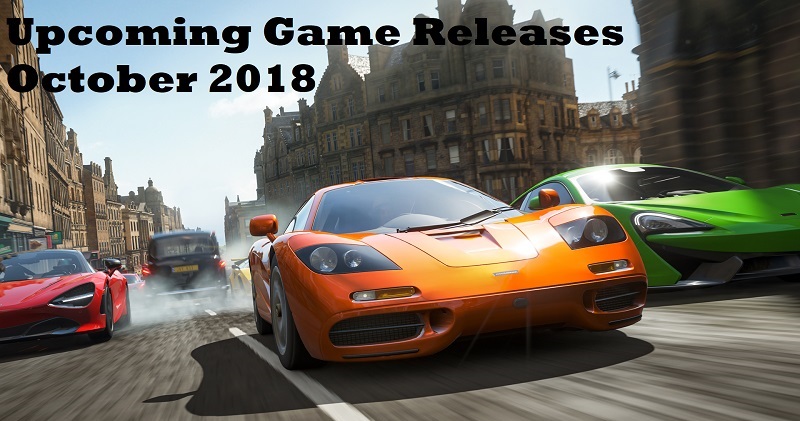 Upcoming Game Releases For October 2018!
It's no exaggeration to say that in terms of releases, October is one of the biggest months of the year. While a number of games that were originally released this month have been delayed (Battlefield 5) there is still more than enough on the gaming calendar to wet your appetite.
We, therefore, take a pick and highlight some of the more notable gaming releases for the month!
Forza Horizon 4 – PC & Xbox One – October 2nd
October starts off with a big bang! Yes, Forza Horizon 4 is set to release and in terms of what it has to offer, it looks like one of the best releases in the series to date! While Forza (and driving games in general) might not be for everyone, it is, perhaps one of the best casual and accessible racing series currently on the market.
Assassins Creed Odyssey – PC, Xbox One & PS4 – October 5th
It barely feels like a few months have passed since the last Assassins Creed was released, but the latest, Odyssey, will come out on October 5th. Although I am always mildly dubious about any Ubisoft AC release, this does look to be one of the more polished entries in recent years.
Super Mario Party – Nintendo Switch – October 5th
Aside from Super Smash Bros., this is possibly one of the most anticipated games coming up for the Nintendo Switch. The fun family based board game has proven to be hugely popular over the years and the latest edition is, perhaps, looking to be the best to date.
Call Of Duty: Black Ops 4 – PC, Xbox One & PS4 – October 12th
Another year, another Call of Duty. While I might have personally long fallen out of love with this series, it has still proven to be remarkably popular amongst the fans. With the Black Ops being some of the better games in recent years, this is sure to be a hot seller this month! Well, it's mere existence was enough to make Battlefield 5 delay their launch!
Soul Calibur VI – PC, Xbox One & PS4 – October 19th
It's been a little while now since we last saw an entry in the popular Soul Calibur series. Over 6 years to be exact. In the meantime, plenty of other fighting games have come along, but hopefully, this new entry will help breath a little life into a bizarrely absent series.
Red Dead Redemption 2 – Xbox One and PS4 – October 26th
Ok, so this is probably the biggest release of the entire month. If Rockstar Games knock this out of the park, possibly the biggest release of the year. Yes, Red Dead Redemption 2 is very nearly upon us! From what we've seen so far, this is going to be every bit the game we hoped it would be. Although, there is still, sadly, no news on the PC release.
What Do You Think?
October is certainly a lot more impressive than September. The way things have shifted though (in terms of delays) November is also looking to be an equally good month! We have, of course, got to wait and see. 2018, however, is shaping up to end on an exceptionally strong note in terms of releases!
What do you think? Any game you think we missed? – Let us know in the comments!