Upcoming Game Releases For September 2019
---
---
---
Mike Sanders / 4 years ago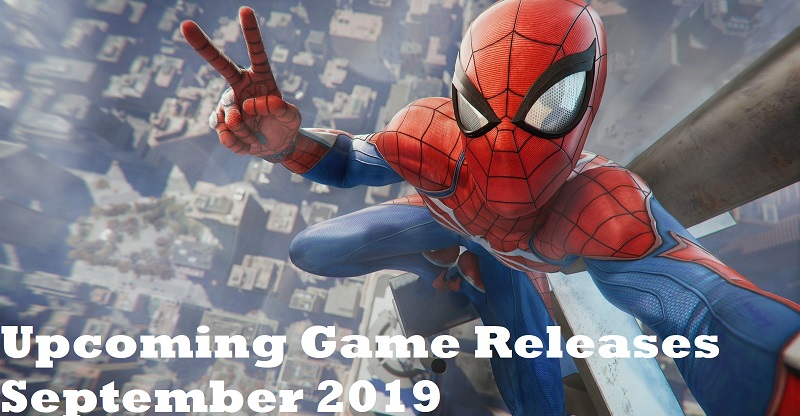 Upcoming Game Releases For September 2019
September is here! Yes, we're finally into the final quarter of the year! With Summer (almost) over though, we can at least settle back into the comfort of games. Particularly for those of us who stay at home and have had the kids to contend with! With a new month comes new releases after all!
We, therefore, take a preview of the month to pick out our gaming highlight releases!
Spider-Man – PS4 – September 7th
There are very few games for the Xbox One that are stand-out enough to make me feel like I really need the console in my life. In regards to the PS4 though, there are loads.
The latest of these is due for release soon is Spider-Man. Another massive PS4 exclusive! Could this finally be the Spider-Man game the franchise has so desperately deserved? – We think so!
Shadow Of The Tomb Raider – PC, Xbox One, PS4 – September 14th
So this game has pretty much been plastered everywhere in the last few weeks as Nvidia (essentially) used Lara Croft as the 'poster girl' for the ray tracing technology. Despite this though, don't forget that this is actually a brand new Tomb Raider game.
How you feel about this will, I suppose, be depending on how much you enjoyed the more recent re-boots, that being said though, this game is looking to strike a balance between the old and new. So far, it's looking very impressive!
Undertale – Nintendo Switch – September 18th
There's not much you can say about Undertale as the game has been out for quite a while. If you are new to the franchise though or perhaps want to try out something a little different, what is possibly the greatest ever indie game will be heading to the Nintendo Switch.
In theory, it's a match made in heaven. Let's hope that's also the reality!
Fifa 19 – PC, Xbox One, PS4, Nintendo Switch, PS3, Xbox 360 – September 28th
Another year, another Fifa. With the franchise managing to officially land the Champions League though, Fifa 19 definitely has something new to offer players.
What perhaps surprised me the most though is that this game is releasing on the PS3 and Xbox 360. Surely though, for the last time!
What Do You Think?
I must admit, despite some stand-out releases, September isn't looking that amazing in terms of the number of big releases. Between Shadow of the Tomb Raider and Spider-Man though, there's still plenty to get excited about!
If you were worried, don't be. October is looking fantastic!
What do you think? Any game you think we missed? – Let us know in the comments!