Upcoming RX 3080 is 15% Better Than Vega 64 at Only $249?
---
---
---
Ron Perillo / 5 years ago

Rumours Abound: AMD Preparing RX 3060, 3070 and 3080
Popular graphics card analyst and YouTuber AdoredTV has posted a new video claiming some surprising leaks. These concern AMD's supposed next line of graphics cards, and if to be believed these are highly surprising.
AdoredTV has leaked certain video card launches before ahead of time. This includes the GTX to RTX name change for Turing, etc. So this is not out of the ordinary or out of character for him to do. These leaks involve supposed performance levels, naming scheme as well as prices of AMD's upcoming 7nm NAVI consumer GPUs.
The first two are easy enough to believe, but the pricing reveal is quite shocking. Especially for the performance level it claims.
You can watch full 30 minute video above and/or read the summary below for reference.
What Can Users Expect from these AMD RX 3000 NAVI Video Cards?
According to AdoredTV, there will be three models using two different GPU models initially. These are the RX 3060 and RX 3070 using NAVI12, and the RX 3080 using NAVI10.
These names of course, not only prevent NVIDIA from using it for their next-gen GPUs, but it also matches their Ryzen 3000 series CPUs. So it is a win-win for AMD. Its also a nice bit of karma considering NVIDIA tried to bully AIBs into making their brand names exclusive to GeForce (via GPP) earlier this year.
The RX 3060 is supposedly a 75W TDP GPU with 4GB of GDDR6 for only $129 USD. In fact, it is so efficient it does not require any PCIe cables to run. It is only powered through the PCIe bus.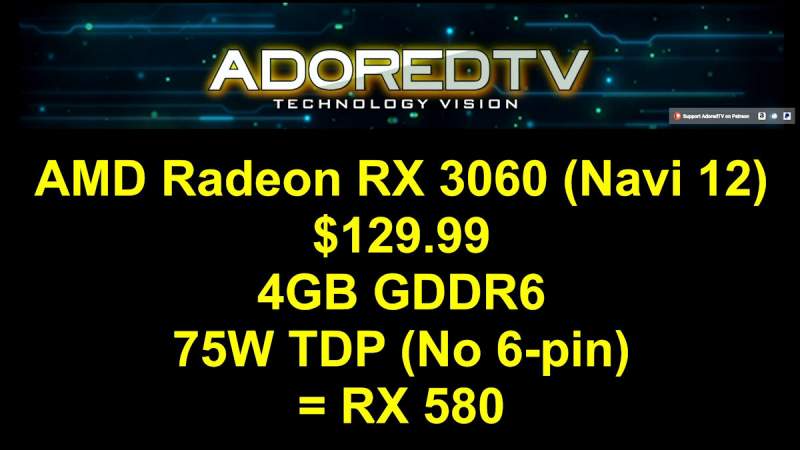 Meanwhile the RX 3070 has twice the memory at 8GB of GDDR6. It will have a 120W TDP and offers RX Vega 56 equivalent performance for only $199 USD. Considering the lowest priced RX Vega 56 right now costs $409.99, this is difficult to believe.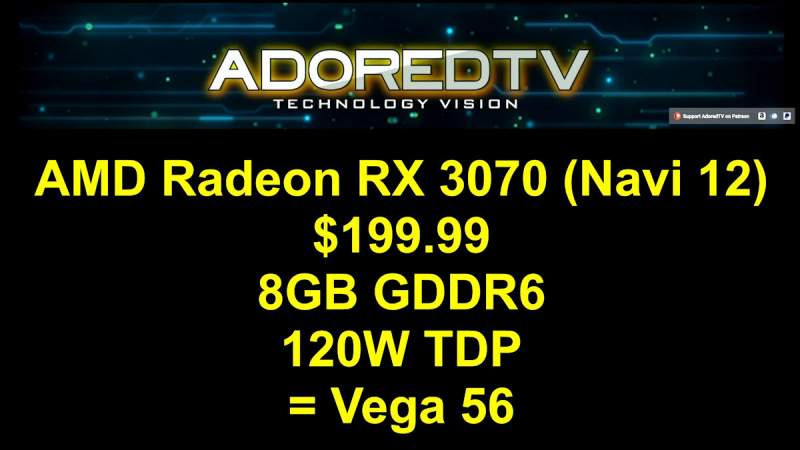 However, the most shocking claim has to be the RX 3080 with a similar 8GB GDDR6 but has a slightly higher 150W TDP. It will apparently outperform the Vega 64 by up to 15%, while only costing $249 USD. Shockingly, that is less than half the price of the Vega 64 right now.