US and UK Issue Electronic Device Travel Ban Amid Fear of Terror Threat
---
---
---
Ron Perillo / 7 years ago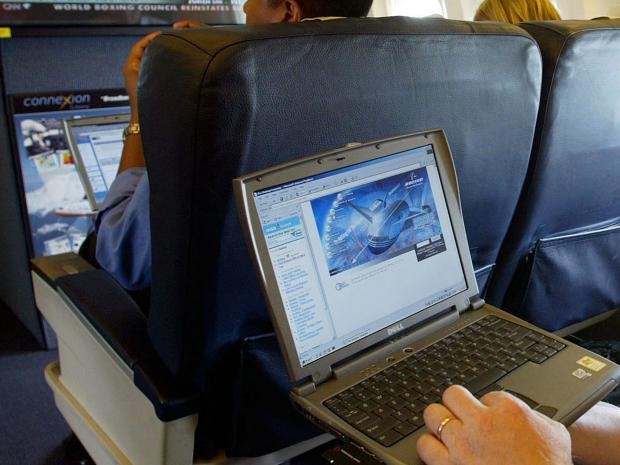 The US Department of Homeland security and the Transportation Security Administration has quietly issued a warning 8AM on Tuesday that travelers approaching the US from ten different airports in the Middle-East and Africa will be banned from carrying electronic devices larger than a smartphone due to fears of possible terrorist attacks via concealed explosives. The restriction applies to hand-carried laptops, cameras, tablets, e-readers, media players and gaming consoles, although checking in these items into luggage is permitted.  Medical devices are exempt from the ban, following a special screening.
Which countries and airports are affected?
Queen Alia International airport in Amman, Jordan.
Cairo International airport in Egypt.
Ataturk airport in Istanbul.
King Abdulaziz International in Jeddah, Saudi Arabia.
King Khalid International in Riyadh, Saudi Arabia.
Kuwait International airport in Farwaniya, Kuwait.
Mohammed V International in Casablanca, Morocco.
Hamad International airport in Doha, Qatar.
Dubai International Airport in Dubai, United Arab Emirates.
Abu Dhabi International Airport in Abu Dhabi, United Arab Emirates.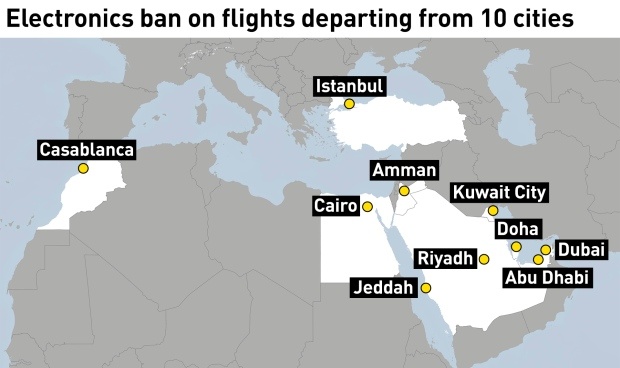 Non-stop flights to the US are affected by the in-cabin restriction, although those flying from within the US are exempt. Airports have been given 96-hours to comply with the security order and the Department of Homeland Security has stated that these rules have been put in place indefinitely.
The UK has issued its own electronics restriction following the US on the same day Tuesday, although with a more definite electronic device restriction. Hand-carried electronic devices must be no larger than 16 x 9.3  x 1.5 cm (l x w x h) according to a spokesperson for Prime Minister Theresa May, with flight restrictions affecting Egypt, Tunisia, Jordan, Lebanon, Saudi Arabia and Turkey.
Officials from the US and UK have not revealed specifics about the travel ban restrictions, but security analysts suggest that they are following credible leads of a potential terror threat. Former Canadian Security Intelligence Service analyst Phil Gurski said that the fact the UK has now joined means the intelligence was likely shared and was deemed to be reliable. Canada has not issued an official statement yet and is reviewing the intelligence reports presented whether they should follow suit.