USB 3.1 To Be Fully Reversible
---
---
---
Peter Donnell / 9 years ago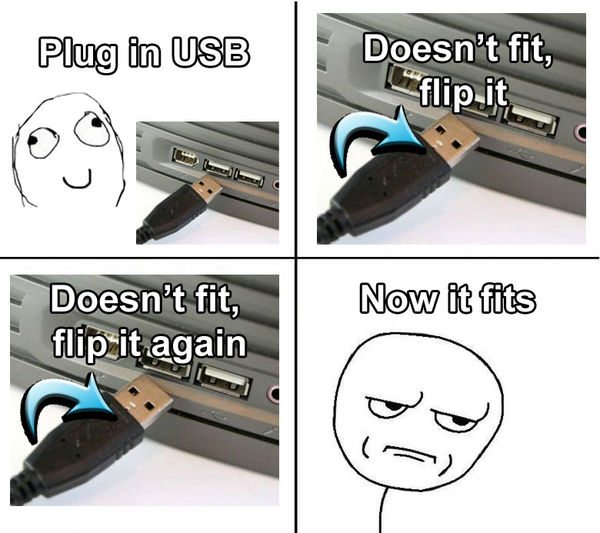 The humble USB port is one of the most annoying things in the world, and I think it is a pain we can all share. In fact, why tell you what I am talking about when the meme above sums it up so much better. The simple USB plug can be a pest at the best of time, sometimes it fits, many other times it doesn't because it is upside down, either way it's down to luck. However, that could all soon be a thing of the past as the new Type-C connection for the USB 3.1 specification has a solution.
While the final hardware isn't expected to be final until mid-2014, the new connections will be smaller, similar to that of a Micro-USB plug, or like that of the Apple Lightning connector, it will be fully reversible and that means two thing, the ports take up less space and you take up less time trying to make the cable fit the port.
There are no images of the hardware just yet, it's early days, but the concept is great and it will no doubt be a big improvement over the current standard.
USB 3.0 Promoter Group chairman Brad Saunders says that Type-C will "meet evolving design trends in terms of size and usability" while allowing for future scalability in charging and data transfer. Type-C "will enable an entirely new super-thin class of devices from phones to tablets, to 2-in-1s, to laptops to desktops," says Alex Peleg of Intel. "This new industry standards-based thin connector delivering data, power, and video is the only connector one will need across all devices."
This will of course render current connections obsolete, and there will no doubt be various adapters and connections to facilitate the new standard, but perhaps a new USB port standard that really makes big changes is long overdue anyway.
Thank you The Verge for providing us with this information.