User Reviews for Fallout 76 are Grimmer than a Nuclear Wasteland
---
---
---
Ron Perillo / 4 years ago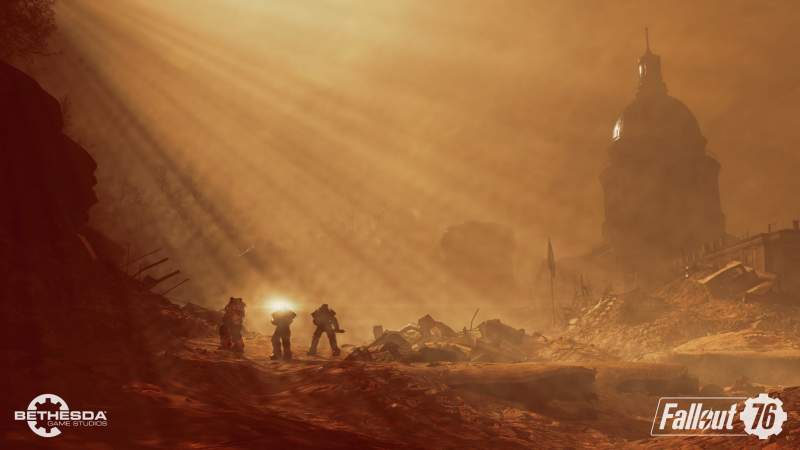 Overwhelmingly Panned at Metacritic
Following a beta event with many issues, Bethesda has promised to fix many issues raised by frustrated users before Fallout 76 comes out. It even has a massive day one patch that is larger than the install files. However, now that the game has launched, many user reviews at Metacritic are still ripping the game to shreds with an overwhelmingly negative score.
As it stands, it currently has over 1,112 negative reviews and only 381 positive reviews. There are also 69 mixed reviews in there. Obviously, this is unique when it comes to AAA games. Which usually have an overwhelmingly positive user review on the first few days. Even when games get negative reviews at the site, it is often closer to the ratio with positive reviews.
What are Fallout Fans Saying About Fallout 76?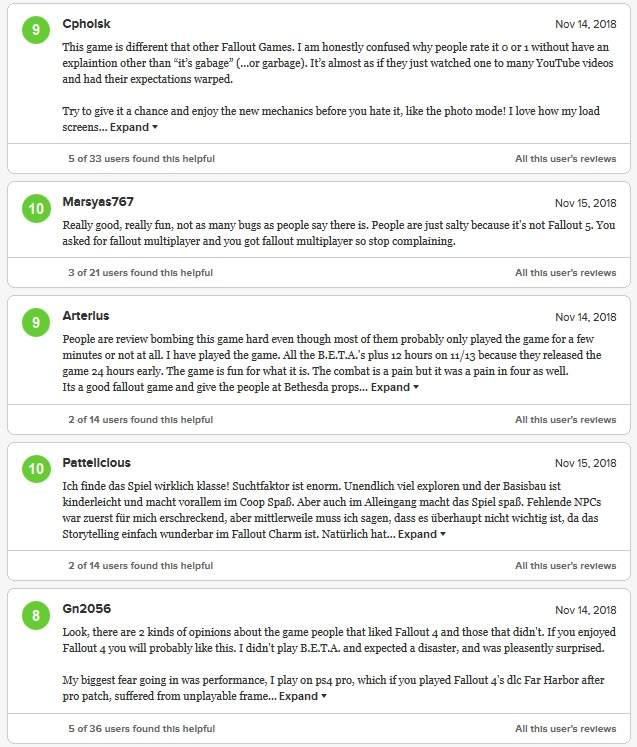 On the positive note, the ones who give it a positive review rate it at a 9 or 10. With very few rating it 8 or 7. User NikolayG who gave it an 8, describes the game as being different from past Fallout games "in that, so far, the plot is thin."
He adds that it  "mostly it exists as an excuse to get you to meander through the landscape, forage, defend yourself from random mutant creatures, craft, occasionally team up with other players, and explore."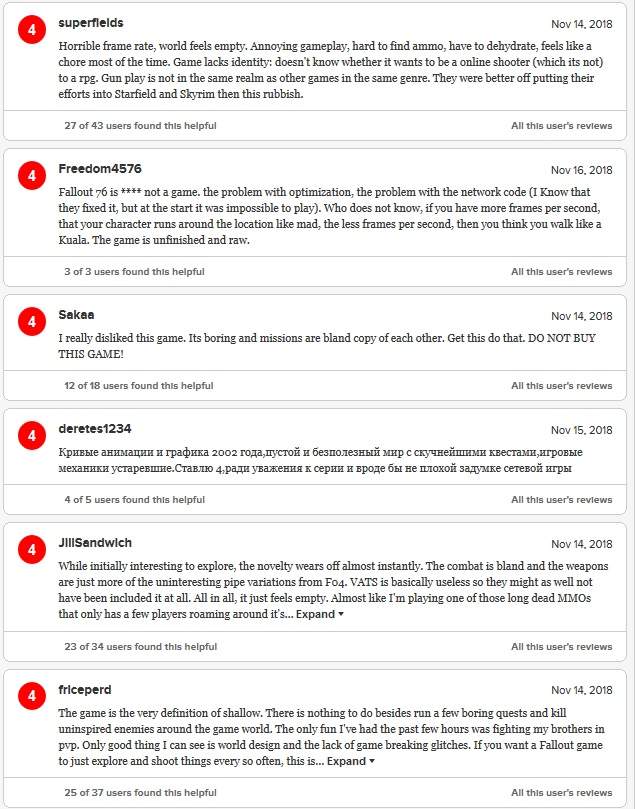 The overwhelming majority of the negative reviews rate it a 0 or 1. Mostly stating how derivative the game feels, with many assets re-used from Fallout 4.
User PaulVonBaron gave the game a score of 1 and he had this to say:
It is a mod of fallout 4 with multiplayer at full price. It has bugs everywhere and the story is very limited. No NPCs and how multiplayer handles with missions between players is just broken. This is just depressing because i was looking forward to fallout 76 and now I just see trash. The game has exploits from day 1 and the engine it uses was old and outdated when fallout 4 came out.
User CallumJager was a bit more generous, giving the game a score of 4:
The team at Bethesda have developed a sixty dollar experience that within a few short hours of gameplay is worthy of the bargain bin. MMO tropes that by todays standards are instantly outdated…

…Nauseating frame-rate, connection issues and under developed gameplay mechanics solidify why this title deserves nothing short than the full force of the atom.
What Can Bethesda Do to Improve Fallout 76?
From the user reactions, it will obviously take more patches larger than the install file to fix the game. Especially if Bethesda does indeed wish the game to last indefinitely as an online shared experience.
Lets face it, Bethesda dropped the ball by having lackluster stories in Fallout 4. Moreover, the game relies on the same boring grind mechanics in Fallout 76. While doubling down on not having a compelling story underneath. From the very first isometric Fallout games to Fallout New Vegas, gamers enjoy the series for its compelling stories. It is hard to feel immersed in the world when the interaction is purely DIY.
Bethesda basically just expects gamers to create the stories for themselves this time. While providing inadequate tools to do so. It also does not help that it is on an aging game engine and has lots of Bethesda's trademark immersion-breaking bugs.