Users Warned to Watch for New (And Convincing) PayPal Scam
---
---
---
Mike Sanders / 1 year ago

I think it would be fair to say that a pretty solid number of people now are familiar with the usual variety of scams. (PayPal, Amazon, banking, etc.) – A scam email, for example, is usually pretty easy to identify if not for the horrifically poor grammar generally used throughout it, then by the more than mildly suspicious email address the communications typically tend to come from.
Following a report via KrebsonSecurity, however, users have been warned to keep their eyes open for a brand new PayPal scam that, rather worryingly, looks somewhat legitimate!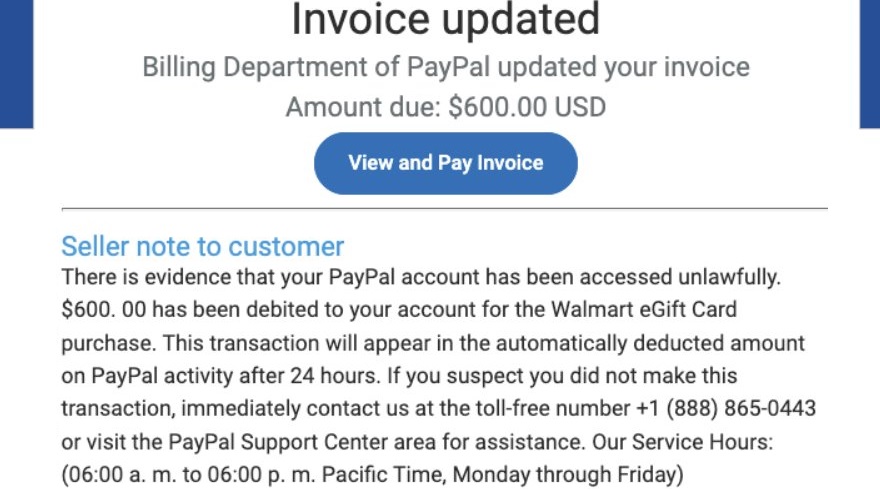 New PayPal Scam Identified – More Convincing Than Usual!
What's particularly unique about this scam is that it is effectively being generated through PayPal's official website. – In so far as I can tell, scammers have been creating fake accounts and issuing invoices to users (probably in a typical tactic of casting a wide net on masses of email addresses hoping that the scatter approach will eventually find their next victim – And, alas, this usually works!).
With the email suggesting that you owe something in the $600 area, what makes this quite alarming is it doesn't only come from a legitimate '@PayPal.com' email address, but clicking the link actually takes you to their official website where the 'amount due' for payment is displayed.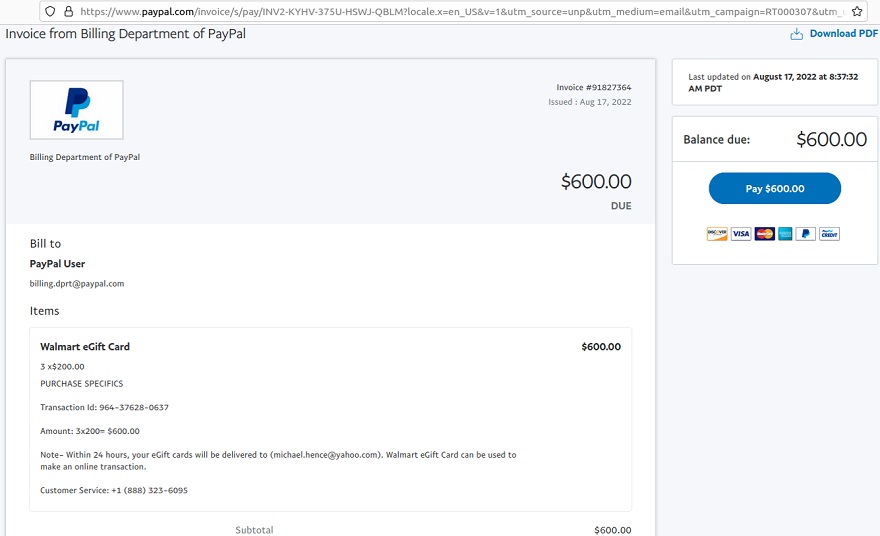 Of course, though, you don't actually owe anyone $600. – You are, instead, encouraged to call the phone number within the invoice description where, typically speaking, a generic scam situation will unfold. And for those of you unaware, this typically goes along the following lines; The scammer will likely pose as PayPal or some form of technical support hotline. They will want to connect to your PC/laptop (usually under the guise of looking for a virus', malware, or just for more basic principles such as either stealing any files of interest you may have on your desktop or for them just wanting to monitor that you're doing what's expected).
From here, they attempt to suggest that the amount of money has already been debited from your account, they'll issue you a 'refund', something will go wrong (they make sure of this), and they then ask you to 'correct' the mistake by buying gift cards and sending them the code. – I've embedded a video below which covers most of the generic forms these scams take.
What Should I Do?
The problem with this scam is that while it does tend to follow the typical lines that more basic ones deploy, the initial official email from PayPal is clearly a pretty solid piece of bait. Particularly so since, as above, it is technically from a legitimate source and interacting with it again tends to only add to the validity.
If you do receive an email like this, however, you are strongly advised to first not interact with it in any way. – Log into your official PayPal account (not through the link provided in the email) and check to see if you actually 'owe' any money. Presuming you see something like the above, contact PayPal customer support to report the account that issued it to you and then delete it, ignore it, and go on with your life!
Perhaps most importantly though, spread the word that a new PayPal scam is making the rounds, and more so, that in many respects, it looks highly legitimate. And please, please, please, make sure you do this as it's understood that this particular scam has already claimed victims with some figures of over $1,000 being (sadly) already successfully scammed from people!
For more information on this scam, you can check out the KrebsonSecurity report via the link here!
What do you think? – Let us know in the comments!