Valve Employee Proposes To Girlfriend Using VR.
---
---
---
Christopher Files / 8 years ago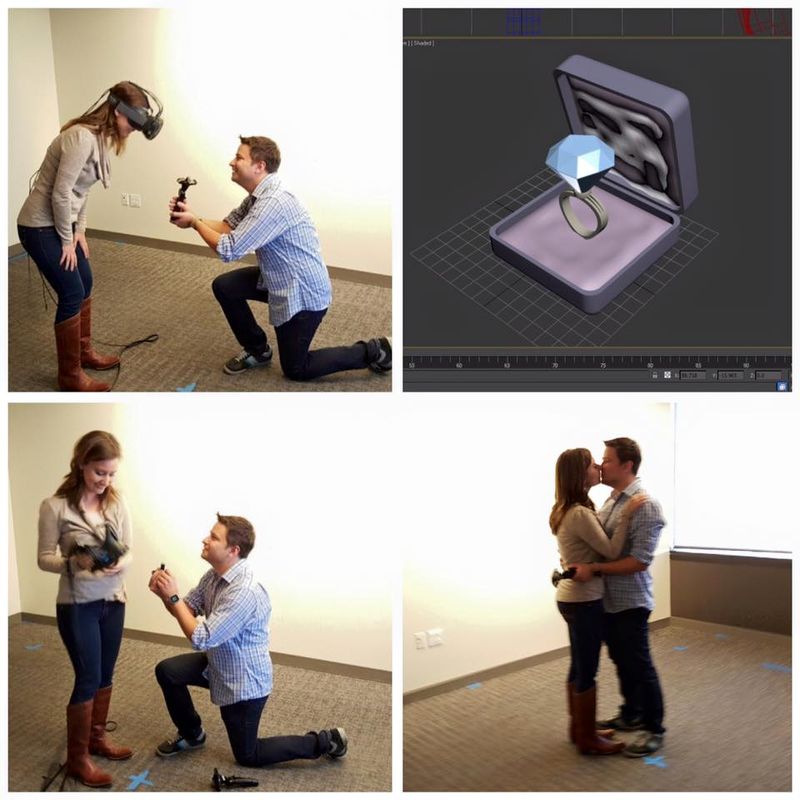 We all now live in a technical universe whereby even the simplest things are now connected in some shape or form, talking of tech, virtual reality promises to be a substantial development for the consumer experience and not a scene from the original Tron. We have heard of many applications for Virtual Reality headsets, but a marriage proposal? Surely not, it turns out yes, yes it can be.
A lady by the name of Kelly Tortorice was having a pretty excellent day testing unreleased virtual reality technology at Valve's headquarters in Bellevue, Washington US. I can possibly speak for everyone when I say, I need a new job doing that, anyway, while exploring various worlds within VR, a ring all of a sudden became visible. She reached out and grabbed it before taking off the headset to reveal her boyfriend on one knee in front of her with a real ring.
Below are the images, tech men would say, yes this is romantic, ladies on the other hand might not warm in certain circumstances to this expression of commitment. This clever stunt was the brainchild of boyfriend Chandler Murch who luckily also worked at Valve and was able to acquire the headset. This was made possible by control functions of the VR system, by holding the controller out in front of his girlfriend "Murch was able to line up the virtual ring and the engagement ring"
Kelly Tortorice said "yes" and I hope both will be very happy together, on a side note, I wonder what a Valve wedding would consist of? Possibly the case being a VR transformer or the Church hovering in mid-air, you could open a whole business dedicated to VR weddings, although it would be embarrassing if one half liked that sort of thing while the other half would call it "unromantic."
Thank you theverge for providing us with this information.
Original image courtesy of oculus-rift