Get Ready – The VEGA NANO is Coming!
---
---
---
Peter Donnell / 4 years ago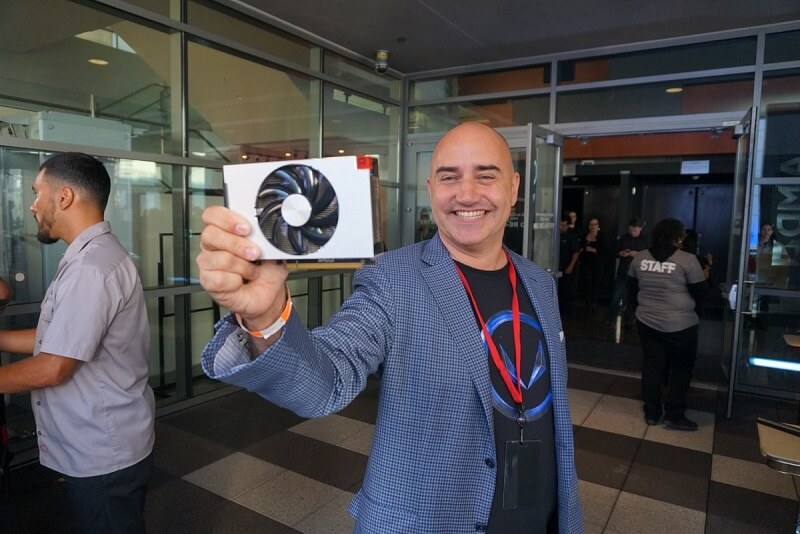 VEGA NANO is Coming!
With all the big news coming from AMD this week, we have a lot to talk about. However, outside of the official product reveals, it looks like something else has slipped through the net. A photo from twitter user Drew shows Chris Hook outside the AMD event. Of course, it's what he's holding that really caught our eye.
https://t.co/4KfVROXkFV confirms @AMD #VEGA NANO. Feast your eyes!! pic.twitter.com/7oJhPXZB5f

— Drew (@Reihen6) July 31, 2017
Mini-ITX AMD Build?
The card in his hand is the Vega Nano, and boy is it tiny! For those who've been planning to build an all-AMD mini-ITX build, this is great news. Obviously, we've got some Ryzen 3 and Ryzen 5 CPUs now that are perfect for small form factor builds due to their lower TDP. Add to that the growing number of Mini-ITX AM4 motherboards. Finally, we've got the Vega Nano to complete the picture.
Specifications
Obviously, a picture only tells us so much, and there's nothing else to go on right now. However, we can assume the TDP for the card will be under 200W, as the single fan cooler wouldn't be enough. It's likely to be one of the lower-end Vega GPUs too, but we're sure it'll still be competitive for cards in this form factor.
Price
Unfortunately, we don't know this either, but we'll update you as soon as we know more.
Release Date
With the card in his hand, it's hard to say if that's just a dummy or a final product. It does look complete, but since it didn't get an on-stage reveal, it's likely that this card will follow sometime after the main cards are released. Our guess would be late August and possible even in September.
Will you be buying one of these mini-ITX Vega GPUs? Are you looking forward to an all AMD mini-ITX build? Let us know in the comments section below.