Viper V551 Optical RGB Gaming Mouse Review
---
---
---
Peter Donnell / 3 years ago
A Closer Look
The mouse doesn't look too crazy, but in a way, I think that's a very good thing. The early Viper mice looked like they were trying too hard to stand out from the crowd. This feels like it could be from any of the current big-name brands, and that's high praise. It has a matte finish on the top, switching to a gloss finish down the side. However, there's a durable rubber grip on the left, so you can really dig your thumb in and get a firm grip on it.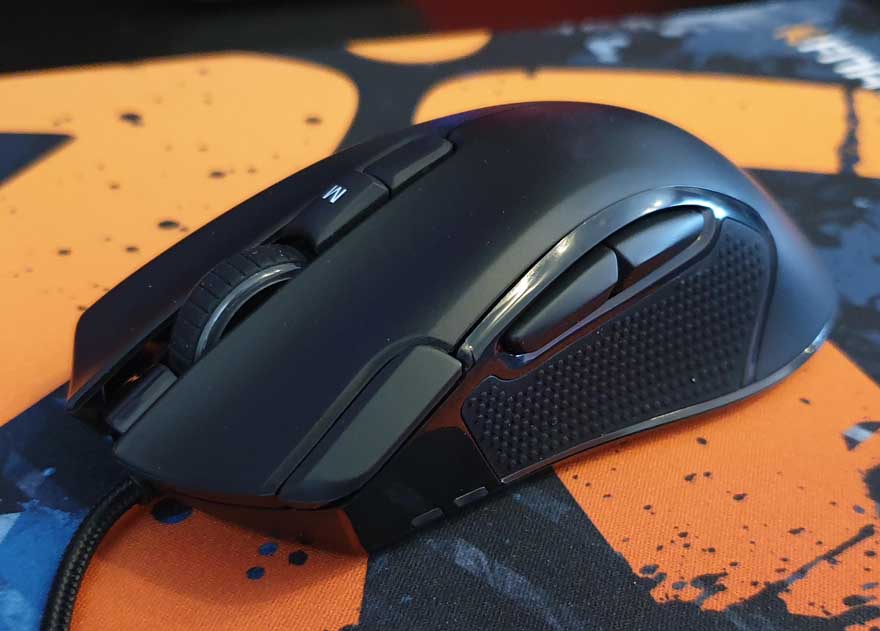 All-Right!
Unlike the Viper V550, the V551 is right-hand use only. The ergonomics are pretty straight forward though, they're not reinventing the wheel here. The mouse sits fairly low, but has a nice long curve to the body that makes it sit comfortably in the palm of your hand. The curves on the side dig in a little too,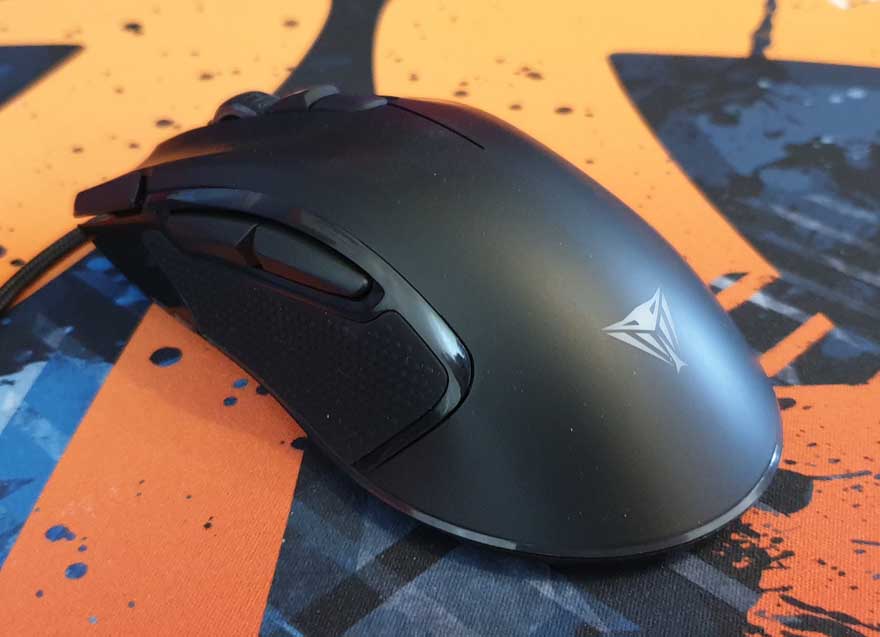 Down the right side, no rubber grip, but there's a slight curve to help you if you use a fingertip grip or claw grip. The low and curved design is best suited to a hybrid or palm-rest grip though, at least for my hand shape.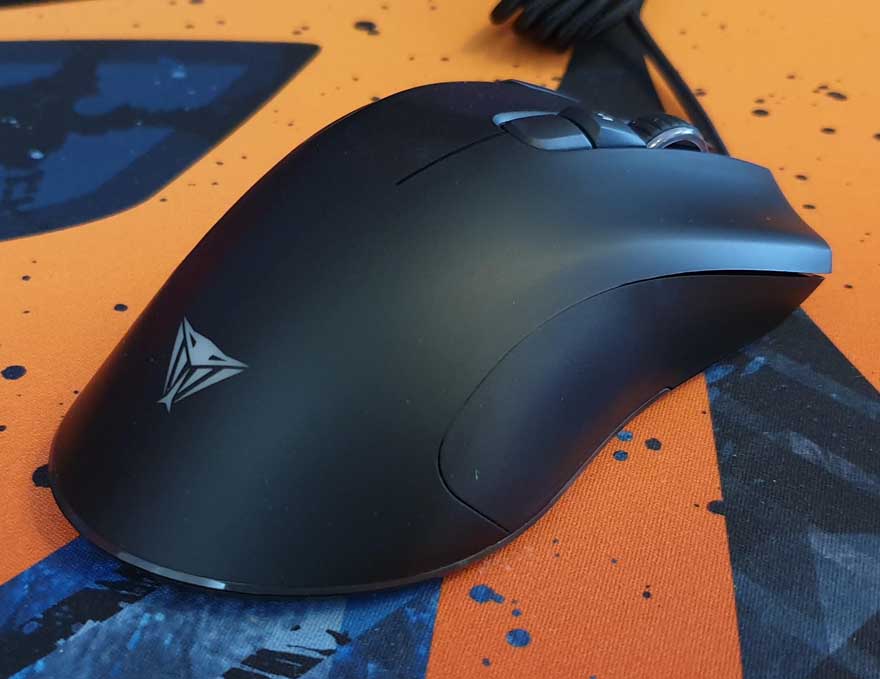 Omron
The LMB and RMB are formed out of the top panel with a split design. It looks nice and clean though, and I can't feel any cross-talk between the switches when triggering them. They've been scooped out towards the front of the mouse too, so your fingers sit comfortably in that big groove. Overall, they're very easy to control, with a light actuation and nice tactile click. Fortunately, it's not so light that you'll be hitting it by mistake either, it strikes a nice half-way balance of strong click force and ease of use.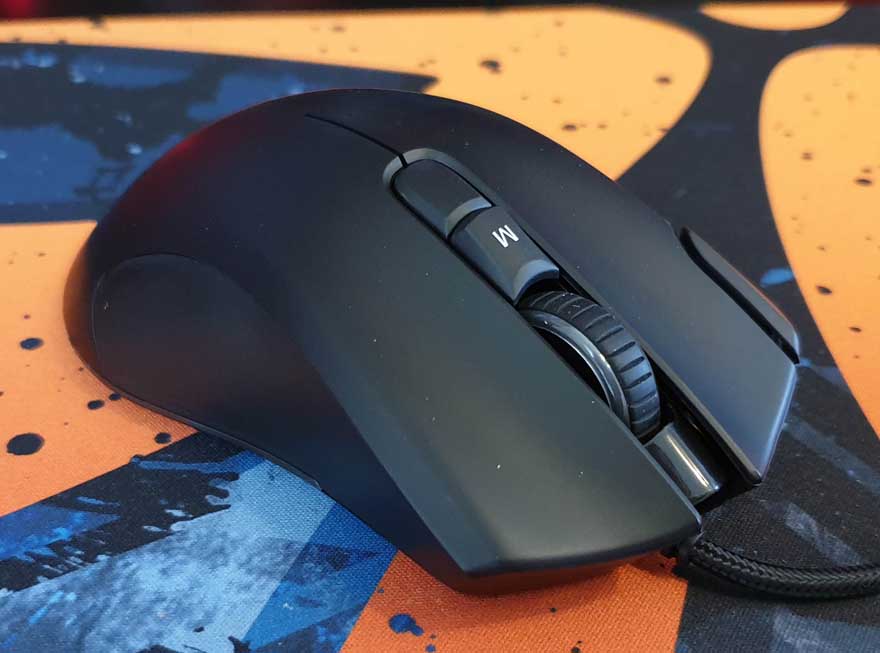 More Control
Tucked into the top of the mouse, you'll find two extra switches. One's perfect for DPI and profile cycling, while the other is programmable. There are eight buttons on the mouse, and you can program seven of them (all except the "M" button. The mouse wheel makes up an extra one since it's clickable. The mouse wheel is nice and light, with a good tactile resistance for easy control. It also makes it more accurate to select weapons while gaming, but it's so restrictive that you can't quickly scroll through social media. Plus, the soft rubber grip helps a lot too. It has RGB in there, but we'll see that in action in a moment.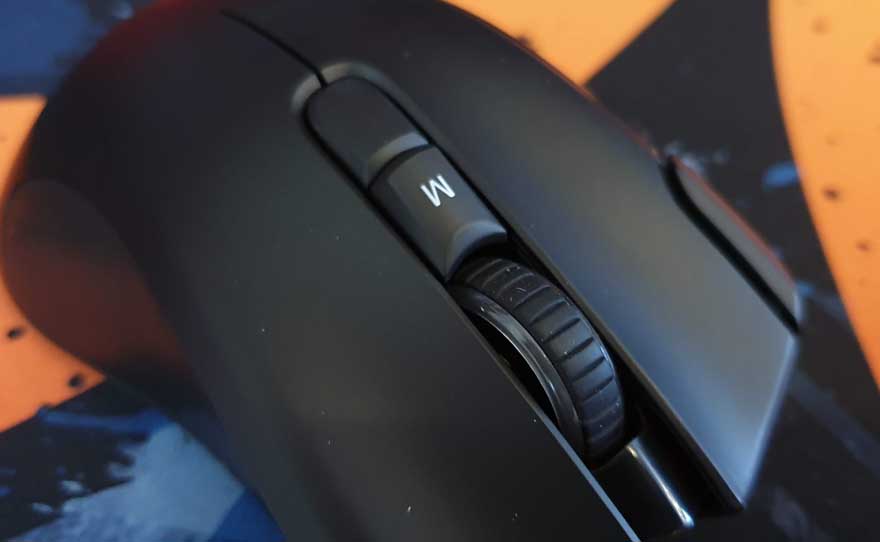 Secret Weapon
Patriot managed to squeeze in one extra button up on the front left corner of the V551 too. It's just off to the side of the LMB, and far enough over that it won't be hit by accident, but not so far over that you can't use it with ease when you need to. I love this button, it's brilliant for FPS gaming. The left button is obviously shoot, but the left-left button can be melee or secondary fire. How you configure it, that's up to you, but it's a really nice addition for all kinds of games. Failing that, set it as a macro to open up Chrome and eTeknix.com, ha!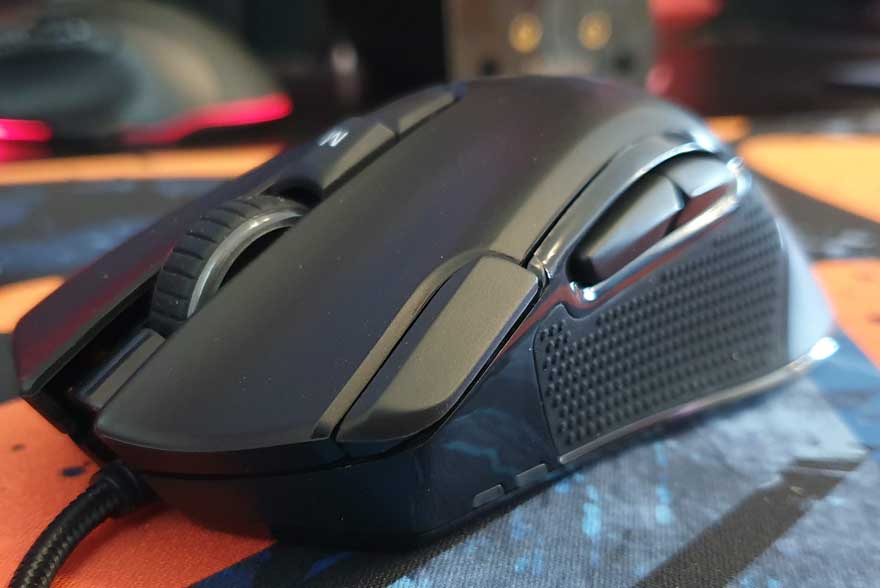 Glide and Aim
The mouse uses four PFTE slipmats on the base, giving it great glide on both soft and hard surfaces. The pretty much flat and low friction design of the base helps a lot too. This is good, as for those who like to use high-DPI and play twitchy shooters, the mouse is very light and nimble. It's not super light, but it does strike a fine balance for easy control and accuracy. Plus, that fantastic PixArt sensor is the star of the show, offering up 6200 DPI and fast-tracking speeds. It's silky smooth and accurate. However, if you do want to crank it up to 12000 DPI, you can do so in the software. That's a bit fast for my taste, as even on a 4K screen, 6200 DPI feels plenty swift. As you would expect with a PixArt sensor, it doesn't suffer from acceleration or jitter.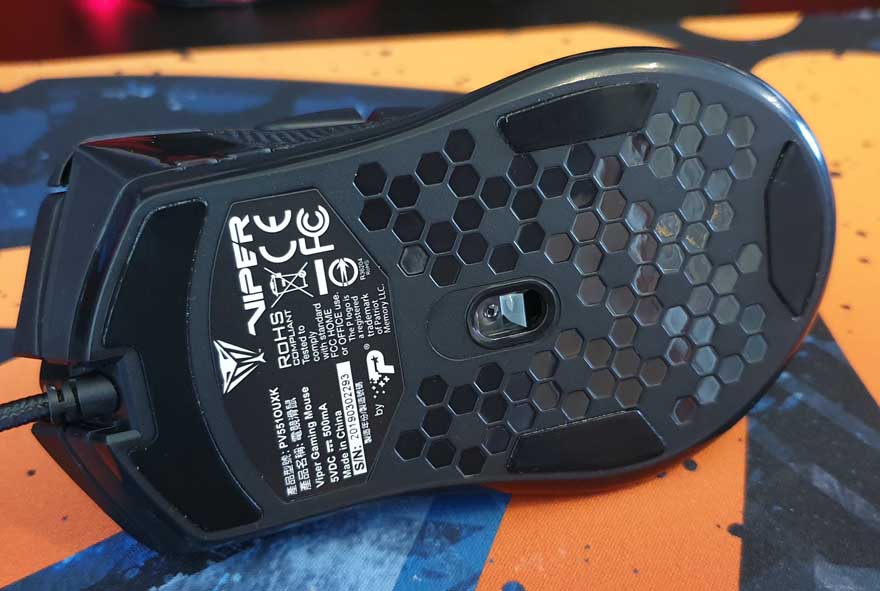 Gaming and RGB
For work and gaming, the mouse feels right at home, as a mouse should. Its low and ergonomic design makes it very easy to hold overall.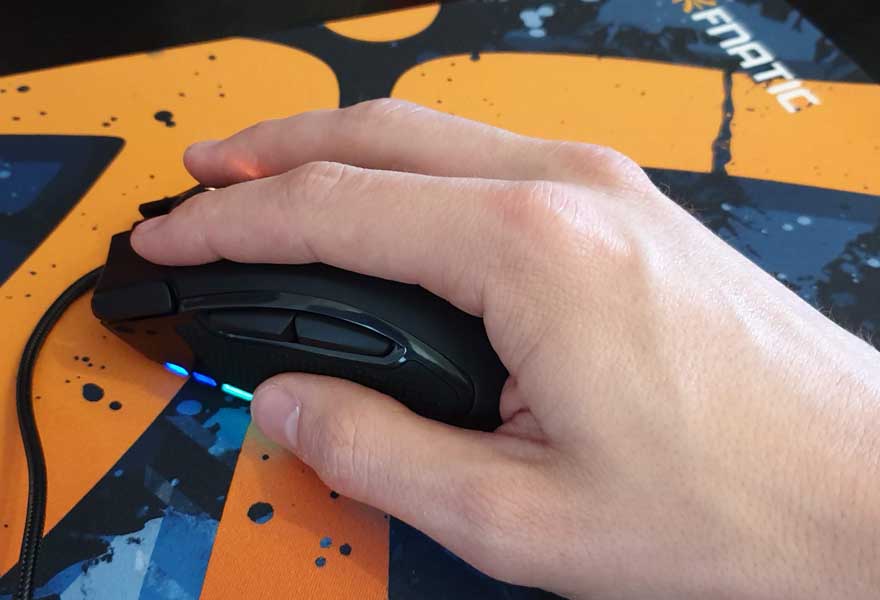 Its lightweight design is a huge benefit too, especially for those long days in the office, followed by those long nights gaming.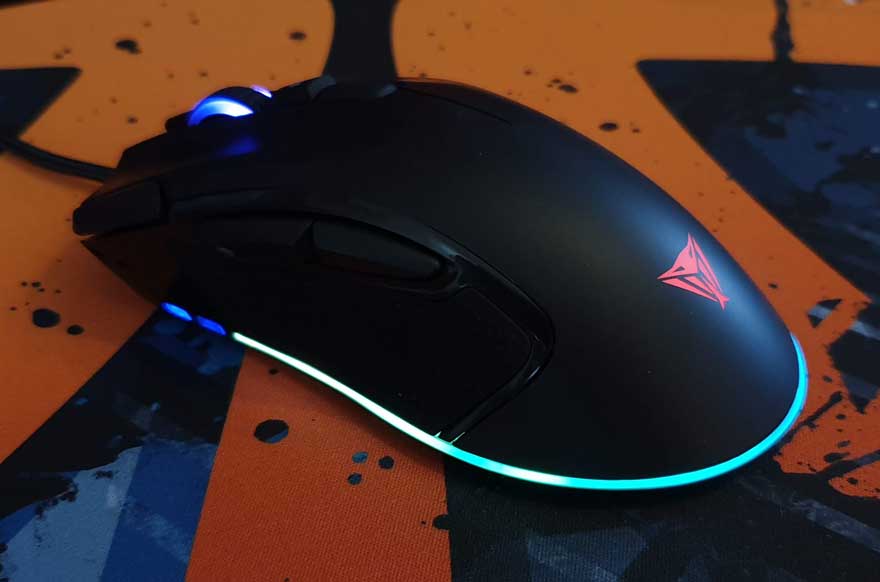 Comfort is very important to any gamer, and it fits the bill perfectly. Of course, it also looks superb, with the matte black of the mouse contrasting the RGB lighting nicely.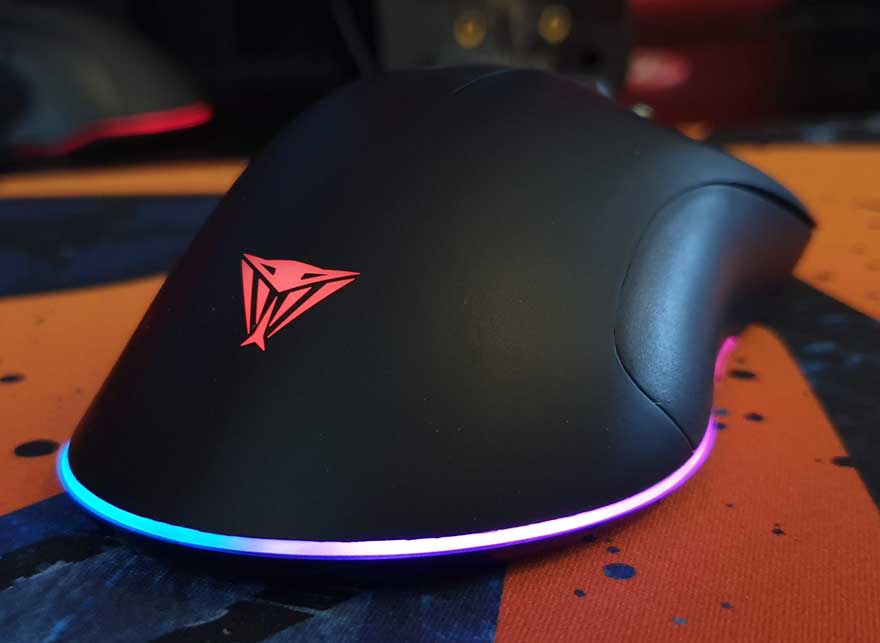 There are lights in the scroll wheel, some small lights towards the front at the edge, and, a trim light around the base, and on the Viper logo on the rear.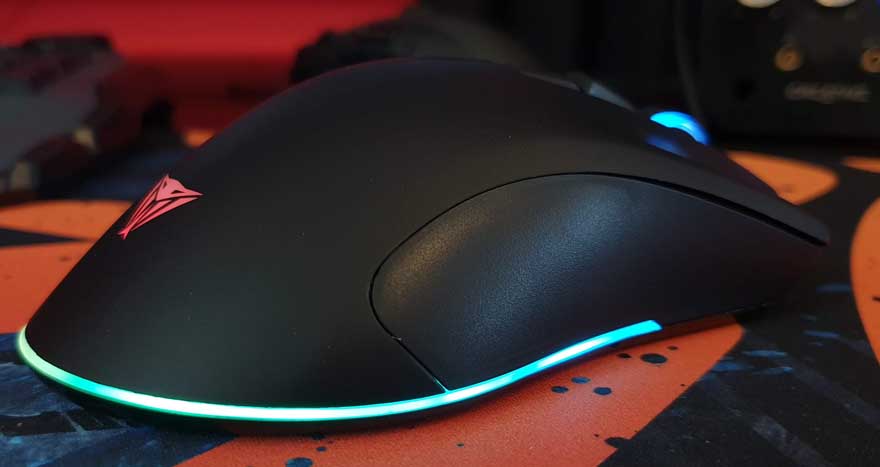 It can all be fully customised through the software. However, the built-in RGB cycle looks pretty fantastic too.