Volkswagen XL1 Hybrid Looks Awesome, Can do 313.9mpg
---
---
---
Peter Donnell / 9 years ago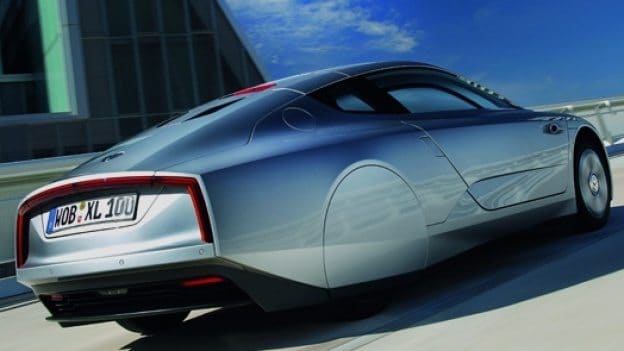 It looks like something straight out of a sci-fi movie and the specifications sound like they're pure fantasy, but Volkswagen's new XL1 hybrid is no joke. The new XL1 Hybrid Auto tops out at just 99mph, which is more than enough for most people (it's above 88mph, and we all know how good that is), but while it may not be a rocket ship of high-end performance, it clocks an impressive 313.9mpg!
With the price of fuel higher and higher each year, there has been a lot of pressure on car manufacturers to make their cars run more efficiently. The new car went on sale in the UK this month for a whopping £98,515, so while it does offer massive fuel saving, it could be a while before you see a return on investment.
313.9mpg is impressive, but so too is the tiny 21g of CO2 per kilometre that its diesel engine / 27bhp electric motor produces, its super light 795Kg weight, and its majority magnesium, ceramics and aluminium construction are certainly a big help in that respect.
Only 30 are available in the UK from the 250 that have been produced on its initial run. If the car proves successful it could see VW produce more models and hopefully some more wallet friendly editions that won't set you back the best part of 100k.
Thank you T3 for providing us with this information.
Image courtesy of T3.