VTX3D Radeon HD 6850 X-Edition Graphics Card Review
---
---
---
Andy Ruffell / 12 years ago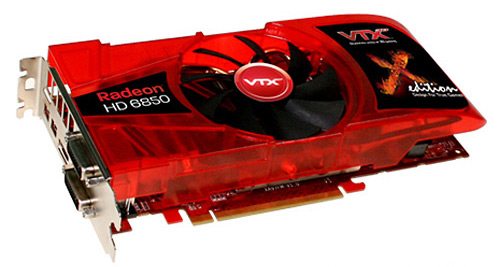 Unless you really do have your ear to the ground, you may be unaware as to who VTX3D are. VTX3d or Vertex 3D are a brand that have been brought to the market by the TUL Corporation, which you may or may have not noticed from the uncanny styling that's similar on both ranges of cards, is the parent company of leading graphics card manufacturer PowerColor.
VTX3D have been launched to offer the same products as PowerColor but with a slight difference, and that's the price. They have been deemed to be the "price aggressive" department of TUL Corporation, which is great for the consumer as it passes the savings on but still remains to give you great performance and good quality, all at the same time.
One of the hottest selling cards around is the Radeon HD 6850 which offers one of the best price/performance ratios that we've ever seen in the history of AMD graphics cards. VTX3D have adopted this by creating their very own version; the X-Edition HD 6850. X-Edition is VTX3D's way of showing what they can do with a 6850 being added to the mix against the big contenders such as Asus and Sapphire but with slightly overclocked speeds so it will be interesting to see how this value concious brand copes with our new and improved testing procedures for graphics cards.
The card certainly offers a unique looking design and seems to include all of the features that we'd expect from a Radeon HD 6850, and as it's a new brand to us, we're extremely keen to see how things go, so let's get straight into it and see what makes this card tick.