Wavemaster Dakota Headphones Review
---
---
---
Peter Donnell / 10 years ago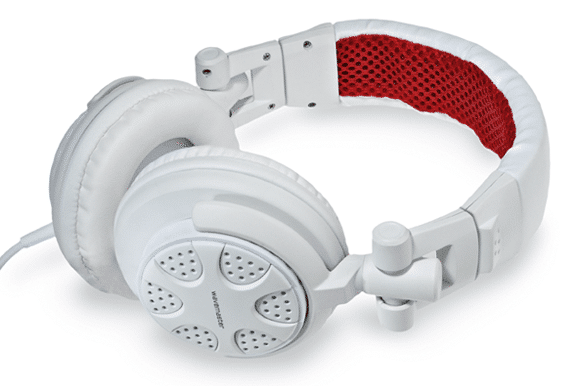 It makes me very happy today to have another Wavemaster product back in the office and after the big success that we had testing their Mx3+, Moody and Moby products, I have high hopes of seeing similarly high performance for a low cost from the products were looking at today.
On the test bench are the Wavemaster Dakota headphones, I have two pairs to play around with but other than colour they're technically the same headset, one is black, the other is white and with a price of around £25 they're set to be affordable audio products aimed at the general consumer audio market, where you expect them to be significantly better than the junk you find bundled with a lot of audio products but also significantly cheaper than enthusiast grade hardware. Of course at this price range, I'm not going to be expecting the most earth shattering performance from these headphones, but £25 is still a tidy investment for headphones and I'll still expect to see good build quality, decent audio performance and some style, anything else will be a welcome bonus in working out the value for money on this set.
Wavemaster has not long launched here in the UK, but they've already proven them selves to be one of the most popular audio brands in Germany and that trend seems to be continuing here in the UK as places like Overclockers.co.uk  have started to stock and promote their products.
As you can see below, the Dakota headphones come in a tidy looking box, with a really nice level of presentation, not too fussy and so far the first image of the product gives a promising impression.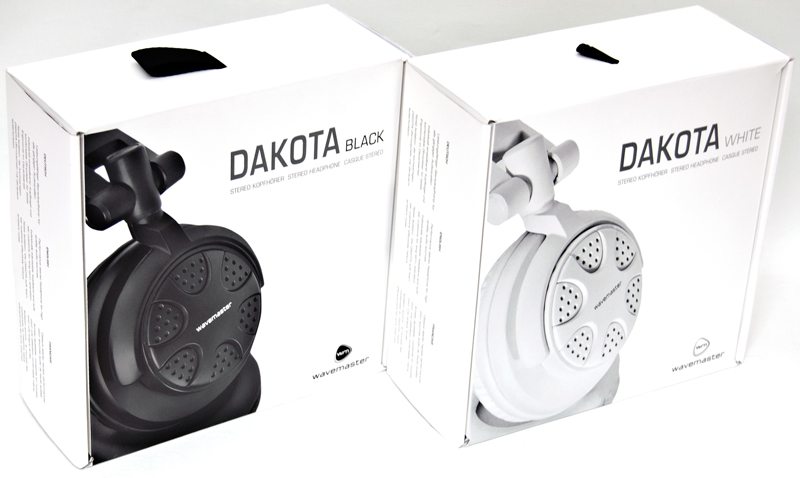 In the box I found a simple information leaflet and of course, a pair of hardwired headphones, which as you can see come with the Wavemaster logo across the top of the headband.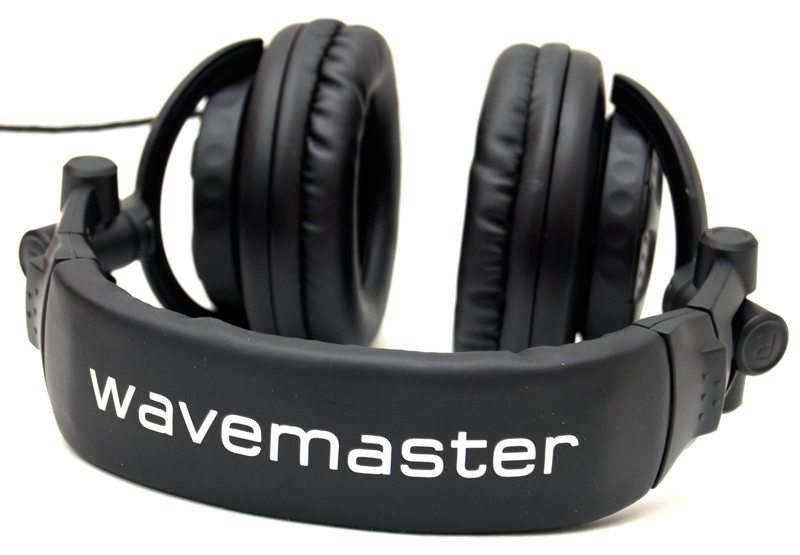 The headphones feature a full braided cable, with a nice high quality 3.5mm jack plug on the end, both of which should help improve life expectancy of the product by reducing wear and tear.

The black edition of these headphones features a soft looking matte finish and it's a nice change from the usual shiny and cheap looking plastics of headsets within this range, but more importantly there is a lovely hint of red fabric on the inside of the headband as well as some soft padding here that helps provide a comfortable fit.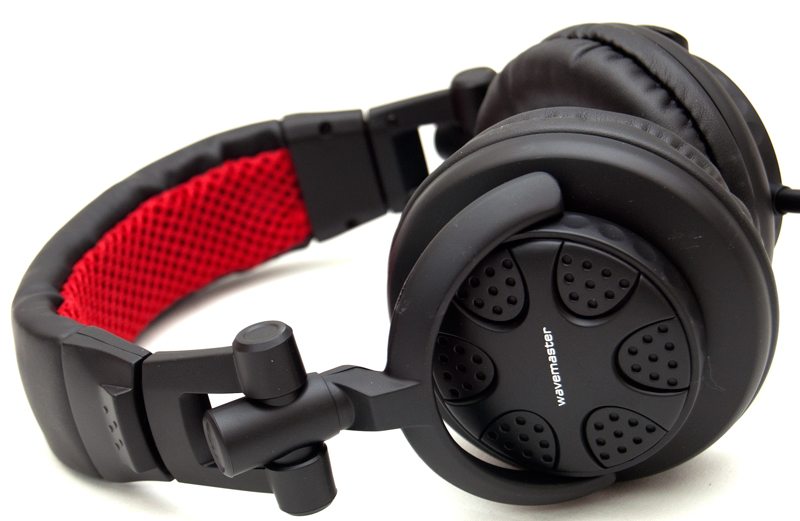 Each ear cup is mounted on a spring loaded 90 degree swivel joint, push / pull snap-lock height extenders and just enough flexibility to allow a nice fit no matter how big or small your head is.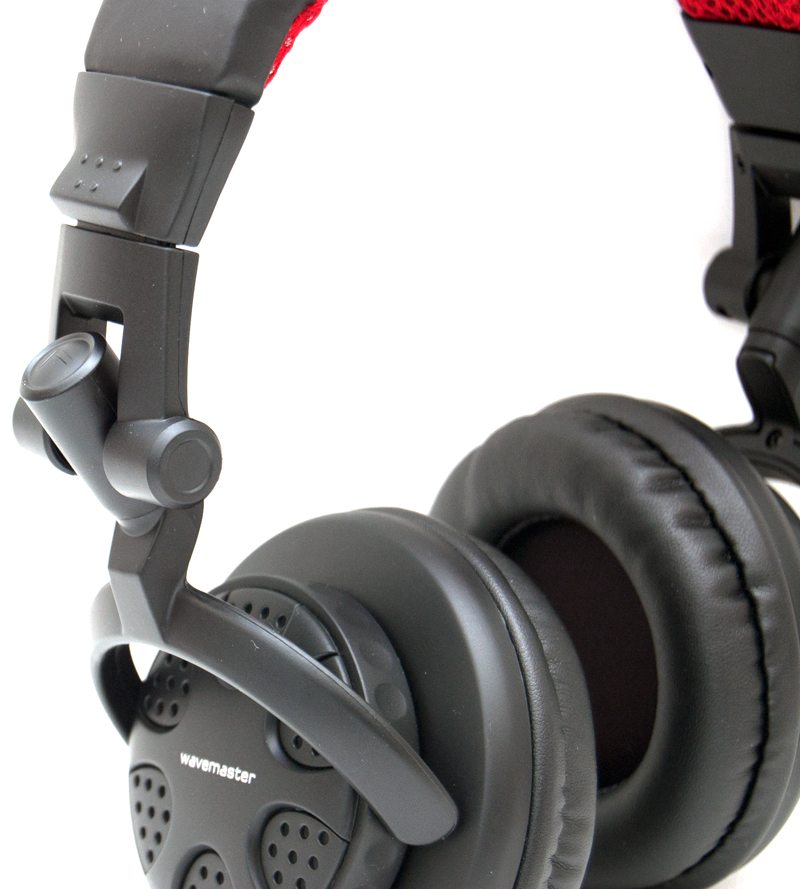 Inside the ear cups you will find a soft fabric covering over the drivers, while the outer part is covered in a fairly tough but not uncomfortable padded leather.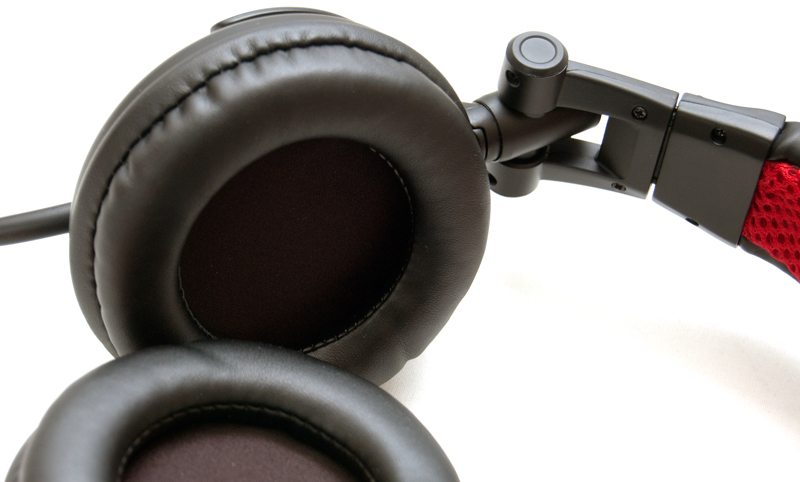 There is a nice ergonomic shape to the headphones and the swivel mounting arm for the drivers are mounted at an angle, this helps keep the side of the headband closer to your head, unlike many headphones that stick outfar beyond your ears and make you look a bit stupid.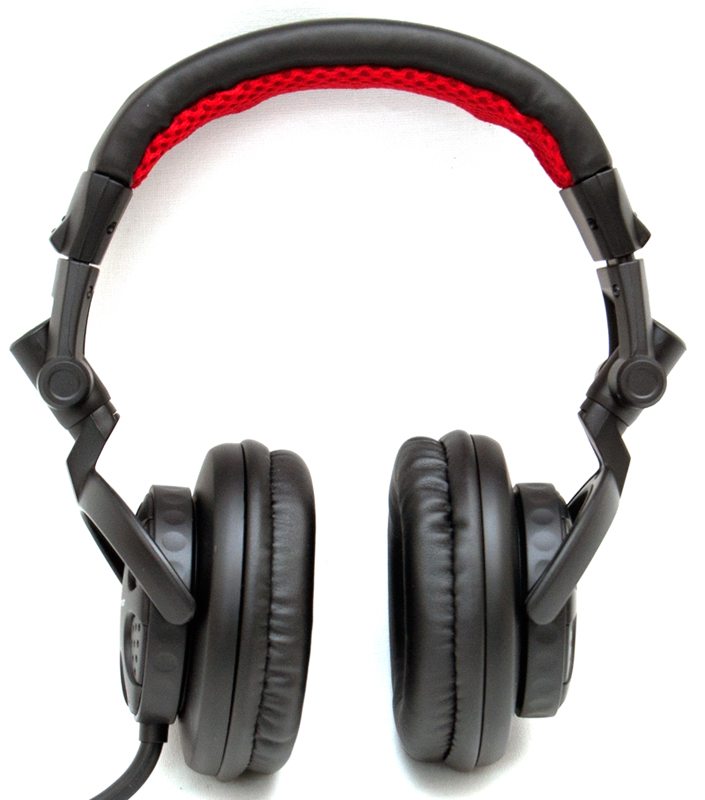 Here we can see the white edition, still featuring the red accent on the headband, but covered in a chalk white matte finish that looks absolutely lush.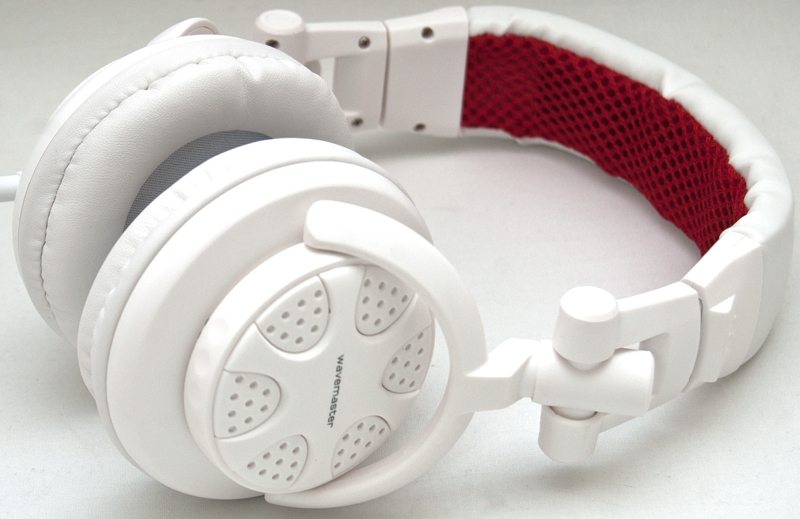 It matches up really nice with the while leather too and personally I think these look far better than the black pair, although both do have their charms.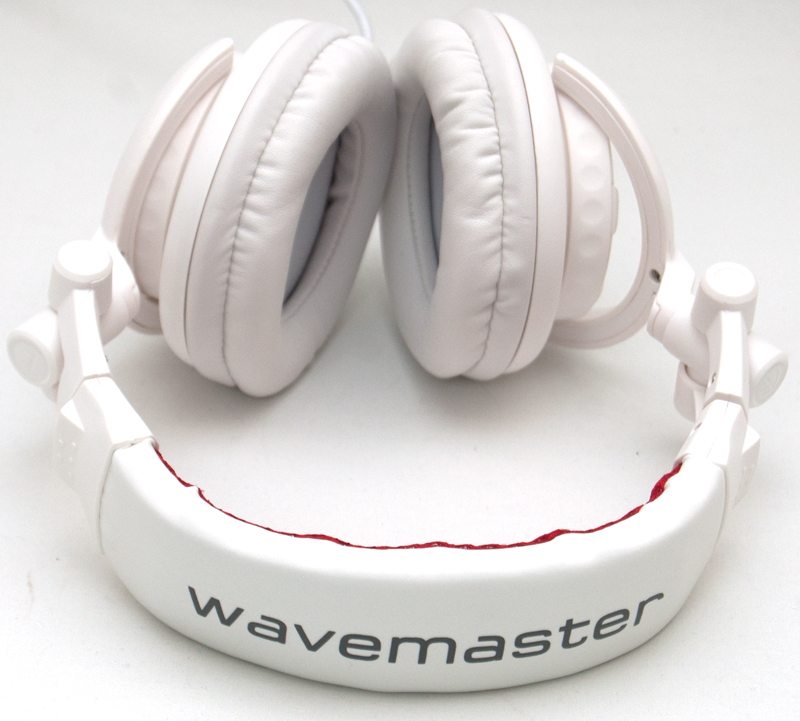 The back of the ear cups features a few bumps and ridges to add to the design, as well as a small Wavemaster logo in the centre.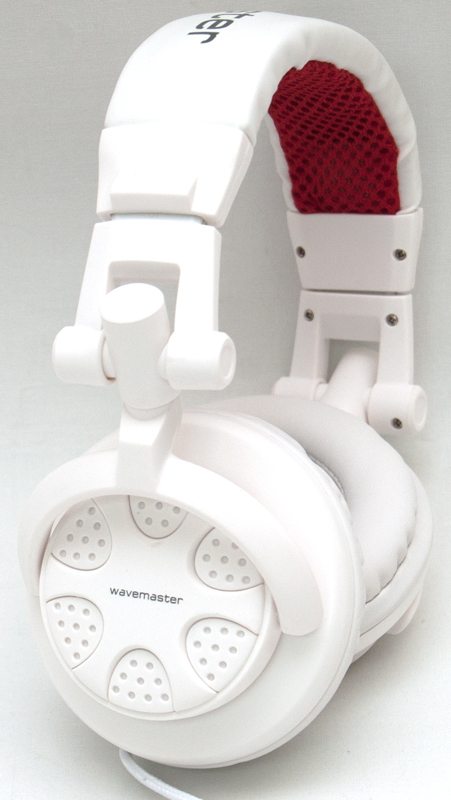 The while pair also uses the soft look matte plastics of the black pair, although they appear (in my opinion) to look of a higher quality in white, although I do fear they could be harder to keep looking clean in white.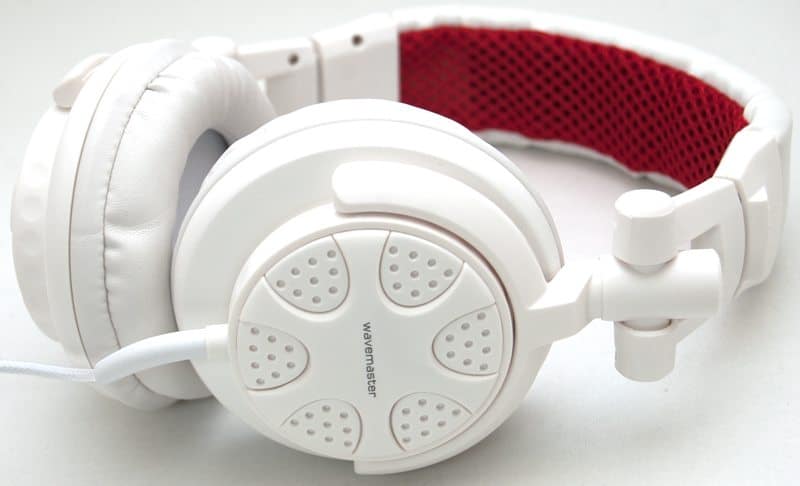 Fit and comfort
Headphones are meant to be mobile, so it only seemed fit that I took these out for a spin, and I've spend the last week with them chucked in my backpack and ready to rock. When out walking they're surprisingly comfortable and then haven't felt like they were slipping off my head once, nor to they feel like they're clamped to my head and overall I think they're remarkably comfortable for short to mid term use. That isn't to say they're not suitable for say 6 hours usage in one go, they are, but like any headset in this price range they might become progressively more uncomfortable after long periods of time.
Audio performance
This is where Wavemaster have proven them selves before and I already know they can make a well balanced audio driver and the same is true here, the sound is incredibly balanced and low, mid and high tones feel and sound independent and distortion free even when things get loud and heavy. there is a deep bass to the headphones but it doesn't feel overly heavy and is a little more reserved than a lot of headphones in this price range, this is a good thing and the warmth of the mid ranges and the super clear high tones makes for a very pleasant listening experience no matter what kind of music you choose.
I'm a big death metal fan, but I also love a lot of instrumental jazz fusion, classic rock and every now and then something with a wub-wub, so I like a headset that can meet those demands without heaving the change my EQ everytime I change the album, but the flat EQ given from these drivers means I never have to worry about such things.
Final Thoughts
Given that these headphones cost just £25 I am absolutely stunned with their performance, ok they're not as good as the headphones I use about the house, but they do cost £175.00 less and they still sound pretty darn good regardless. The sound quality is fantastic and they also pack enough punch for those who love their music loud (although I wouldn't advise testing the maximum out, yikes!). Even at high volumes they still sound true and clear and you can still make out the finer details of your music at low volumes too, making these handy for a multitude of listening environments.
Their super comfortable for general day to day use and given that they fold up neatly and are well built, I don't feel worried about throwing them into the bottom of my backpack when I'm out and about. If your sat on the train, bus, or any form of transport, they're idea for hooking up to your media player, tablet, smartphone or other device to enjoy a few games, movies, albums or what ever takes your fancy.
They also hold up really well when your walking around and I've managed a couple of miles on foot without any issues from the headphones, but if your planning on using them for when your out jogging, running or cycling I'd advise you invest in some properly secured sports headphones as they will tend to slip if your bouncing around a lot.
While sound quality is the most important factor for me, especially since I don't care about the style of my audio equipment, so long as it performs and performance clearly isn't an issue here. The next big actually is style and the performance is matched by some fantastic styling and design, they look great, they feel great, they sound great and the price is half what I would have expected, an easy choice for our Bang for Buck Award.
Wavemaster DAKOTA Performance Stereo Headphone – White @ OCUK

Wavemaster DAKOTA Performance Stereo Headphone – Black @ OCUK