Wavemaster Stax 2.1 Speaker Review
---
---
---
Peter Donnell / 8 years ago
Introduction
---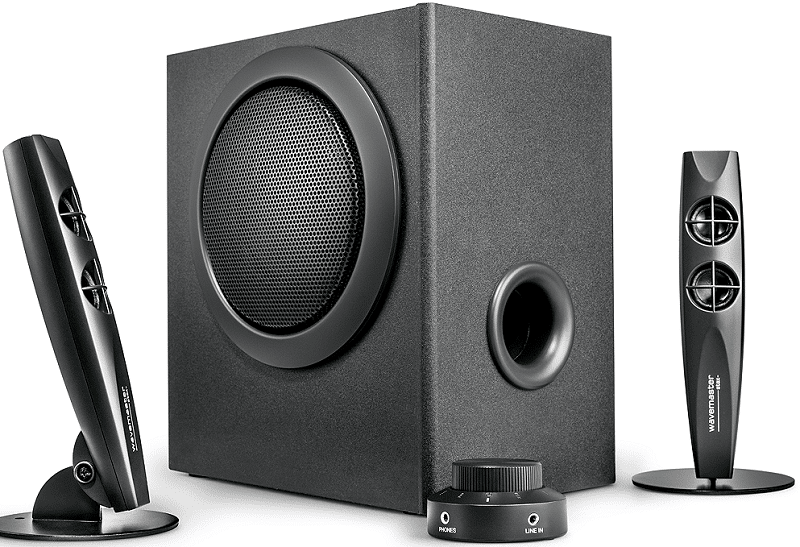 Today we see the return of Wavemaster in the eTeknix office, it's been a few months now since we last got to take a look at one of their products, so were more than happy to try them out once again. When the brand first entered the UK market we tried out their MX3+ 2.1 speakers and Moody 2.1 speakers, both of which were fantastic sounding and great value for money, something that earned each product one of our eTeknix awards, so I'm hoping that winning formula will be repeated today with the new Wavemaster Stax 2.1 speaker system.
Priced at around £50 here in the UK the speakers are hardly the play thing of the enthusiast music listener, but they're still entering a very competitive section of the market. With brands such as Creative, Logitech, Trust & Genius all offering their own hardware for around the same price, much of which is very good given the price and they're already more established brand names, so the Wavemaster is going to need to stand out a little bit for people to make the leap from a brand they're more familiar with. Of course if the performance is anything near as good as we heard with the last two Wavemaster speakers we tested, then the Stax 2.1 speaker system has nothing to worry about.
As you can see from the specifications below the speakers themselves only have tiny 25.4mm drivers, but they're backed up by a 13cm bass driver, which again isn't especially big, but it should pack a good enough thump for most users and the sub and speakers output 26 Watt and 2 x 10 Watt respectively. There are a few other features here, but I want to show them in more detail in a moment.
Speaker drivers: subwoofer 13 cm bass driver, satellites 2,54 cm wide range drivers
Amplifier: integrated with 3 separate channels
Output power (RMS): subwoofer 26 Watt, satellites 2 x 10 Watt
Frequency response: subwoofer 30 – 150 Hz, satellites 150 Hz – 20.000 Hz
Input sensitivity: subwoofer line-in 500 mV, remote line-in 250 mV
Cable remote: with on/standby function, volume control, headphone jack (amplified) and line-in
Satellite speakers: with slim design (wall mountable), metal stands and 3m connection cable
Subwoofer: wooden cabinet with bass reflex technology, bass control, treble control and main power switch
Power supply: internal, 100-240 Volt ~ 50/60 Hz, 0.7A max., Standby Power <0.5 W (230V)
Connection: 3,5 mm mini stereo plug or RCA
Dimensions (WHD): satellites =  Ø 100 x 205 mm, subwoofer = 180 x 280 x 265 mm
The Stax come neatly boxed and for once they include a UK plug, no big deal for most I know, but their last models featured European connectors and required the use of an adaptor.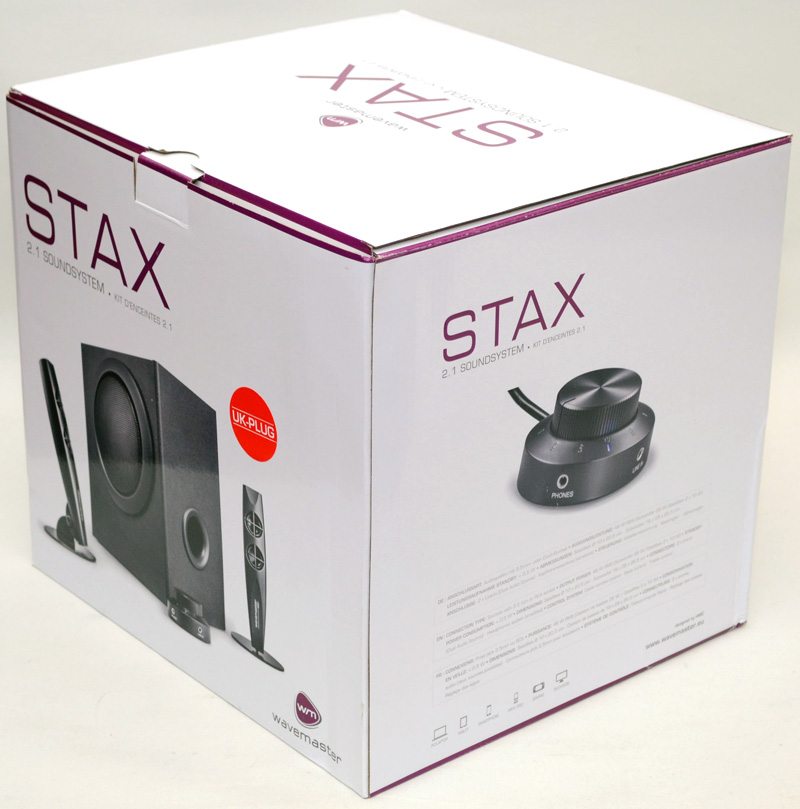 Included in the box, aside from the obvious speaker set is a simple user manual, a 3.5mm male to male cable and an RCA to 3.5mm female cable.