WD Black SN750 1TB SSD With Heatsink Review
---
---
---
Bohs Hansen / 3 years ago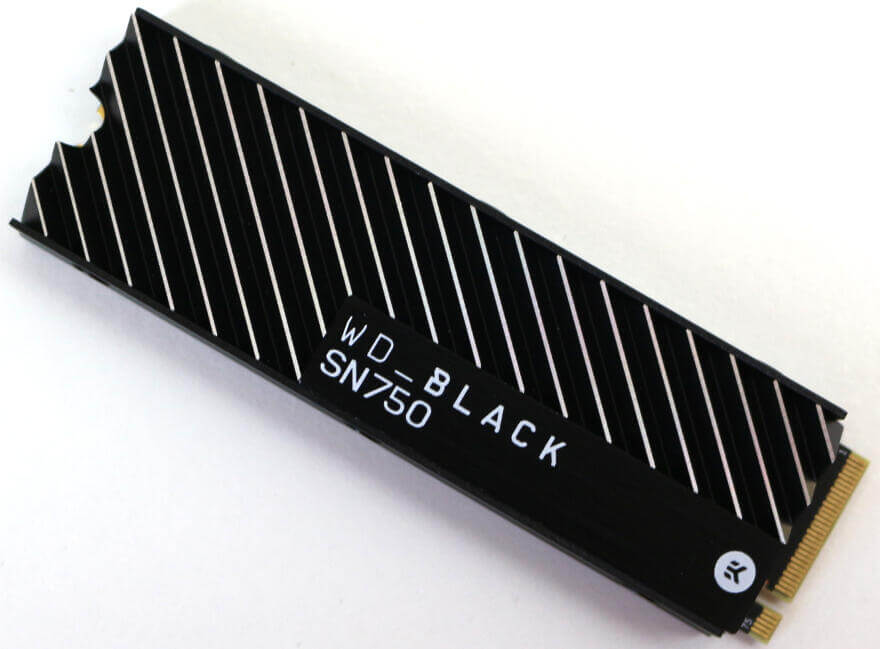 WD Black SN750 1TB SSD With Heatsink Review
It is time for us to take a look at another drive from Western Digital and this time we're going premium. The WD Black series is the best the company has to offer us consumers and it's no different with the SN750. I have the 1TB version with EK heatsink on the test bench today.
WD Black SN750 NVMe SSD
When it comes to Western Digital, black is synonym with the best they have. It has been that way with their mechanical hard drives and it is the same with new SSDs. The new Black SN750 NVMe SSD delivers some of the best results possible from a single drive and packs plenty of capacity.
I have the 1TB model in the office today, but it is also available in 500GB and 2TB versions. There is another choice to make when it comes to the SN750 and that's whether you want it with a heatsink or without. The one without also comes in a 250GB version.

Whether you pick a WD Black SN750 with or without a heatsink, you get a great drive. It is a standard M.2 2280 drive which will fit most systems. It's targeted at desktops, but the version without the heatsink will also work well in notebooks. Of course, the system will need an empty M.2 slot and the ability to run this PCIe 3.0 x4 drive. On the inside, it utilises 64-layer 3D NAND which offers performance as well as cost efficiency.

Performance and Endurance
While the performance varies a little bit by capacity, all the WD Black SN750 offer great results. The overall fastest of them is the 1TB model which I have in the office today. I comes in at sequential speeds of up to 3,470MB/s and writes up to 3,000MB/s. The random performance is rated at 515K IOPS when reading and 560K when writing.
As for the other capacity options, you can check out the slight variations in the specification chart further down.

Endurance is at least as important as performance and naturally the WD Black SN750 has that too. It comes with a MTBF rating of 1.75 million houirs and it is backed by a 5-year warranty. The TBW rating comes in at 600TB per 1TB capacity.
Heatsink, Do We Need It?
There really is no short answer to the question whether we need a heatsink on a M.2 drive or not. But it is great to have and there are several reasons why.
NVMe drives, especially the controllers, get quite warm. They have to handle a lot of calculations to keep up the performance and that generates heat. Now this won't damage the drives, but it will throttle them. And that is on purpose. Instead of risking hardware damage, the drives automatically slow down when they get too hot.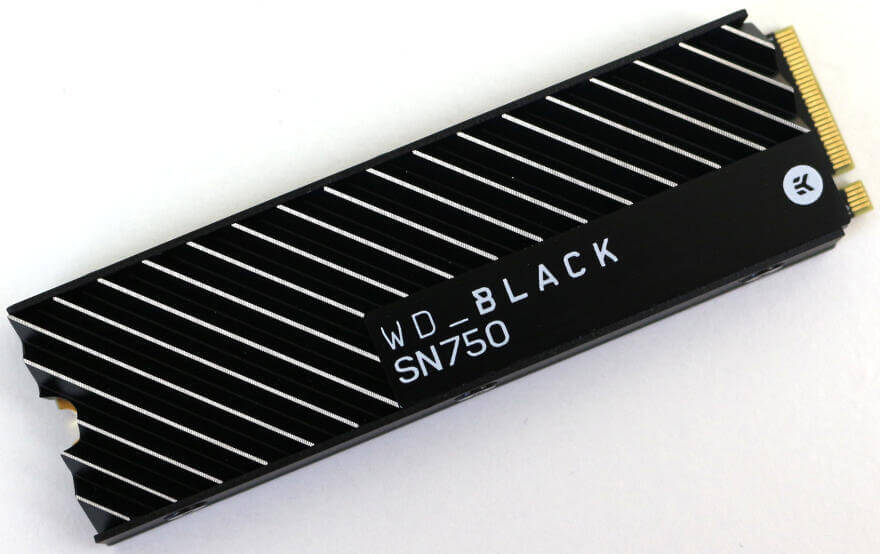 A heatsink can prevent that from happening in the first place, no matter how hard your tax your drive. Environmental temperature is also something to consider here. M.2 drives are located in the centre of your system, between all the hottest parts. Bad airflow due to the amount of hardware in the area is another reason why things get hot here. Having a heatsink on the drive suddenly doesn't seem like a cracy idea anymore, does it?
Some newer motherboards have built-in heatsinks, in which case you might want to go for the bare module instead. But do use a heatsink if you value your drive and want the best out of it.

Creating a heatsink is easy, at least in basics. Everyone with the ability to read up on thermal dynamics can figure it out. But there's more too it if you want the best. That's probably why Western Digital partnered with EK Water-Blocks for the SN750 heatsink.
Software
Software isn't necessary for any drive to work, but you can gain some extras by utilising what's available. Almost any SSD manufacturer also have their software. Western Digital created an exclusive dashboard for the WD Black SSD. It features a sleek design and features such as the gaming mode.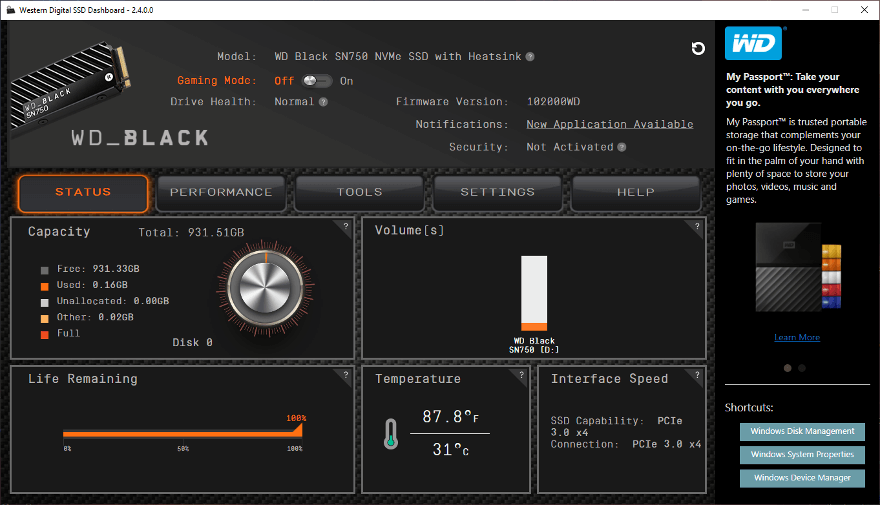 Feature Highlights
Transfer speeds up to 3,470MB/s
Capacity options of up to 2TB
Options with and without heatsink
Fueled by Western Digital in-house controller and 3D NAND
Downloadable WD SSD Dashboard with gaming mode
5-Year Warranty
Specifications
The specifications are valid at the time of this review, but might be subject to changes in possible revisions of the product. Changes are rare, but can happen.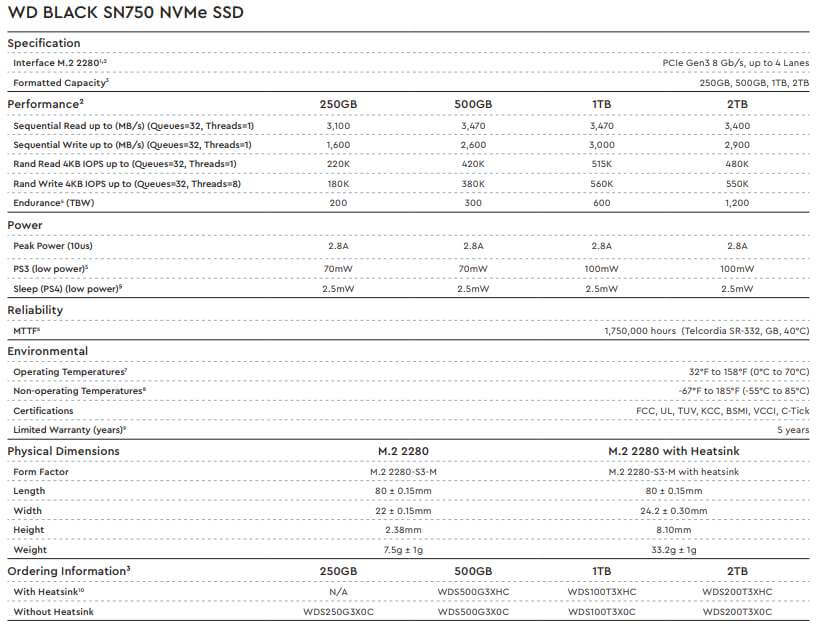 Want to know more? Then you could visit the official product page which you can find by clicking here.