WD Purple 6TB Surveillance Hard Drive Review
---
---
---
Bohs Hansen / 7 years ago
Introduction
---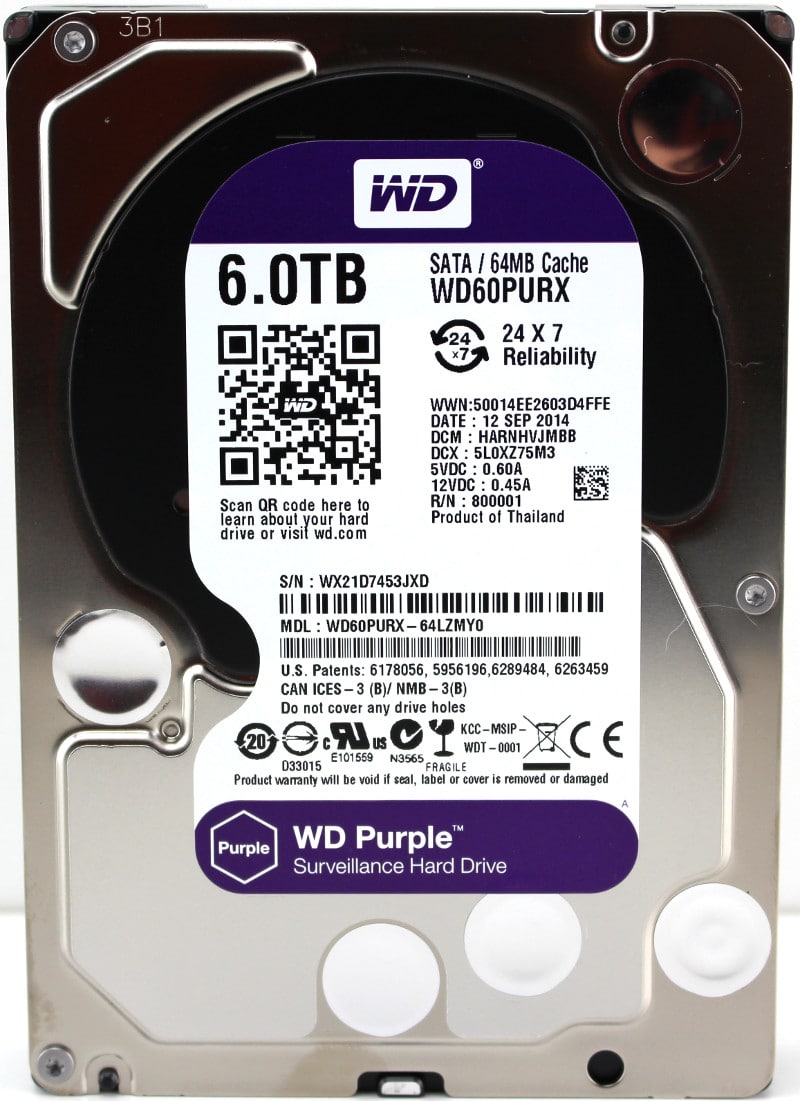 In today's review, I am taking a look at a mechanical hard disk, but it isn't one that is intended for your desktop system. Western Digital created their Purple line of hard disk drives to be the perfect choice for digital video recording, network video recording, and surveillance systems. On the test bench today is the 6TB version of this WD Purple surveillance hard disk.
All hard disk drives may look the same on the outside, but there is a big difference in what is inside and how it works. That is also the main reason that you should pick a drive suited for the task at hand and not just any random drive of the shelve. As WD puts it: "You wouldn't use a bicycle to transport cargo across the country because it is not the right tool for the job."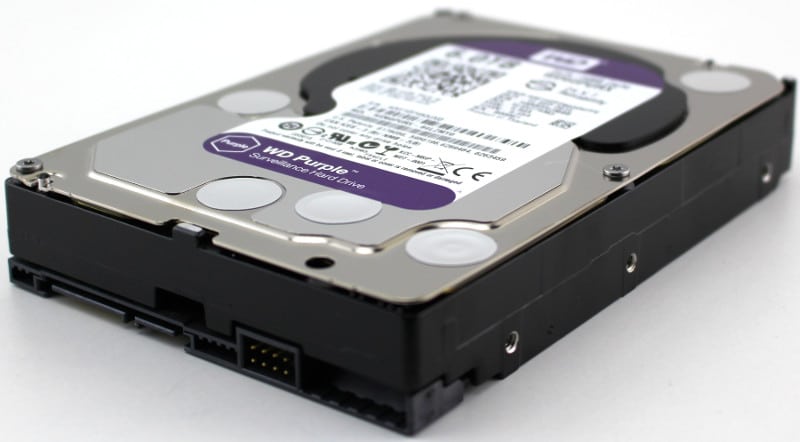 Whether you want to protect your personal assets and loved ones or monitor the business you worked hard to build, you'll want surveillance-class storage to rely on. Not only are these drives built for 24/7 usage in environments up to 8 disks, they also come with enhanced firmware built just for this kind of operation. When it comes to surveillance, every frame counts, and every frame has to be perfect. This is especially noticeable when many cameras are using the drives simultaneously. WD's Purple series has no trouble here and it is designed to work with up to 32 HD cameras.
The drives don't just have to be perfect for the scenario that they are to be used in, they also need to be compatible with the systems themselves. WD made sure that this was the case by working closely with industry leading chassis and chipset manufacturers. If you got an NVR system, you'll most likely find the WD Purple on the official list of supported drives.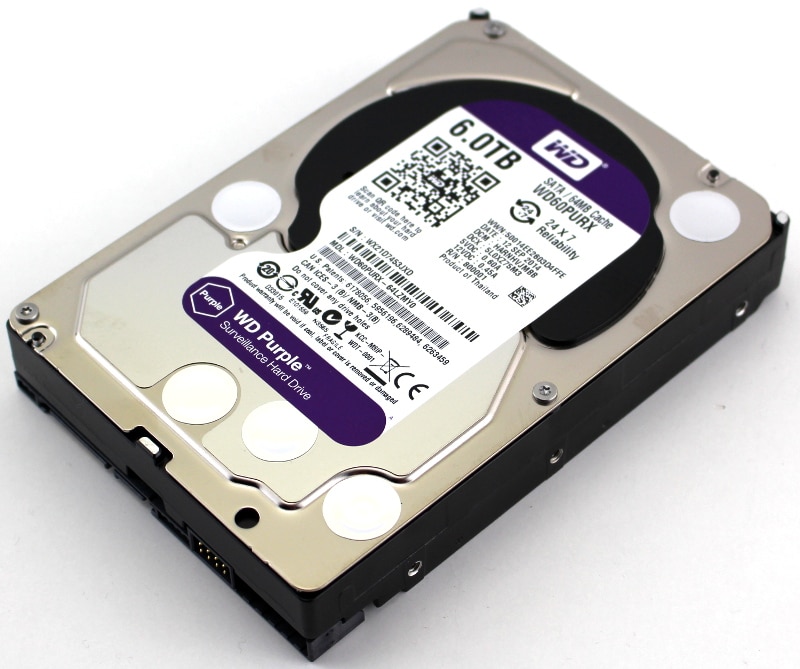 The entire line of WD Purple drives, from 1TB up to 6TB, all feature 64MB cache and come in the same 3.5-inch form factor. WD also used their IntelliPower system that we know from such drives as the RED series, that uses variable speeds to bring the performance that is needed without excessive noise from the motors. But that is where the similarities of the drives end. The 6TB version that I'm taking a closer look at today is the best performing of them all with a sustained speed rating of 175MB/s where the 1TB model for example only is rated for 110MB/s. The drives naturally also differentiate in power consumption. The bigger the drive, the bigger the power draw, that is if the word big even applies here. The WD Purple 6TB draws 5.3W during read and write operations, 4.9W when idle, and 0.4W when in standby or sleep mode.
The noise level is almost identical on all the models, but there are differences. The largest drives are also the loudest with a dBA rating of 25 when idle and 26 when seeking. With a weight of 750grams, the 6TB model is also the heaviest of them all.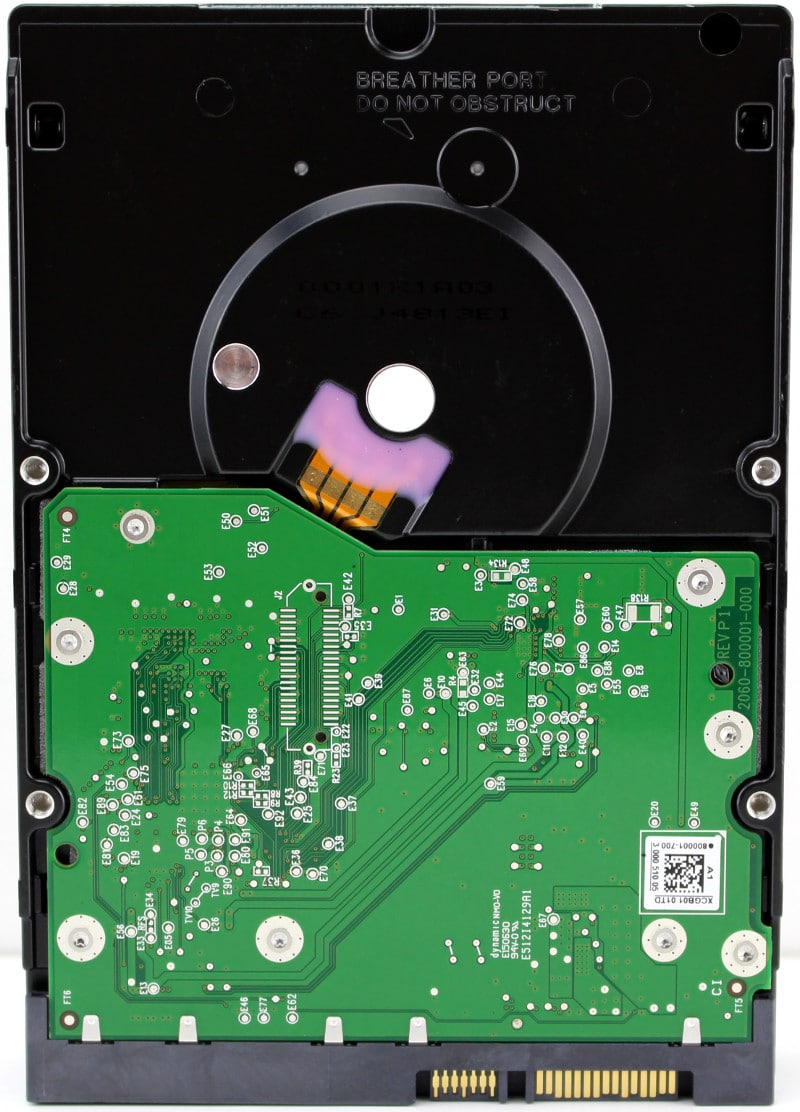 I've previously mentioned the firmware and that this was an important factor, and it is. One of the things that make the WD Purple series so great is the exclusive AllFrame technology that works with ATA streaming to reduce error pixelation and video interruptions that easily occur when desktop drives are incorrectly used in security systems. Missed frames and lost footage is a serious problem when an event occurs and surveillance footage needs to be retrieved. WD Purple with AllFrame provides the confidence you should expect when it's time to play back and review critical surveillance footage.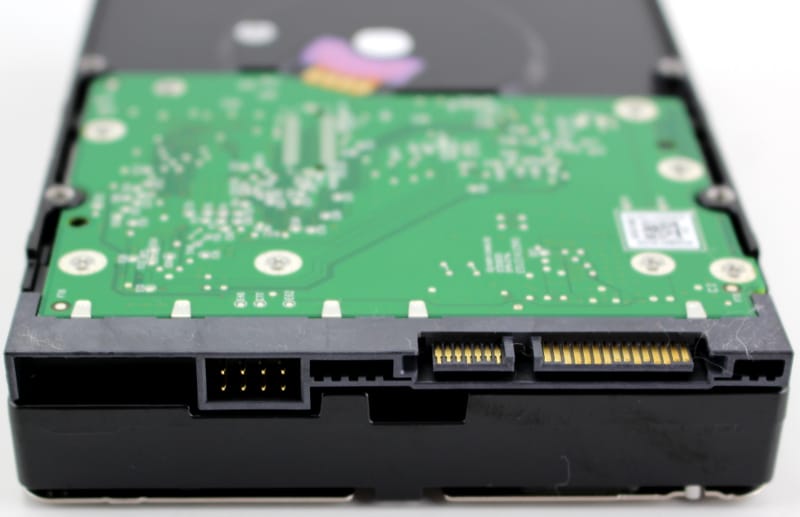 AllFrame Features:
Reduces video frame loss with surveillance-class storage.
Specifically tuned for surveillance security systems.
Caching algorithms are tuned for write-intensive, low bit rate, high stream count applications that are typical of surveillance applications.
Priority change for write allocations and preemptive caching policies.
TLER & ATA streaming support.
Supports up to eight drives.
Next to being designed for 24/7 always-on scenarios, the WD Purple series is also designed for high-temperature environments. The temperature rating of the WD Purple, on the base casting, ranges from zero to 65 degrees Celcius when operating and -40 to 70 when non-operating.

Western Digital is backing the Purple series of surveillance drives with a three-year limited warranty worldwide. However, it is unlikely that you'll ever need that warranty as the drives are rated for a mean time before failure of 1 million hours and can withstand 300,000 load/unload cycles.
Specifications
The specifications are taken directly from the manufacturers homepage at the time of the review and might as such be subject to possible future changes.