Wearable Chair Developed by Swiss Startup
---
---
---
Chris Smith / 7 years ago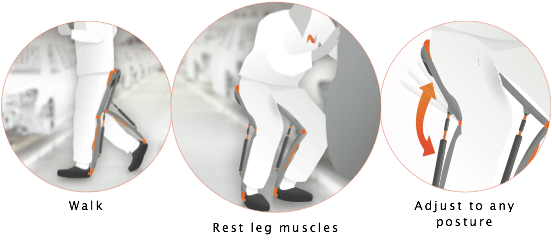 Noonee is a Swiss startup who claim to be the forefront of "Chairolution® "Bringing forth a new era of wearable ergonomic leg devices".
Have you been excited recently for wearable technology such as Google Glass, Smart Watches or even hats that double as tissue dispensers? A wearable chair probably wasn't the logical progression you were thinking of. But before you grab your pitchforks and start commenting on your social media channels, this invention isn't necessarily designed for general and public use. Working and standing in a factory on extended shifts takes a large toll on your physical endurance, noonee are trying to provide a viable solution.
Their 'chairless chair' is a locking leg support device. Once you strap yourself in, you can press a button and take the weight off yourself without effort. Made out of aluminium and carbon fiber, the frame is designed to hold whichever position you are currently assuming – meaning you don't have to compromise with standard set positions.
Engaget helped explain the science behind the device:
"The secret sauce here is a battery-powered dampening system eases the load on your lower back and legs by supporting your body weight and directing it down into your heels."
Audi and BMW are said to soon be taking on this prototype unit for on-field testing, let's see if it can stand up to the test.
Are you often attending expos, trade shows or events? Maybe we'll see these as a public reality – unfortunately, we haven't had any price indication as of yet.
Image courtesy of noonee