Welcome the Summer with 2K's Humble Bundle
---
---
---
Gareth Andrews / 7 years ago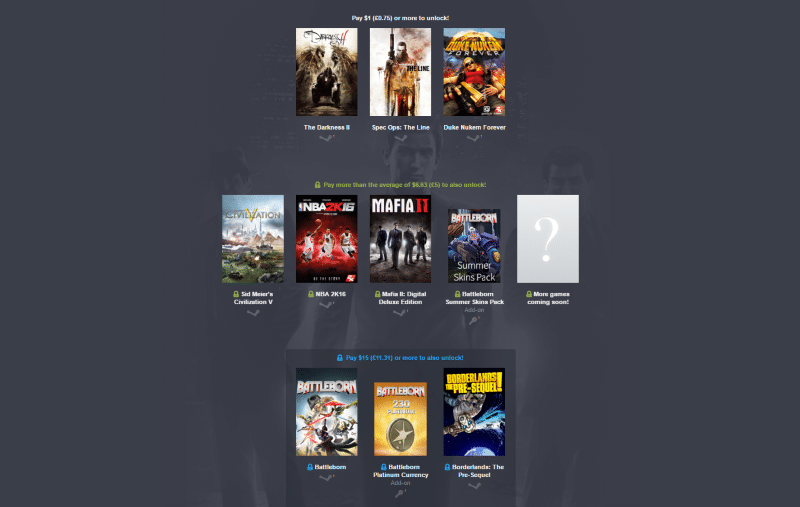 The sun is out and people are getting to finally enjoy a summer sun in the UK. The problem is you can't spend all day out in the sun playing Pokemon GO, so what about when you get inside for the evening? 2K games are looking to fill up your evenings with a few games in the latest humble bundle.
2K games have started their lineup with The Darknessofferingrring a super-powered criminal to help tickle your senses. The next game in the party comes the phycological thrilling Spec Ops: the Line, a game based on challenging not just your combat skills but also your morality. The last game in the $1 bundle is Duke Nukem Forever with bad one-liners and excessive combat.
The above average price will get you not just Sid Meiers Civilization 5 but also the basketball of NBA 2k16. Join and conquer the criminal lifestyle in Mafia II's Digital Deluxe Edition and then finally enjoy the summer with Battleborns summer skin pack.
Finally at $15 you can grab not just Borderlands: The Pre-sequel with anti-gravity humor and weapons galore but also 2K's latest game, Battleborn alongside 230 Platinum currency used in-game to help pick up all your favorite characters for both multiplayer and cooperative gameplay.
With a 40% discount on XCOM2 and even more games to join the average bundle next Tuesday, what do you think will join 2K's lineup?