Western Digital Shipping 14TB Ultrastar Hs14 HDDs
---
---
---
Samuel Wan / 5 years ago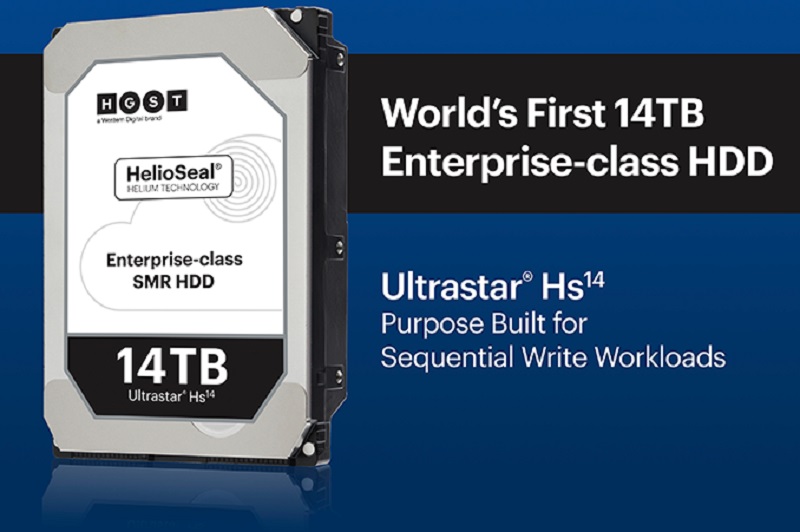 Despite the rise of SSDs and flash storage, good old hard disk drives are still spinning around. To remain competitive, hard drives are now pushing capacity and cost as their main features. Earlier in the month, Western Digital announced their latest 14TB HDDs. Today, we finally have more information on the new Ultrastar Hs14 which is finally launching. Unlike previous drives, it looks like the new Hs14 has a few quirks of its own.
Just like most high capacity drives these days, the Hs14 uses a Helium filling, in this case, Western Digital's fourth-generation HelioSeal. The drive features a total of eight platters with a 7200 RPM spindle speed and a 512 MB cache. In order to hit 14TB, this means each platter has 1.75 TB of usable storage space. This gives us an impressive 1034 Gbit/inch2 which is a jump over current standards.
Western Digital Opts for Host Managed SMR
The increased density is due to a move to SMR Shingled Magnetic Recording. Due to the peculiarities of SMR, random writes have to managed in a special way to avoid lengthy rewrites. While Seagate does this on the drive, Western Digital is choosing to host-based. This means the operating system has to support SMR, restricting the drive to the enterprise for now. Even so, SMR is best used for sequential data storage where changes are not often made. Backups, surveillance and data storage come to mind as possible uses.
Due to various tweaks, Western Digital claims 233 MB/s for sustained transfer rate. This is expected to go higher as SMR operations get refined. Given the problems with SMR, hopefully, microwave recording based HDDs will come soon. For enterprise customers, the Hs14 is now available for qualification. Drives will ship once clients decide they want to start deploying them.