Western Digital Introduces Ultrastar DC SS530 SAS SSD
---
---
---
Bohs Hansen / 3 years ago

Western Digital Introduces Ultrastar DC SS530
Western Digital introduced a great new drive that isn't the everyday type. The new Ultrastar DC SS530 is a SAS SSD and it is the company's highest-density drive and the fastest dual-port SAS SSD in the market. With it, storage array manufactures can offer their customers substantially lower data centre TCO for Fast Data applications. Western Digital also doubles the maximum capacity to 15.36TB when compared to the previous generation.
Maximum Storage Capacity with a Traditional Design
The Ultrastar DC SS530 features a standard form factor with its 2.5-inch 15mm design. At the same time, it offers an incredible maximum storage capacity of 15.36TB. Smaller options are also available with the smallest being a 400GB drive.
With double the capacity option when compared to the previous generation, the DC SS530 allows IT managers to either double the total capacity or reduce the number of drives needed by 50%. That is something which can make a huge difference.
Built on a Trusted Platform
Developed in partnership with Intel, the Ultrastar DC SS530 is based on a trusted third-generation platform that has been previously qualified at most major OEMs worldwide. It offers consistent performance and reliability to meet the rigorous demands of today's toughest data centre workloads.
Designed with a 12Gb/s SAS interface, and available in capacities from 400GB to 15.36TB, the Ultrastar DC SS530 delivers up to 440,000 random read and 320,000 random write IOPS. With that kind of performance, the drive provides rapid access to hot enterprise data.
What does Western Digital Have to Say?
"Our proven history has garnered trust from leading server and storage system providers around the world. Through these partnerships we have deep expertise in tiered storage needs as well as the importance of delivering the highest reliability, cost-efficiency and ease of system integration," said Ulrich Hansen, vice president of Enterprise Product Management at Western Digital. "With the Ultrastar DC SS530, we are releasing another high-quality product designed to meet the needs of our customers. Built on 64L 3D TLC NAND, the Ultrastar SS530 delivers important advances in performance and power efficiency. Combining these improvements with the reliability that our Ultrastar drives have become known to represent significantly enhances the value we deliver to the market."
More detailed information can be found on the official product page.
A Drive with Multiple DWD Tiers
Western Digital's Ultrastar DC SS530 comes in three different DWD tiers which also changes the available capacity options. There's a series for 10 Disk Writes per Day, one for 3 DWD and one for 1DWD. It isn't everyone who needs their drives to stand up against the same write load, making them able to get more capacity instead.
The 10 DWD version is available from 400GB to 3.2TB, the 2DWD from 400GB to 6.4TB, and the 1DWD is the one with the largest capacity options. Here you get the choice from 480GB to 15.36TB.
Impressive Performance Numbers
We touched the performance a little bit above, but it's time to talk more numbers. The sequential read and write performance is the same for all three models: 2150MB/s reading and 2120MB/s writing. The random read performance is also the same for all three with 440K IOPS. The random write and mixed workload variates somewhat between the models.
In random writes, the 10DWD drive offers 320K, the 3DWD 240K, and the 1DWD 100K IOPS. The three models come in with 430K, 330K and 190K IOPS at mixed workloads. The access times are 92μs for all three while the write latency comes in at 26μs, 27μs, and 36μs.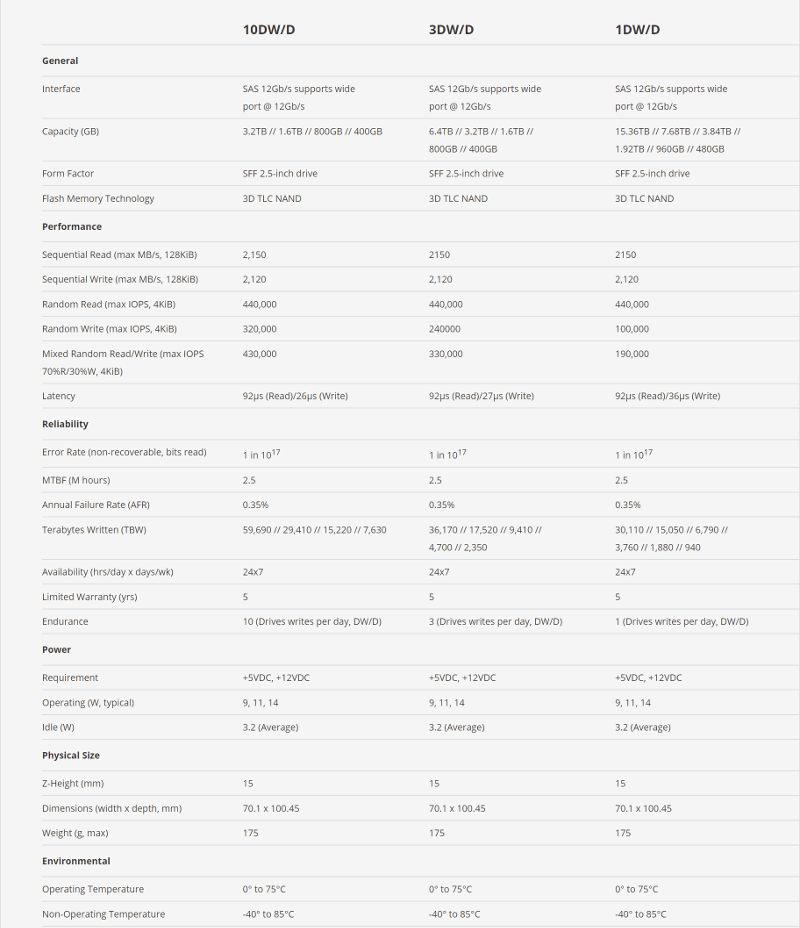 Enterprise Features
Western Digital's DC SS530 also allows you to tune the drive. It offers the flexibility to tune performance and power efficiency with three power modes: 9, 11 and 14 Watts.
The drive also helps protect data from unauthorized use and enables swift repurpose or retirement of drives with security options, including Secure Erase (SE), Instant-Secure Erase (ISE) and Self-Encrypting Drive (TCG SED).
Models with TCG SED plus FIPS 140-2 validation are expected to be available in Q4 2018.
Availability
Western Digital is currently shipping Ultrastar DC SS530 samples to select OEM customers. A broader availability will happen later this quarter.