Western Digital Sentinel DX4000 16TB NAS Review
---
---
---
Chris Hadley / 10 years ago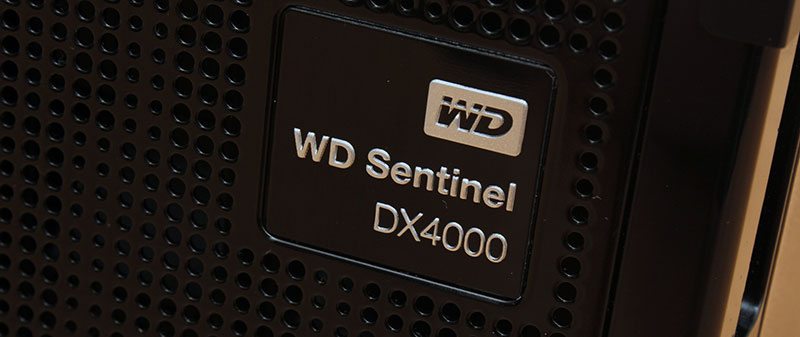 Up to now we've been looking at network storage servers that come with no drives and are produced by a company other than a drive manufacturer. Western Digital are one of the best hard drive manufacturers our there in the market and their recent changes to their product line-up has not only made choosing the right drive for the job easier, but also a lot clearer. When it comes to network storage, WD has three types of drive that are geared for the job, Red, SE and RE. Red drives are still aimed for the home/SOHO user, whilst their enterprise SE and RE drives are optimised for the constant punishment that they will encounter 24×7.
Setting drives aside, WD has now come out with their own NAS solution, optimised for their own drives, in an all-in-one easy to use solution and so we get the Sentinel DX4000. The Sentinel is a first in a line of self designed NAS solutions that can be purchased with drives pre-installed in a variety of capacities, varying from a modest 2TB, right up to a whopping 16TB. Unlike other NAS solutions on the market, one of the main features that sets this system apart from the rest is the use of Windows Storage Server 2008 and a auto configuration process during the initial set-up that automatically builds the drives into a RAID5 array – the preferred choice for NAS solutions as this gives the best data security and will ensure no data is lost, should one drive fail during operation.
With this unit designed specifically for the SMB environment the use of WSS 2008 should allow for seamless integration through active directory and domain configuration and also for those that are at home with Windows, should make maintaining the system a bit more intuitive. With RAID automatically configured based on the number of drives installed, set-up should be easier as mentioned and knowing how well trusted and reliable Western Digital's drives are in the NAS markets with multiple lines of drives targeted at this environment, there is good hope that the system has a lot to give.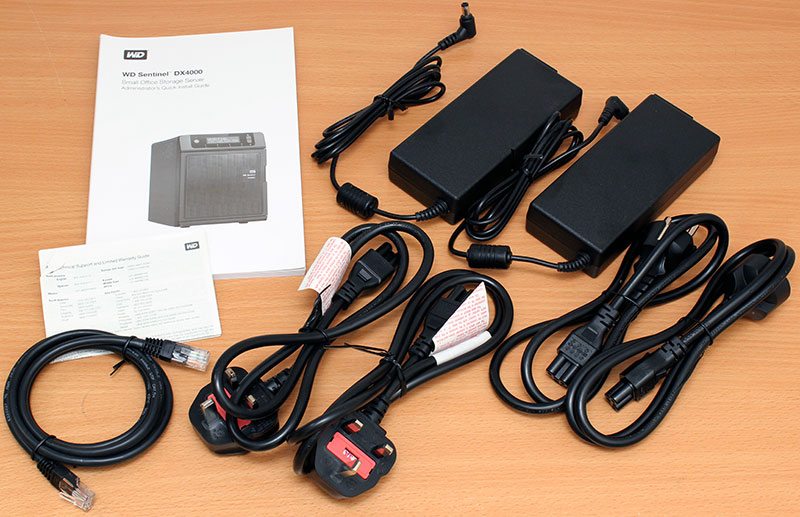 All NAS' come with a selection of cables to get you connected and running, this one being no exception. Alongside the user manual, the first thing we note are the two external power inverters, which as we will see on the next page, aid towards a more compact build of the main unit itself. Do note that on all other SKUs apart from the 16TB option, the DX4000 will only come with a single power adaptor, but as a top of the line model, the 16TB option includes both adaptors to allow for redundant power supply feeds. Also included are two sets of power cables for the UK and European markets and a single CAT5e cable. There is also a visible lack of screws that we traditionally see, but this is due to the tool free installation that the DX4000 adopts.