Windows 7 Still Dominant in Dec. 2017 Steam Hardware Survey
---
---
---
Ron Perillo / 5 years ago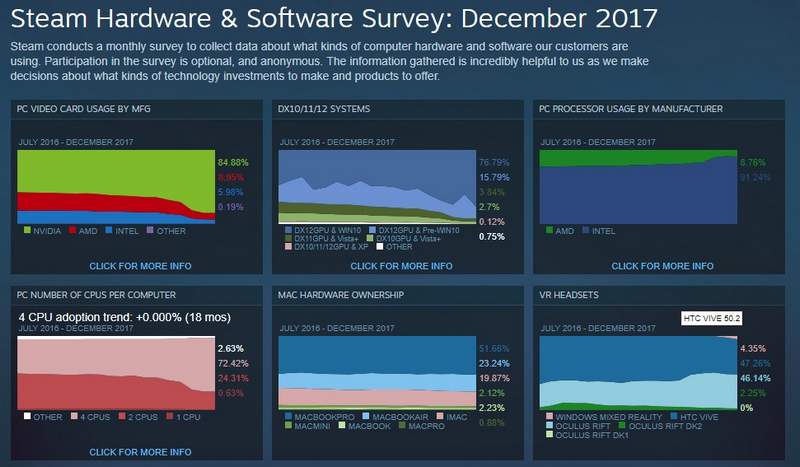 Valve has finally released the latest Steam Hardware Survey for December 2017. It has some surprising revelations, although not nearly as surprising as one would expect. For starters, Windows 7 64-bit still holds the majority share. This is after a massive bump from two months ago with a 22.45% bump, totaling a 64.90% share. Windows 10 64-bit has now gained 13.15% but still falls shy behind Windows 7 64-bit with its 54.59% share by the end of December. This is even with a 15.10% drop from November.
This is still due to the large influx of mainland Chinese gamers joining the platform. Although their number has now dropped by 15.31% from November, they are still the majority at 49.04%. English language users are at a distance second at 23.42%, although this is after a 6.40% bump from November.
NVIDIA GPUs Still Dominate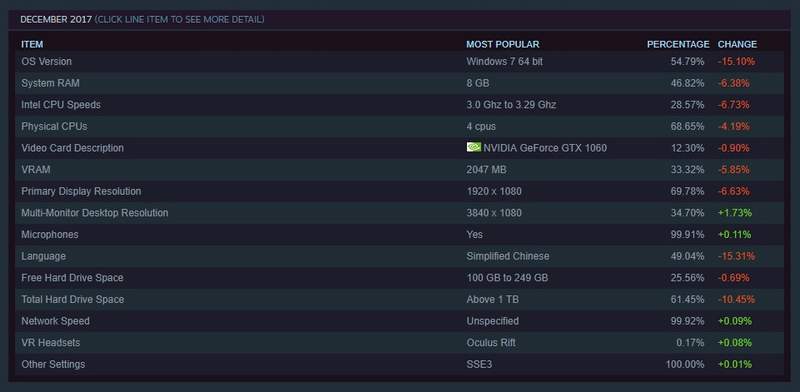 In terms of actual hardware, NVIDIA video cards still dominate, with the GeForce GTX 1060 at the top with 12.30% user share. GTX 960 follows next with 10.32% and GTX 750Ti takes the third spot with 10.26%. Growth has been relaxed in this segment for this month, despite the holiday season. High prices tend to do that. In fact the only gains are with the GTX 970 and GTX 1070, both with a 1.11% and 1.02% user share respectively.
With the tepid video card advancement, the 4K resolution adoption is equally slow with a .24% gain from last month. 1920 x 1080 is still the most popular resolution with 69.78% of Steam users. However, this is after a 6.63% drop from last month. All other resolutions gained users, with the exception of 2560 x 1440 which remains at 3.34% from last month.
Surprisingly, despite the high RAM prices, users with 12GB or higher of system ram bump up 2.7% now with 34.26% of all users. The 8GB sweet spot is still the top choice at 46.82%, despite the 6.38% drop from last month.
For more details, check out the survey here: http://store.steampowered.com/hwsurvey/