The Worlds First Entirely 3D Printed Bridge Opens
---
---
---
Mike Sanders / 3 years ago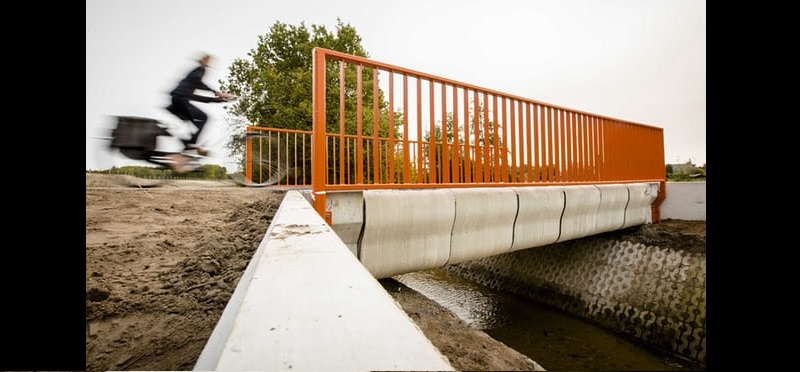 A 3D Printed Bridge! Whatever next!
3D printers are an awesome piece of technology. The ability to design and create 3d objects from scratch is an amazing concept. We have all seen videos showing how 3D printed objects have been used to revolutionize product design. We have even seen a somewhat morbid 3D printed finger access a dead man's phone. However, even still, there are few large-scale projects. That is, until now.
The town of Gemert in Holland is a quite pleasant, but reasonably low profile town. It is not, without meaning any disrespect to its residents, not the place you would usually expect to hear a 'worlds first' occurring. Well, Gemert has a claim to fame as it has now the first officially 3D printed bridge in operation.
Why a 3D printed bridge?
It's a valid question. Why make a bridge using 3D printers? I suspect the answer might be that great one given to all strange things because they could. The bridge was created solely using 3D printers using concrete over 800 layers reports the Guardian.
Although the bridge has been designed with cyclists in minds, the statistics would suggest up to 40 trucks could use the bridge at the same time and it would still hold. Therefore, the bridge may have been somewhat over-engineered, but the stats are still impressive.
This could see 3D printed structures before more common. MIT has after all, only recently designed a mobile 3D printer to address such problems.
There are some benefits to a 3D printed bridge. For example, in this instance, the design used significantly less concrete that you would usually see. 3D printer technology is in its infancy, but it's clear that it does have a future.
What do you think? Is this over-engineering a solution or a fantastic display of the capabilities of 3D printers? Let us know in the comments!