World's First 3D Printed Metal Gun
---
---
---
Shane Blume / 9 years ago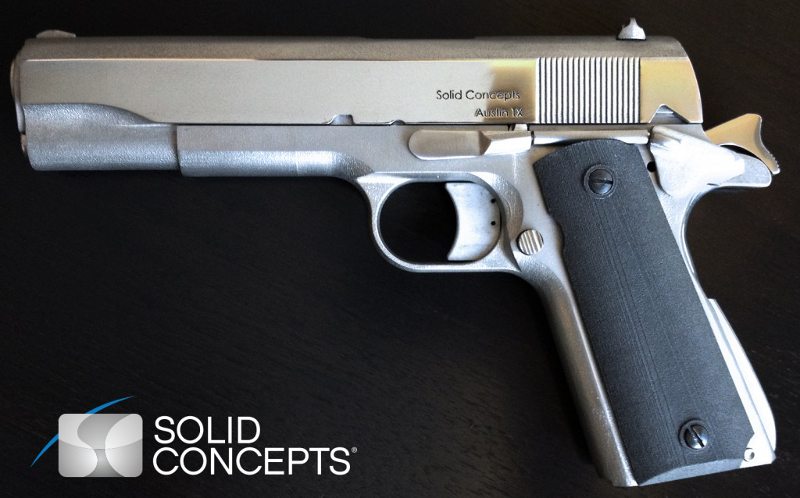 Solid Concepts has produced the worlds first 3D printed Metal Gun. Not to be confused with the Liberator, which is printable on conventional plastic 3D printers. Solid Concepts users industrial grade 3D printers, which are able to produce metal products that need little to no machining. Solid Concepts isn't getting into weapons manufacturing, but rather wanted to prove that DMLS was able to perform well for real world applications. In doing so they found blueprints for a 1911, which is public domain, and it was off to the printers.
Solid Concepts, Inc. is based out of California, though they have six facilities in the United States. Their Austin, Texas office is their only office that holds a federal firearms license. The company primary focuses on custom manufacturing, which includes engineering, manufacturing, production and even prototyping. They are able to produce many different products from precision equipment such as specialized equipment to products transportation parts, they are even involved in aerospace and unmanned systems.
[youtube]http://www.youtube.com/watch?v=u7ZYKMBDm4M[/youtube]
In order to prove that Direct Metal Laser Sintering or DMLS is able to perform well in the real world. Solid Concepts ventured to prove that DMLS is strong enough, and accurate enough for real world applications. The 1911 sidearm was first introduced, as its name implies, and is still used today. The firearm is a single-action pistol, which has semi-automatic functionality, and is magazine fed. Every time it is fired, pressures within the chamber rise above 20,000 psi. Nearly all of the parts were produced via DMLS and consists of 33 17-4 Stainless Steel and Inconel 625 components. It was then decked with a selective laser sintered carbon fiber filled nylon hand grip.
[youtube]http://www.youtube.com/watch?v=bgQvqVq-SQU[/youtube]
DMLS is able to take 3D CAD data and split it into sections in order to produce a product then using powdered metal or alloy materials. The process of creating a product with the DMLS is fairly simple sounding. First they print with a metal powder, lower it surround it by sand, heat it up, thus creating a solid piece of metal. DMLS is highly accurate, and it is able to reproduce designs quickly.
Currently this technology is not available to just anyone, costing more than $500,000. These printers are being used in a professional environment, so I highly doubt that we need to worry about finding these on our streets in the hands of thugs.
I want to thank TechCruch for proving us with this awesome information and Solid Concepts for providing us with all of the data that we needed.