Worldwide PC Shipments Fell by 5.7 Percent in Q3 2016
---
---
---
John Williamson / 6 years ago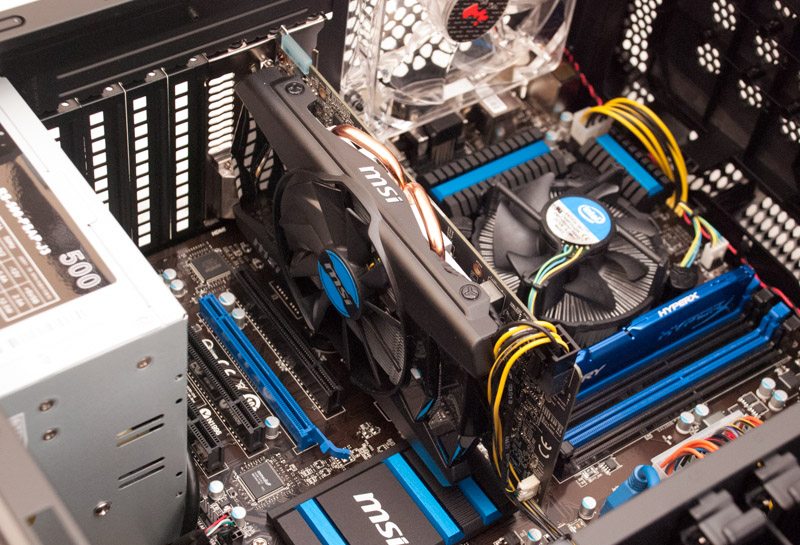 The demise of the traditional desktop PC has been predicted for a considerable amount of time and there appears to be a steady decline which shows no signs of slowing down. The advent of tablets, mobile phones and other devices which provide a more tactile user experience pose a threat to desktops, especially if the individual in question doesn't require a huge amount of processing power. Not only that, unless you're an enthusiast, older PCs perform perfectly fine and it seems wasteful to upgrade to a new model. According to the latest research by Gartner, PC shipments declined by 5.7% during Q3 2016. Mikako Kitagawa, principal analyst at Gartner argued:
"There are two fundamental issues that have impacted PC market results: the extension of the lifetime of the PC caused by the excess of consumer devices, and weak PC consumer demand in emerging markets,"

"According to our 2016 personal technology survey, the majority of consumers own, and use, at least three different types of devices in mature markets. Among these devices, the PC is not a high priority device for the majority of consumers, so they do not feel the need to upgrade their PCs as often as they used to. Some may never decide to upgrade to a PC again."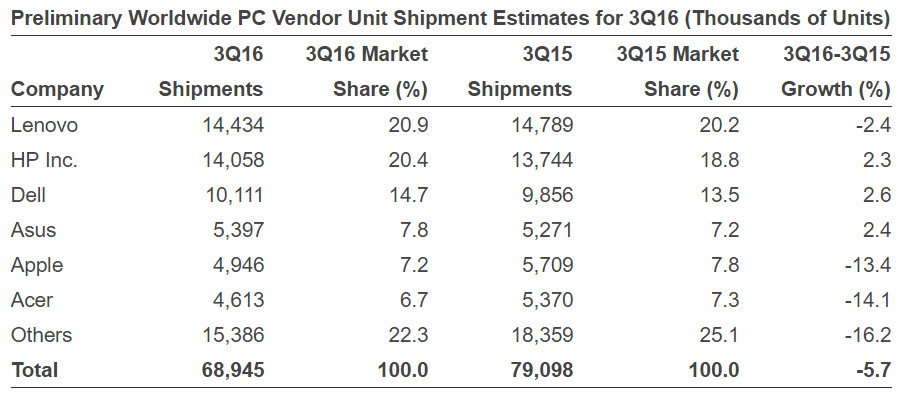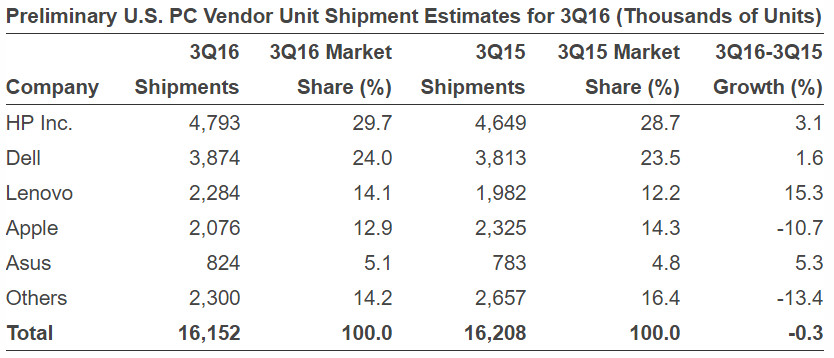 It's not just a lack of willingness to upgrade though and in certain markets, some consumers aren't overly bothered by the idea of owning a traditional PC. Mikako Kitagawa explains:
"In emerging markets, PC penetration is low, but consumers are not keen to own PCs. Consumers in emerging markets primarily use smartphones or phablets for their computing needs, and they don't find the need to use a PC as much as consumers in mature markets."

"Mobile PCs, which include notebooks, two-in-one PCs and Windows tablets, showed low-single-digit year-over-year growth, but the overall results were offset by a decline of desktop shipments,"

"Traditionally, the third quarter has been driven by back-to-school PC sales, but back-to-school marketing campaigns have become less effective for driving PC sales. With so many PCs already in the consumer market, U.S. consumers do not feel the need to buy new PCs; many parents hand down old PCs to their kids. While our PC shipment report does not include Chromebooks, our early indicator shows that Chromebooks exceeded PC shipment growth."
The research isn't too surprising and continues the trend of a long-term decline in PC sales. It's important to note that the growth of PC gaming has made a certain user base build their own PCs and purchase components. As you can imagine, this doesn't quantify as a "vendor" unit and is part of a different market.
Do you think the traditional desktop will eventually be an outdated concept?
Images courtesy of TechPowerUp.