XFX Announces Five Radeon RX 580 Graphics Card Models
---
---
---
Ron Perillo / 6 years ago
XFX is introducing five different Radeon RX 580 graphics card models for the launch of the new Radeon Polaris 500-series including RX 580 8GB GTS XXX Edition, RX 580 8GB GTS Black Edition, RX 580 4GB GTS XXX Edition, RX 580 8GB GTR-S Black Edition White and RX 580 8GB GTR-S Black Edition Crimson.  The last two are basically white or red LED color options of XFX' previous hardswap fan models and the "Black Edition" refers to their highest factory overclocked models, which are above the XXX Edition versions.
XFX redesigned the shroud for their latest GTS RX 580 video cards, now sporting a double octagonal shape rather than their sleeker 400 series models. It works well to separate the look compared to most other video cards in the market and it also features a matching backplate that extends beyond the PCB length. Four copper heatpipes distribute heat from the GPU core while two fans actively cool it from above. These fans have the ability to turn themselves off when the GPU load is low (such as watching a movie) but can automatically ramp up when in gaming mode.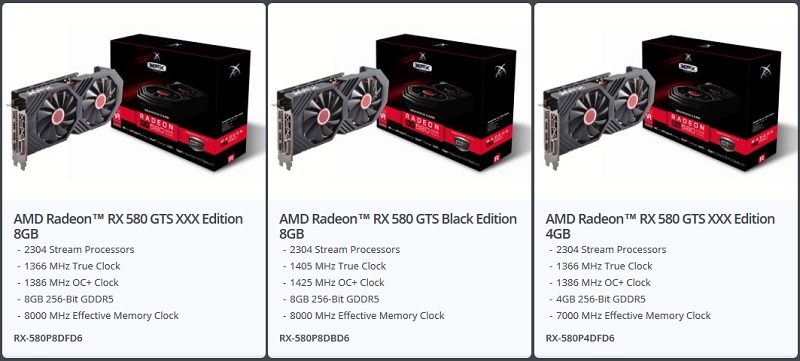 The Radeon RX 580 GTS Black Edition 8GB has the highest factory overclock among the GTS line with 1405MHz out of the box with a 1425MHz OC+ setting and an 8000MHz memory clock on a 256-bit bus.  The Radeon RX 580 GTS XXX Edition 8GB and 4GB follow with 1366MHz core clock out of the box and 1386MHz OC+ setting with 8000MHz effective memory clock as well for the 8GB version while the 4GB version has a slightly slower 7000MHz effective memory clock.
The two hard swap GTR-S Black Edition models have the highest factory overclock out of all five however, with a 1430MHz default core clock and 1450MHz oc+ setting. Users can choose between the red LED or white LED version, although otherwise they share the same feature set including two hard-swappable fans for easy cleaning, replacement or modding as well as matching aluminum backplate. Just like the XFX GTS series, these hard swappable GTR-S models have zeroDB sensing fans that disable themselves during low-loads.