XFX in Potentially HUGE Trouble Amid China GPU Import Tax Fraud Allegations?!
---
---
---
Mike Sanders / 11 months ago

For those of you unaware, China is currently in the middle of something of a huge battle when it comes to graphics cards being brought into the country. The key reason for the crackdown is primarily to attempt to stop or at least curtail cryptocurrency mining organisations which the government is taking a rather dim view of at the moment. – Why is this important though? Well, following a report via Videocardz, it seems that GPU manufacturer XFX may be in some exceptionally serious trouble in China and although seemingly nothing (at least directly or on the surface) to do with cryptocurrency, it seems that they might have just been caught out attempting to defraud customs through incorrect shipment labelling.

XFX in Graphics Card Fraud Scandal?
So, what exactly has happened here? Well, attempting to keep this as concise as possible, Chinese customs inspected a shipment of XFX graphics cards. These were apparently endorsed with official stickers from XFX stating them to contain 5,840, yet undisclosed but presumably relatively humble (and mildly inexpensive), GPU models. – This in itself may have passed without notice until one customs official spotted that a section of the labels had, rather crudely it would appear, have been stuck over another that was previously there.
Put simply, and although I'm merely using these specific graphics card models as an example, it would appear that XFX may have attempted to import 5,840 AMD Radeon 6900 XT graphics cards into China while declaring with customs that the container actually contained 5500 XT's.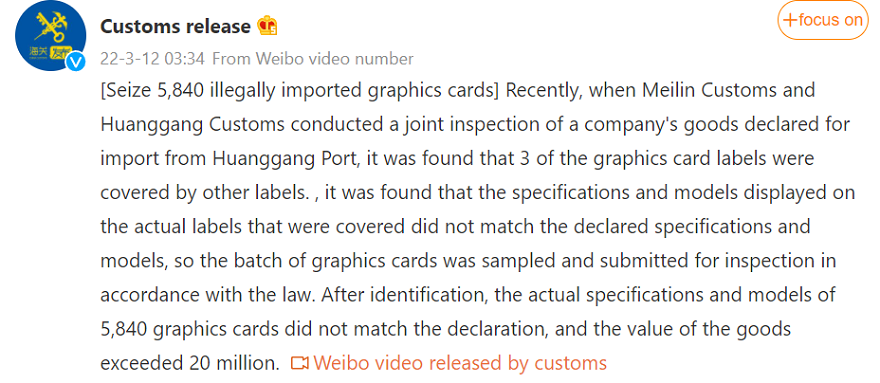 Why is this a Problem?…
If this has been deliberately done, then XFX could very well find themselves in exceptionally hot water in China. This could, by all accounts, be illegal activity erring into the grounds of, at best, misrepresentation, and at worse, fraud. Yes, this might just be an innocent mistake, but customs largely tend to take a dim enough view of this for civilians, let alone major businesses.
What is the actual crime here though? Well, it basically boils down to the cost of the graphics cards. 5,840 top-spec models clearly cost a lot more than 5,840 entry-level designs. With the latter being declared, however, their significantly lower value would clearly represent a hugely lower payment when it comes to import tax. And given that China is an (at least in theory) communist country, when you steal you're not taking the money from the government, you're taking it from the people!
With XFX's Chinese-based website currently offline, therefore, it's entirely possible that they are currently suspended from business activities within the country and potentially could be facing a colossally huge fine with more than a few people possibly on their way to reeducation centers!
Admittedly though, this news is still developing and the situation (and specifically in regards to XFX's involvement) may in reality be notably different to what the early indications are suggesting. We will, therefore, and of course, keep you up to date with any developments!
What do you think? – Let us know in the comments!
NB. Any perceived allegations made against XFX that may be taken from within this article should be presumed to come with the precursor 'alledged'. (In another life, I might've made a decent lawyer!)