XFX PRO 450W Core Edition Non Modular Review
---
---
---
Ryan Martin / 8 years ago
Introduction & Packaging
---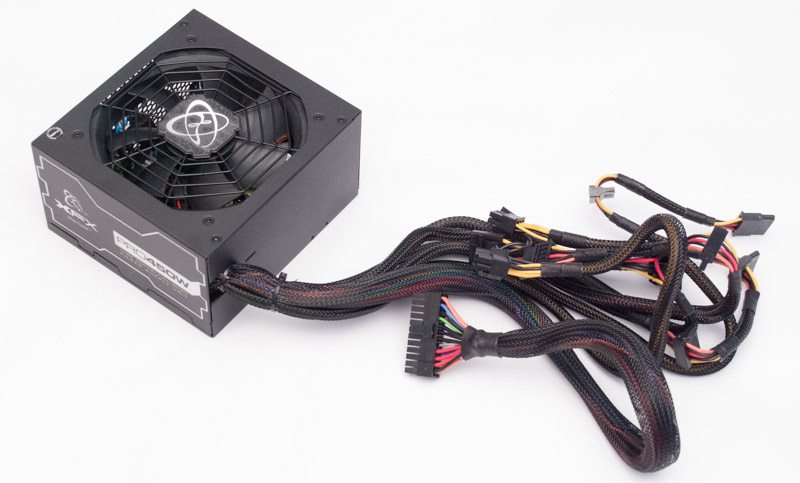 When you're building a budget system with fairly minimal power requirements you won't really find wattages lower than 400-450W for a standard ATX power supply. While getting a cheap power supply may be important to ensuring you can keep costs of a system build down it is also important to remember that you still need a decent quality power supply: if it is stupidly cheap (<$20 or <£15) then chances are it is going to be nasty. That said this is the perfect scenario for something like XFX's PRO 450W Core Edition power supply which we are testing today. Being a "Core Edition" XFX power supply that means it is both non-modular and Bronze rated making it the lowest cost of all XFX's product stacks. Starting at just £35~ or $55 it certainly offers great value for money and a viable alternative to cheap unbranded power supplies that are likely to go kaput. Yet this power supply is still a fairly high quality Seasonic design and comes with an impressive 5 year warranty that you wouldn't expect to find at such a price point. So let's examine XFX's PRO 450W Core Edition power supply more closely in today's review.
Packaging and Contents
The packaging demonstrates XFX's One Rail design, the efficiency certification and the use of Japanese capacitors.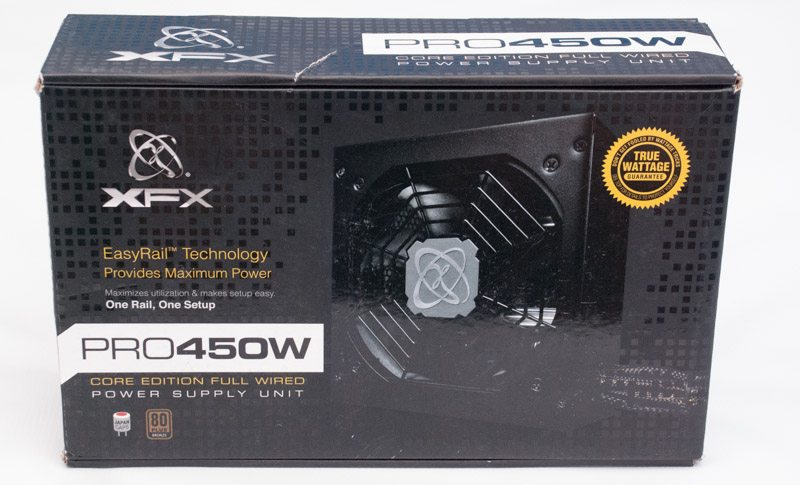 Around the back we find a bit about XFX's power supply design philosophy and mention of their 5 year warranty.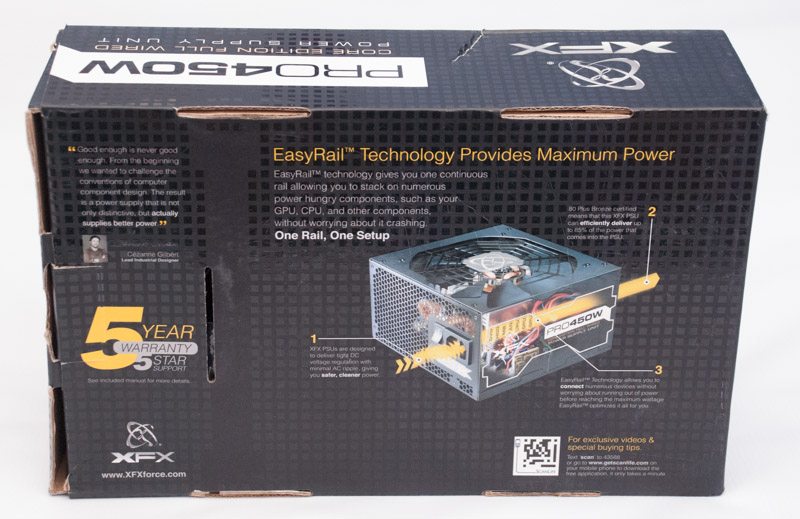 Included with this power supply is a user manual, four silver screws for mounting into a case and a power plug that should be appropriate to the region that you buy this unit in.