XFX RX 6600 SWFT 210 Graphics Card Review
---
---
---
Peter Donnell / 2 weeks ago
A Closer Look
The XFX SWFX 210 is a more affordable card, that's not to say it'll be cheap, but in terms of where it sits in the current AMD range, it's their least powerful chipset. That being said, I think XFX has done a great job of creating a presentable and stylish looking card. It's obviously pretty basic with its single plastic shroud and smaller design, but at the same time, it's hardly tragic to look at.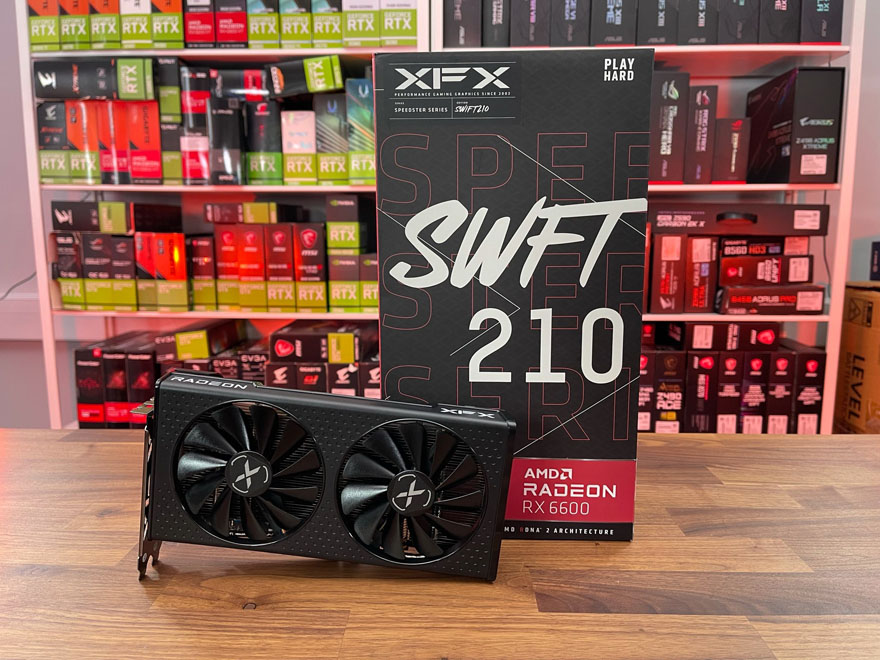 The card users a dual-fan design, which should be more than enough to keep things cool. There's a decent fin array behind it too, albeit it's not as densely packed as the more expensive cards, but again, I suspect this will be ample for this chipset. That being said, we'll find out in our benchmarks if the card gets too hot or not. However, those fans are nice and large, and I think that will take care of the heat well enough.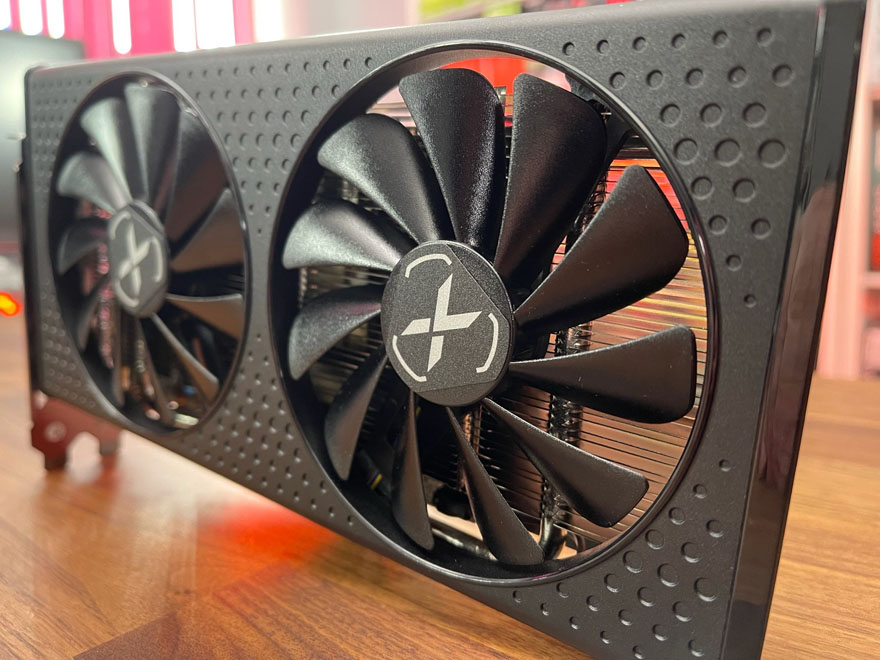 Overall, the construction looks fairly decent though, with a twin radiator design that extends much further beyond the PCB than I expected. This is a small card, really, but as you can see, the PCB is much smaller still. Still, all that extra surface area is going to help with the cooling performance.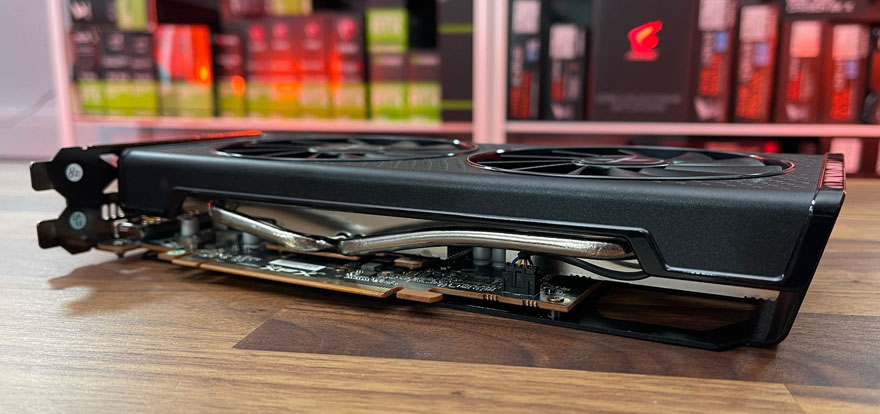 As you can see, it provides another advantage, with the rear fan having about 30% of its width able to exhaust up and out the backplate. It means that hot air can be moved away from the card much quicker. Actually, the fans even stick out a little on the front edge (top of this picture), and there are some heatsink fins showing here too. The backplate looks great too, with the XFX logo cut into it, as well as some small ventilation holes that should help with cooling, but they're also aesthetically pleasing too.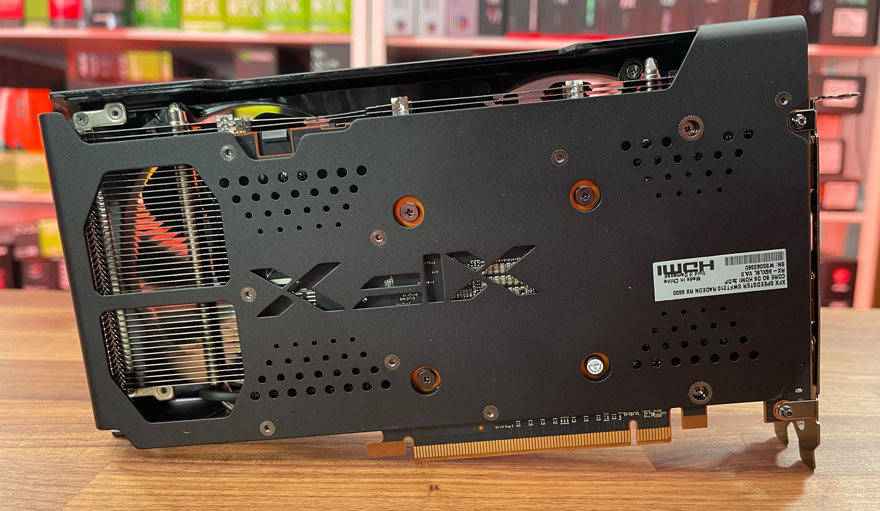 The card is by no means a power-hungry monster, so a single 8-pin will be all you'll need. There's a small switch here for the BIOS toggle too.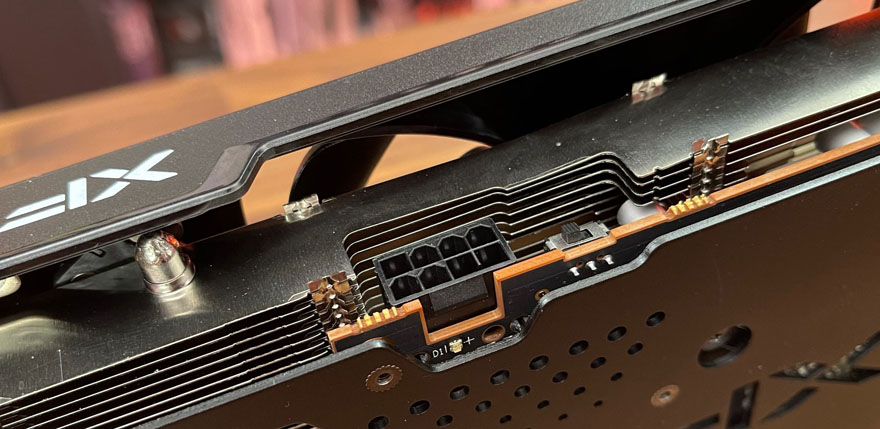 The card features three DisplayPorts and a Single HDMI, all meeting the latest standards. However, I would have liked two HDMI and two DP, but that's just my preference.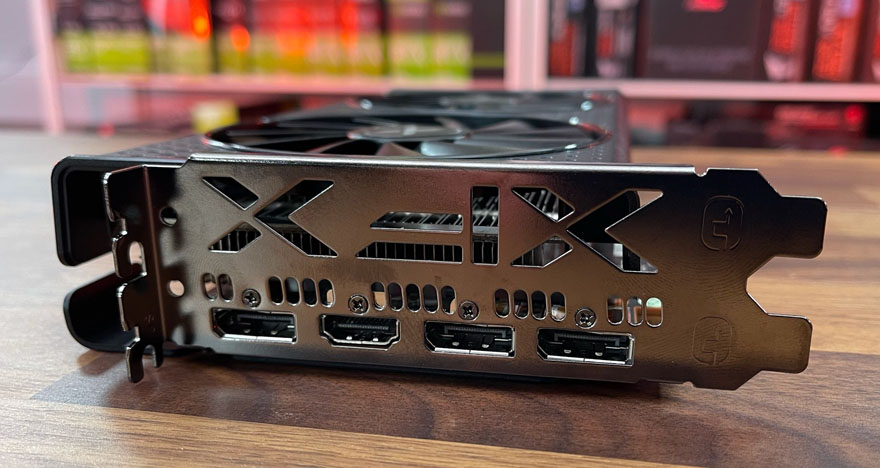 Overall, this is a good looking card. Sure, the shroud is just a single piece of moulded plastic, but it looks smart enough, and they haven't cheapened it with cheap shiny parts or LEDs, it's just a compact black GPU, and I like it.