Xigmatek Gaia SD1283 CPU Cooler Review
---
---
---
Luke Hill / 12 years ago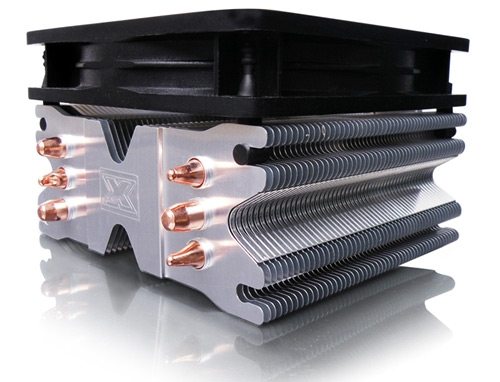 Xigmatek's CPU cooler line-up is a vast one. They offer many contenders in a variety of markets which cater for every target audience. We recently tested one of their high end products in the Aegir SD128264 and found it to be a good performer if just a tad over-priced. Today we will be looking at a younger brother of the Aegir, Xigmatek's Gaia SD1283.
The Gaia is available at the extremely competitive price of £17 in the UK, around $30 in the US and around €24 in Europe. While it may be half the price of its larger sibling, Xigmatek don't want that to translate into half the performance. They try to accomplish this by using 3 8mm heatpipes in a direct-touch design coupled with a fairly dense aluminium fin array full of heat-extraction enhancements. A 120mm, PWM fan is used which is capable of pushing 56.3 CFM of air and rotating between 800 and 1500 RPM. Included are extra rubber mounts for those of us who want to squeeze out every last drop of heatsink potential by using a pair of fans in a push-pull configuration.
Xigmatek have catered for every user with the Gaia's compatibility. It supports every modern Intel and AMD socket and has been confirmed to support the new LGA 2011 socket when it is released shortly. The dimensions of a heatsink are a commonly overlooked aspect by many manufacturers. Xigmatek have taken note of this and designed their 158mm tall heatsink to fit in a large amount of mid-tower or bigger cases.
Reading through the specification sheet reveals heaps of potential for the Gaia SD1283. Can the cooler deliver and challenge the likes of Cooler Master's Hyper 212 Plus for the alluring price vs. performance crown?