Xigmatek LOKI SD963 CPU Cooler Review
---
---
---
Luke Hill / 12 years ago

Today sees us looking at a brand that we haven't had the pleasure of working with for a while, Xigmatek. Xigmatek have recently made a big push in the CPU cooling market releasing 3 new CPU coolers for a variety of users. Today we will be looking at the Loki SD963.

The Loki SD963 aims to offer a cheap and cheerful upgrade for anybody who is currently using the stock heatsink supplied with their CPU. Using multiple Aluminium fins and 3 copper 6mm heatpipes entering into a Heatpipe Direct Touch (H.D.T.) base, the Loki looks to be a decent upgrade from the stock heatsink. A 1200-2800 RPM 92mm PWM fan should offer plenty of airflow to dissipate the heat extracted from a hot CPU, while the 20-28 dbA noise level should ensure any system can keep quiet.

Can Xigmatek offer the perfect upgrade from a stock heatsink in the SD963 Loki?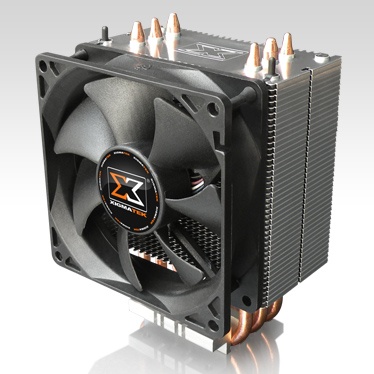 Features:
H.D.T. (Heat-pipe direct touch) technology
Dual fan installed option and anti-vibration rubbers attached
3 high performance U type heatpipes
Light weight
High performance, easy installation
Highly efficient PWM fan
Specifications:
[TABLE=class: grid]
[TR]
[TD]Heatsink fin material[/TD]
[TD]Aluminium alloy[/TD]
[/TR]
[TR]
[TD]Number of heatpipes[/TD]
[TD]3[/TD]
[/TR]
[TR]
[TD]Heatpipe diameter[/TD]
[TD]6mm[/TD]
[/TR]
[TR]
[TD]Fan speed[/TD]
[TD]1200-2800 RPM[/TD]
[/TR]
[TR]
[TD]Fan air flow[/TD]
[TD]52 CFM[/TD]
[/TR]
[TR]
[TD]Fan air pressure[/TD]
[TD]3.7mmH2O[/TD]
[/TR]
[TR]
[TD]Fan noise level[/TD]
[TD]20-28 dbA[/TD]
[/TR]
[TR]
[TD]Dimensions[/TD]
[TD]92(W) x 50(H) x 134(D) mm[/TD]
[/TR]
[TR]
[TD]Weight[/TD]
[TD]430g (with fan)[/TD]
[/TR]
[TR]
[TD]Compatibility[/TD]
[TD]Intel LGA 775, 1156, 1366
AMD K8, AM2, AM2+, AM3[/TD]
[/TR]
[/TABLE]