Xigmatek Thor's Hammer CPU Cooler Review
---
---
---
Jake Sedge / 12 years ago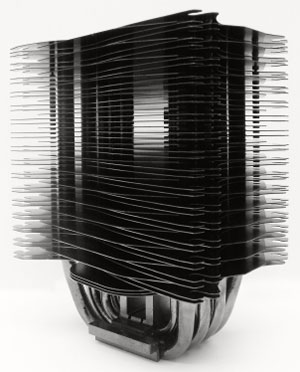 Xigmatek has been well known for their CPU coolers for a long time, mainly for providing amazing performance for fantastic prices and also for their signature orange LED fans. Xigmatek has also made a great success with their move into the already crowded mid-range case market and has also branched into power supplies.
Xigmatek will also be moving into the higher end of the case market with their upcoming Elysium which I am particularly looking forward to.
We will be taking a look at Xigmatek's Thor's Hammer CPU cooler. This cooler is unique in both style and design, featuring a fantastic looking fin shape with wide gaps and an intricate overlapping design. It is marketed as a passive CPU cooler but up to 2 fans can be added.
It also sports Xigmatek's own dual-layer heatpipe direct touch technology which we will be looking at in more detail alter. Unlike many of Xigmatek's existing CPU coolers, this is aimed at the enthusiast end of the market
Taken from the Xigmatek website:
XIGMATEK PHILOSOPHY: ICE

I: Impressive
Xigmatek holds its belief to be an "impressive" products provider. How long do you not obtain an impressive product and be touched in mind? Xigmatek learns the technical and experience not only in this Thermal industry, but other industry also to provide the impressive products to customers.

C: Creative
Xigmatek always remind himself of that no creative, no power to this company. Regards as this, there is a team of over twenty R&D engineers, product designers and technical people.

E: Essential
Xigmatek believes himself firmly to be a much more "Essential" company. We know the importance of product essence, not only the excellent quality but also good performance, in time service and better durance.
Features
[HR][/HR]
H.D.T. (Heat-pipe direct touch) technology
Double layer HDT overcomes limitations of standard HDT coolers and further increases performance
Black Nickel plating gives a stunning appearence
4x 8mm + 3x 6mm high performance heat-pipes
Unique fin design provides efficient air flow
Can be run passively or with up to 2 x 120mm fans
Anti-vibration rubber fan mounts included
Universally compatible
Designed for i7 overclocking
Specifications
[HR][/HR]