Zotac Gaming RTX 2080 Ti Amp Review
---
---
---
Peter Donnell / 5 years ago
Zotac Gaming RTX 2080 Ti Amp
Today is a pretty special day for me here at eTeknix. Today is the first time I've gotten my hands on an Nvidia GeForce RTX 2080 Ti graphics card. Furthermore, it's from the fantastic brand that is Zotac! I've only ever tested one Zotac GPU here at eTeknix, and that was their stunning 1070 Ti Amp! Extreme Edition. Now they're back with another high-end card and given it's promising to be one of the fastest cards we've ever tested, we should be in for some pretty fantastic benchmark scores today.
"Get guaranteed more speed with AMP, factory overclocked ZOTAC GAMING GeForce RTX graphics cards right out of the box. More speed, more performance." – Zotac
The Amp! edition from Zotac comes pretty well equipped, as one would expect from a flagship GPU such as this. It comes with active fan control, as well as their newly revised fan design for improved cooling performance. It also supports their new FireStorm software, and OC Scanner, allowing you to tweak all the usual GPU settings, as well as customise the built-in RGB lighting. The huge triple fan cooler also helps it reach a Boost Clock of 1665 MHz, and no doubt more once we overclock it.
Ray Tracing and DLSS
With the new cards come new features, such as real-time ray tracing and their new deep learning supersampling. These promise some of the most impressive graphics techniques ever seen, as well as massively improved AA performance even at 4K. Our current benchmark suite doesn't cater to these, and for a few weeks at least, no games support them. However, we'll be exploring these features this week, so stay tuned for some cool updates from us any day now!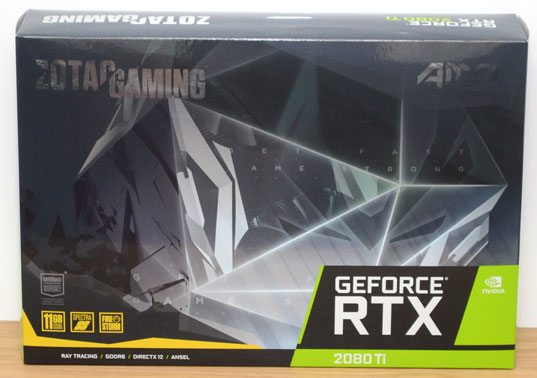 Features
Active Fan Control
New Fan Design
Spectra Lighting
GDDR6 memory
FireStorm
OC Scanner
20-Series Features
Geforce Experience
Nvidia Shadow Play
Nvidia Ansel
DirectX 12
Nvidia G-SYNC
HDR
Ray Tracing
Nvidia DLSS
Specifications
For in-depth specifications, please visit the official Zotac product page here.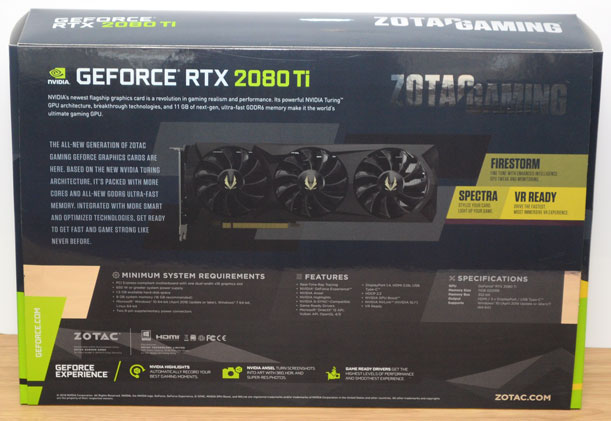 What Zotac Had to Say
"The all-new generation of ZOTAC GAMING GeForce graphics cards are here. Based on the new NVIDIA Turing architecture, it's packed with more cores and all-new GDDR6 ultra-fast memory. Integrated with more smart and optimized technologies, get ready to get fast and game strong like never before." – Zotac
What's in the Box
The GPU comes bundled with a pair of power adaptors and all the usual documentation. I'm still saddened to see cheap looking PSU adaptors with such an expensive GPU though, they should be made of gold and diamonds as far as I'm concerned, or not included at all; if you have this GPU, surely you have the right PSU for the job?