ZOTAC RTX 4090 AMP Extreme AIRO GPUs Spotted in the Wild!
---
---
---
Mike Sanders / 1 year ago

Nvidia is expected to announce the launch of their new 40XX graphics cards during their GeForce Beyond broadcast which is set to kick off on September 20th (4 PM UK time). – While it's well known (to the point of hardly being a rumour anymore) that the initial focus will be placed on their 4090, to date, we have still yet to see any firm examples of AIB models being out in the wild. – Following a report via Videocardz, however, it appears that Zotac is more than ready for the launch as a surprisingly large quantity of their upcoming RTX 4090 AMP Extreme AIRO GPUs have been pictured online!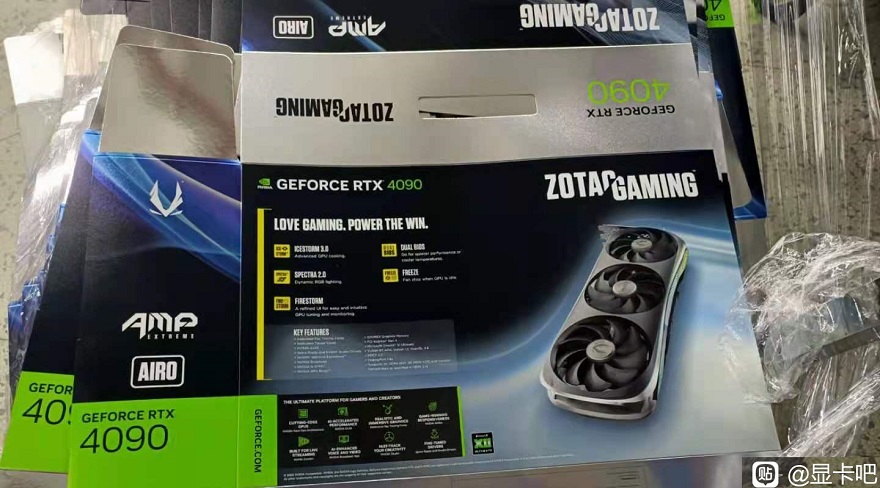 ZOTAC GeForce RTX 4090 AMP Extreme AIRO
Although there is sadly not much revealed in terms of specifications, or of the more interesting side of this Zotac GPU itself, the two images certainly tell us (or confirm) a lot of what we can expect from the upcoming release of custom Nvidia 4090 graphics cards. – Firstly, in terms of the packaging, Zotac isn't just going for some new presentation (based on prior releases), but this does seem to add to the leak seen earlier this month that Nvidia is indeed planning to utilise a new font design for their 'RTX 4090' logo.
What about the graphics card itself though? Well, firstly, despite the somewhat limited image below, it seems clear that this 4090 GPU from Zotac isn't just big, it's huge! – Featuring what is undoubtedly a new triple-fan cooling configuration, based on the depth, this also seems to nail down prior rumours that the 4090 will be a triple-slot design. – Put simple, the heatsink on this appears to be massive clearly indicating that for all the potency this GPU will have, it needs a lot of cooling to keep it happy!
And while on the subject of heat, this clearly opens the doors to power consumption. In this regard, we sadly can't see the input port/s here to know whether this will require one or two of the PCIe Gen5 connection. Based on the size though, and reportedly power requirements (TGP) of this GPU, we certainly wouldn't rule out two being required.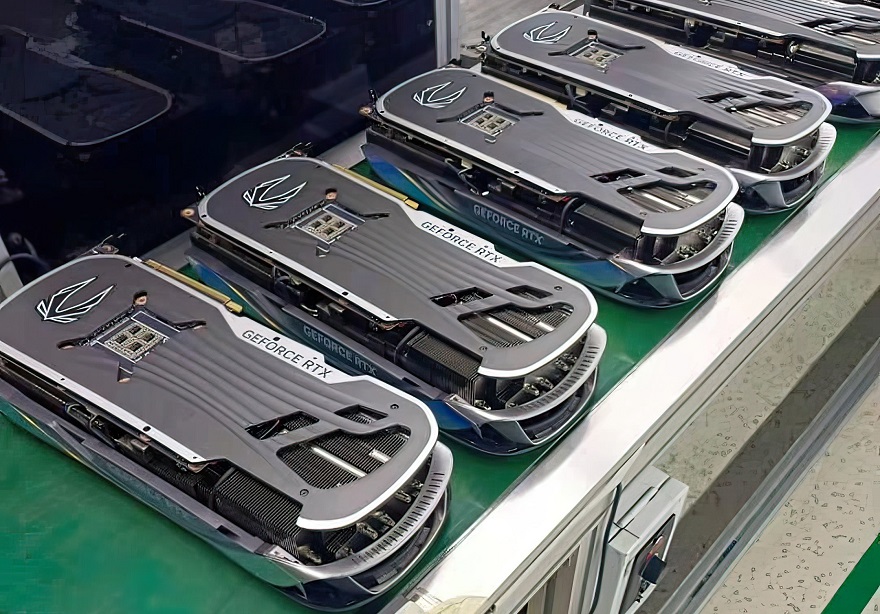 When Will We Know More?
As noted above, Nvidia is expected to formally confirm the launch of the 4090 on September 20th. While other GPUs may be mentioned during the GTC event, it's still understood that the 4090 will represent the first model to hit retailers with lower-tier designs seemingly set to arrive on a subsequent month-by-month basis. – In other words, presuming this is available to purchase around late October/early November, the 4080 will likely not drop until late November/early December.
If these images tell us nothing else though, Zotac appears to be ready for the launch of 4090. And with this in mind, expect a slew of announcements from them and other AIB partners in a little over a week's time!
What do you think? – Let us know in the comments!