Zowie AM – Ambidextrous Mouse Review
---
---
---
Peter Donnell / 9 years ago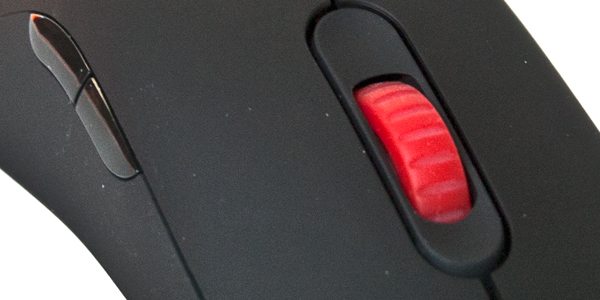 This week I've been sharing my computer time with the rather slick looking, ambidextrous Zowie AM mouse. There seem to be a fair few ambidextrous offerings on the market recently and being a ambidextrous person, the chance to use this mouse was something I've been really looking forward to. Not only because it supports both left and right hand use but also because over the last 12 months I've become quite a fan of Zowie products overall, their headsets, mice and gaming surfaces have yet to disappoint me and now it's time to take a look at how well the AM lives up to the high standards set by other Zowie products here at eTeknix.
"The ZOWIE AM was developed for gamers who value stability, functionality and performance. As a competitive gamer, you should always be able to trust your equipment to perform at its best – if it does not, how should you? This is why we only use proven technologies in our mice."
Zowie set the bar high in terms of quality, not just by their final products but as a whole, given the company's strict adherence to pro gaming and extensive testing, the least we should expect from Zowie is excellence. Lets hope this remains true throughout this review, I'd hate to be the one to break their combo of eTeknix awards.
Features
Ambidextrous mouse developed by legendary CS-player Abdisamad 'SpawN' Mohamed
Two thumb buttons on both sides to comfortably serve left or right handed users
Easy to switch between left and right hand functionality, no drivers needed
Optical encoder mouse wheel system for increased durability
450 / 1150 / 2300 DPI adjustment
Adjustable USB report rate 125 / 500 / 1000 Hz
ZOWIE custom-designed lens for a very low lift-off distance = 1.5 ~ 1.8mm
5 Buttons
Length of cable: 2m / 6.6 ft
Measurements
Length: 125 mm / 4.92 in
Width: 60 mm / 2.36 in
Height: 39mm / 1.53 in
Weight: 88g (without cable)
As you can see from the specifications above the AM is well equipped.  While it may not have many features compared to many of the gaming mice on the market it looks like Zowie have gone for a more focused feature set. Let's start by taking a closer look at the packaging and then we'll see what the AM really has to offer.
The packaging looks fairly stylish and is obviously tailored towards retail marketing, perfect for sticking on display in any retail outlet as the front of the box gives us a great run down of some of the major features as well as a great visual display of the mouse itself.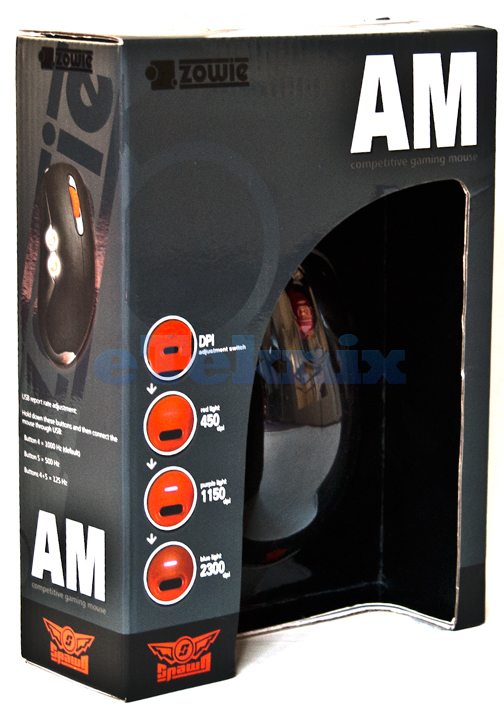 Around the back we have an extensive multi-language run down of the specifications (see page 1 of this review), we also have a labelled product shot and of course an image of the famous Counter-Strike player Abdisamad "SpawN" Mohamed giving his Zowie approval for the product.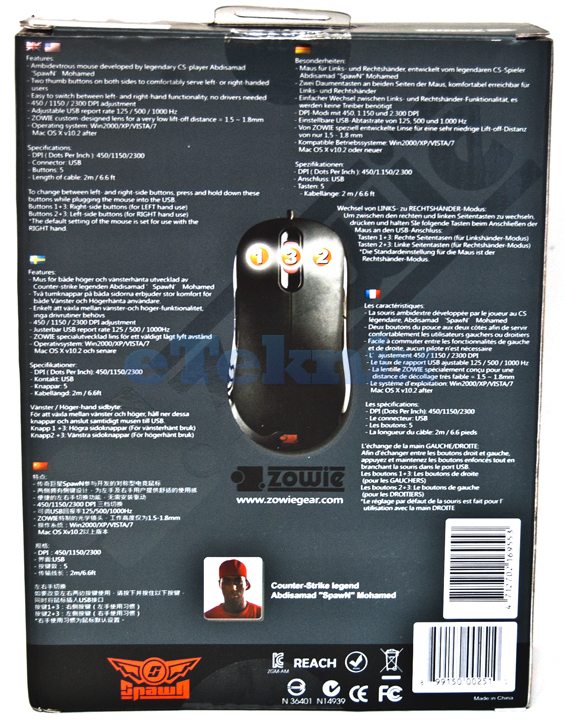 In the box I found the mouse its self, which comes hardwired with a good quality (but not braided) USB cable, a Zowie vinyl sticker and a pair of stick on mustaches, I'm kidding! They're replacement Teflon slip mats for the underside of the mouse.