Zowie FK Gaming Mouse Review
---
---
---
Peter Donnell / 8 years ago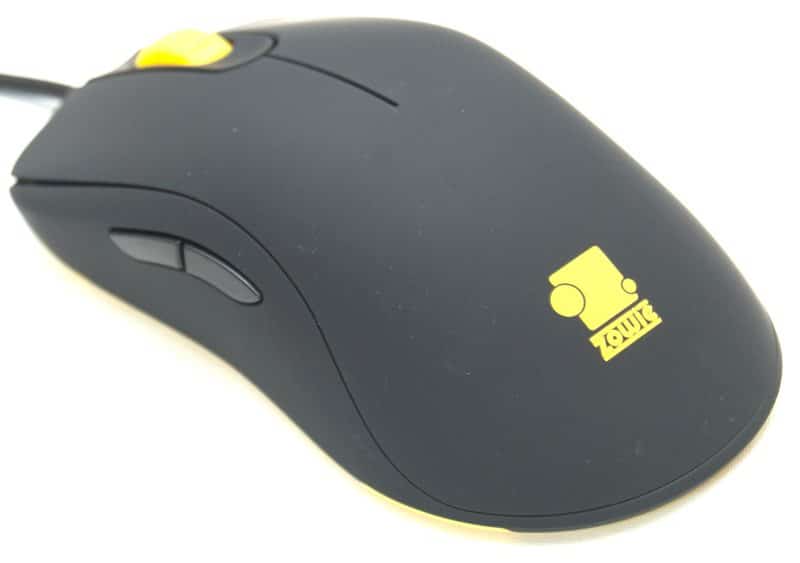 Today I'll be taking a look at the Zowie FK, the latest revision to the ever popular Zowie gaming mouse range and what is effectively a new and improved Zowie AM. If you missed out on our review of the Zowie AM you can check that out here.
The AM is one of the most popular Zowie products and I personally loved it, it's easily one of the best choices for an ambidextrous mouse on the market and it's designed by people who game as much as the rest of us. So what about the new FK, where does this fit into all this? Well the AM didn't have the best grip ever, meaning "lift-off" play style was difficult, so Zowie have designed the FK with a new shape, both mice are aimed at a claw-grip play style, but in Zowie's own words "that is where the similarities end."
"The FK has a \/ grip, where the AM has a /\ gripping style. The design of the FK has changed slightly compared to the AM, amongst other minor adjustments, the height is lower. The adjustments to the overall design have been made to make the FK lighter and faster." – Zowie
Features:
Ambidextrous mouse developed for claw grip usage
Two thumb buttons on both sides to comfortably serve left- and right-handed users
Easy to switch between left- and right-hand functionality, no driver needed
New improved coating method, feels like rubber, increased durability
450 / 1150 / 2300 DPI adjustment
Adjustable USB report rate 125 / 500 / 1000 Hz
ZOWIE custom-designed lens for a very low lift-off distance = 1.5 ~ 1.8mm
Operating system: Win2000/XP/VISTA/7/8, Mac OS X v10.2 after
Specifications:
DPI (Dots Per Inch): 450 / 1150 / 2300
Connector: USB
Buttons: 5
Length of cable: 2m / 6.6 ft
Priced at around £50 from online retailers the FK isn't the cheapest option on the market by a long shot, but for a high quality gaming mouse it's on par with similar products from brands like Steelseries and Razer, which lets face it offer some pretty great products of their own, so lets get straight to it and see what the FK has to offer in terms of features and performance.
The Zowie FK comes neatly packed in a similar package to other Zowie mice, a nice clear panel gives us a first look at the mouse and we see that it features adjustable DPI settings of 450, 1150 and 2300 DPI.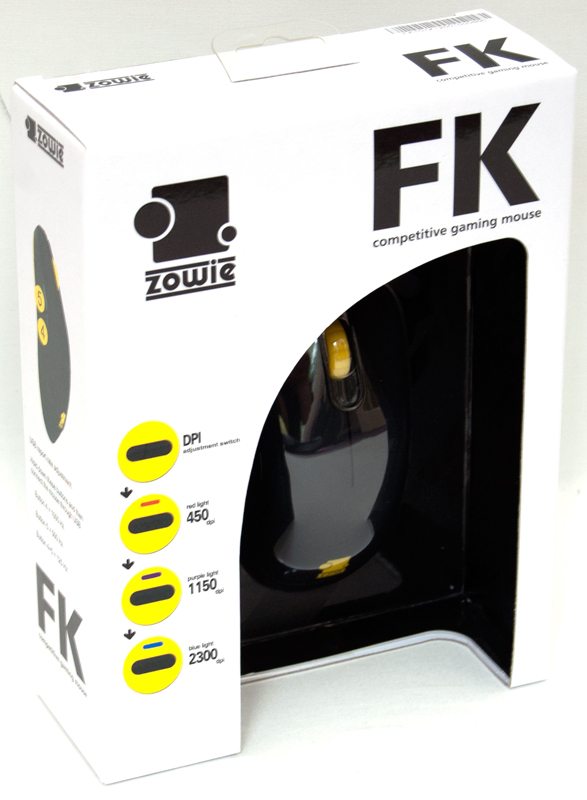 Around the back we have the main features and specifications (detailed above), these are broken down into a few major international languages around the box.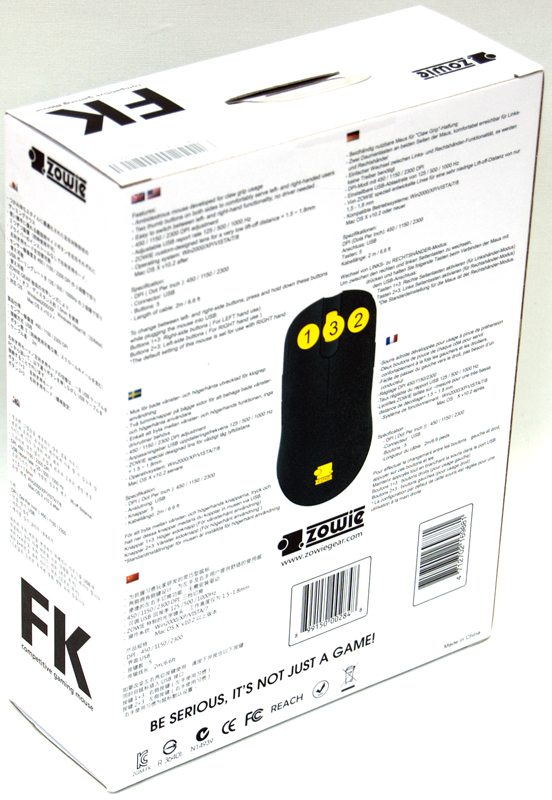 In the box you will find a hardwired FK mouse, Zowie sticker and some replacement Teflon slip mats.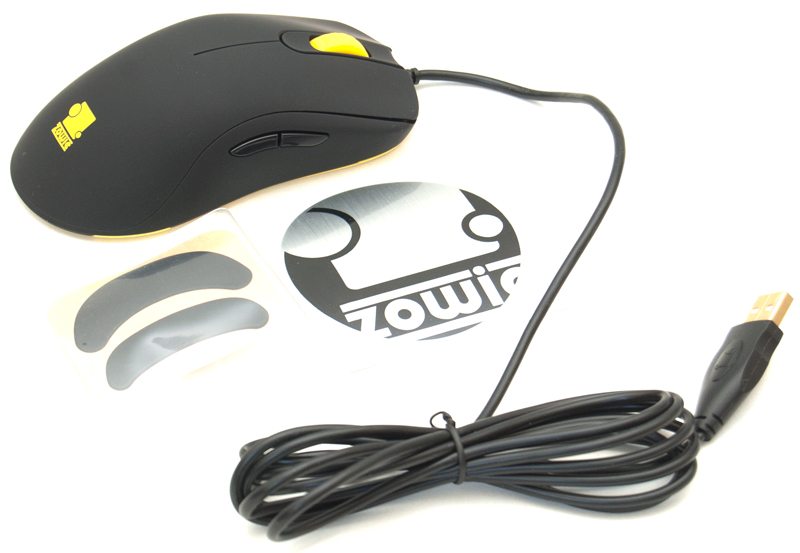 The first thing I noticed about this mouse was the new coating, it feels really smooth yet it still offers a nice amount of grip, although much of that comes from the improved ergonomics of the mouse. Down the right side of the mouse you will find a pair of high quality switches.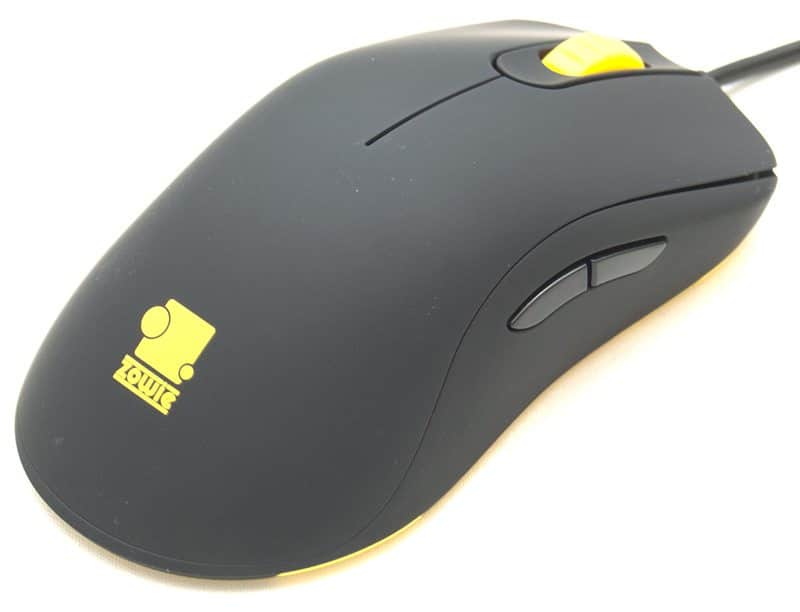 This being an ambidextrous mouse it wouldn't make much sense for the left side to be any different, it's a perfect mirror of the right side, with the exception of the Zowie logo of course which looks great stamped on in bright yellow.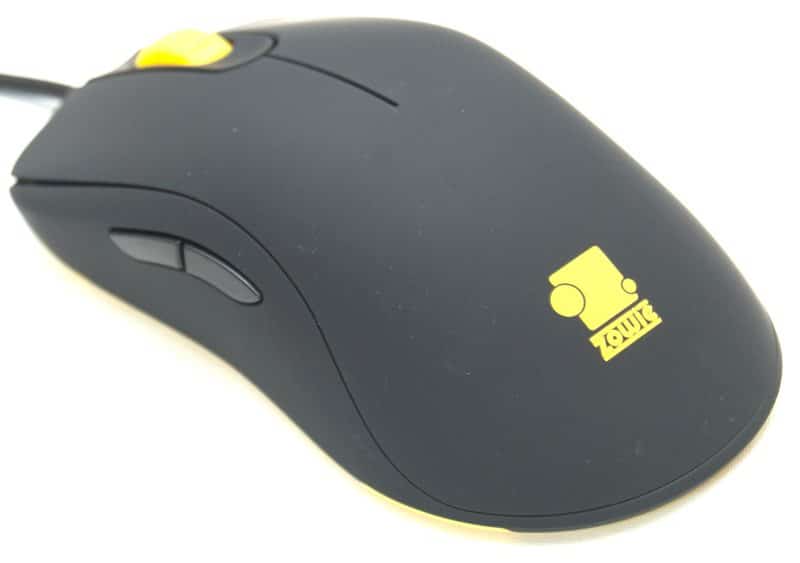 The front of the mouse is really straight forward, we've got a tactile scroll wheel and a pair of slightly curved buttons that provide a good resting position for you index and middle finger.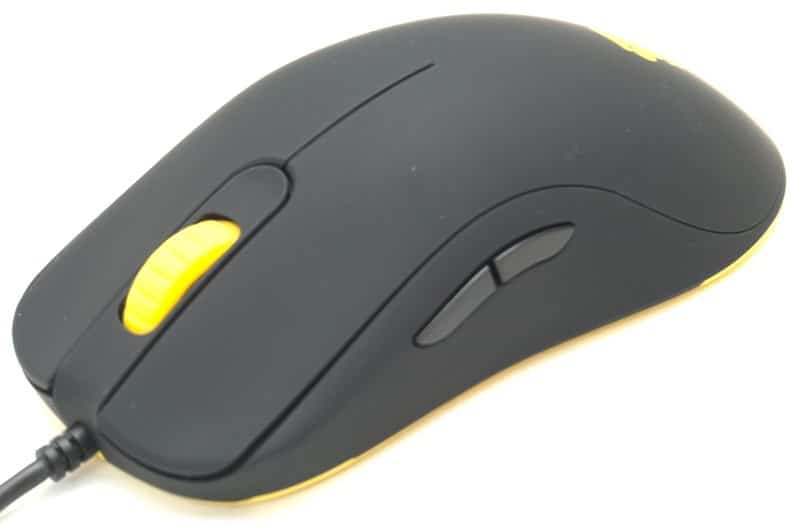 The underside of the mouse is also finished in that funky yellow, with the sensor in the middle and a DPI toggle switch tucked away underneath, as well as a handy multi colour LED that indicates which DPI setting you currently have selected.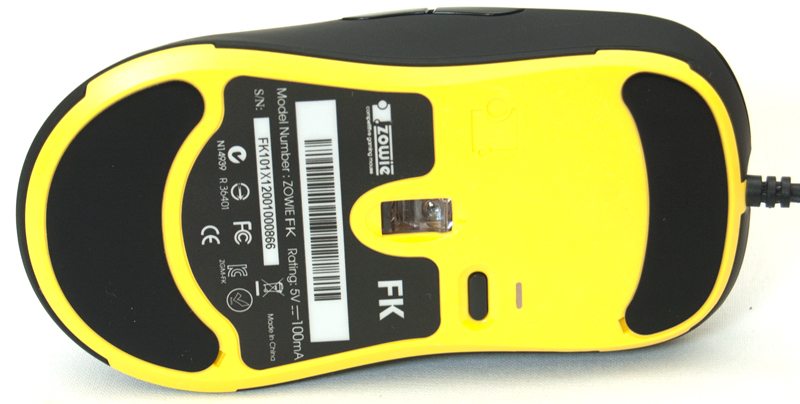 Zowie has made the mouse a little lower than before and this can be seen in the overall shape of the mouse, this should really benefit those with smaller hands, but will still aid players in a good "claw" hand position as well.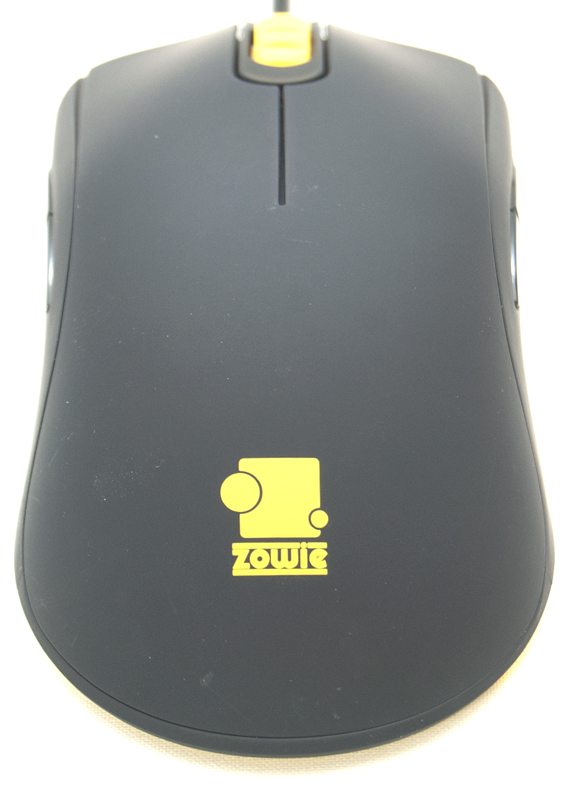 Overall the design looks clean and professional and it's as good or better than everything we've come to expect from the Zowie brand.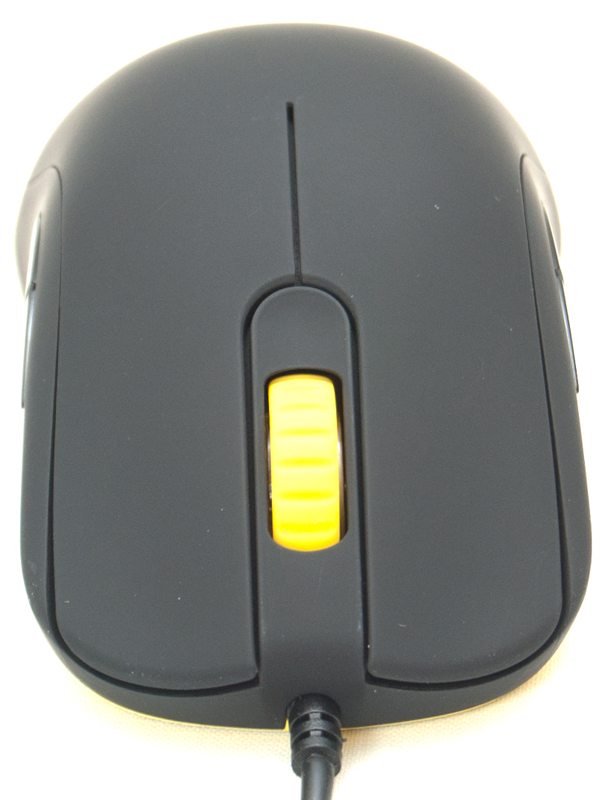 Performance
Setting up the FK was a breeze, the mouse requires no software to function or change any of its features and this means you can focus purely on using the product.
The liftoff distance is super low at 1mm and this combined with the new shape of the mouse chassis makes it well suited to those who prefer a "lift-off" style of play. There were no issues with prediction or jitter that I could notice at any of the DPI settings either and that is a very good thing, if you're looking for a sensor that gives precise and accurate response then you're going to love the FK's sensor. There is no sign of any acceleration from this mouse either, so turning speeds at high acceleration or DPI will always give consistent results, something that will no doubt prove popular with FPS players.
Gaming performance was exactly what I've come to expect from Zowie, the mouse provides a really smooth glide on any surface, the sensor never let me down once, the mouse buttons have a nice tactile click to them (if a little loud) and the ergonomics are really well-balanced. I happen to be an ambidextrous player too and I often find that symmetrical design mice can be uncomfortable, but that really isn't the case here and the Zowie feels at home no matter which hand you use, but of course that's just my opinion based on my play style and hand shape (palm rest and big flat hands).
The mouse is just at home in day-to-day tasks as it is with gaming too, it's pretty straightforward in terms of design and features no extraneous button configurations, macros or any other nonsense, it's very focused at just being a good quality mouse and that's something that shines through no matter what task you're using it for.
Final Thoughts
I really enjoy using this mouse and while to my mind it offers very little change over the Zowie AM it's still an incredible product, although I think it's more appropriate to quality it as a revision or slightly different flavour when compared to the Zowie AM, although that does seem to have been Zowie's intention from the start.
The FK is tailored to a different hand shape, a refined play style and it's really down to the end-user if they prefer the / \ shape of the AM or the \ / of the FK and I think it's great that Zowie have listened to user feedback, gone back to the drawing board and come out with a product that addresses consumer demand with yet another great product.
The build quality is spot on too and while it's nothing breath-taking it's certainly on par with the competition in terms of price vs quality vs performance. The FK is of course tackling one of the toughest sectors in the market and around this price range you're pretty much spoilt for choice in terms of design, features, performance and build quality and you would have to try pretty hard to buy a bad mouse that costs £50.
The Zowie FK has one of the best sensors in this price range and when mixed with a straight forward no-nonsense design, ambidextrous support, sleek looks and reliable build quality you really can't go far wrong, if that's what you want from your mouse then you'll be very happy with either the FK or even the Zowie AM dependent on your play style.
Thank you overclockers.co.uk for providing us with this sample.