Zyxel Launches Nebula Cloud-Based Network Infrastructure
---
---
---
Bohs Hansen / 6 years ago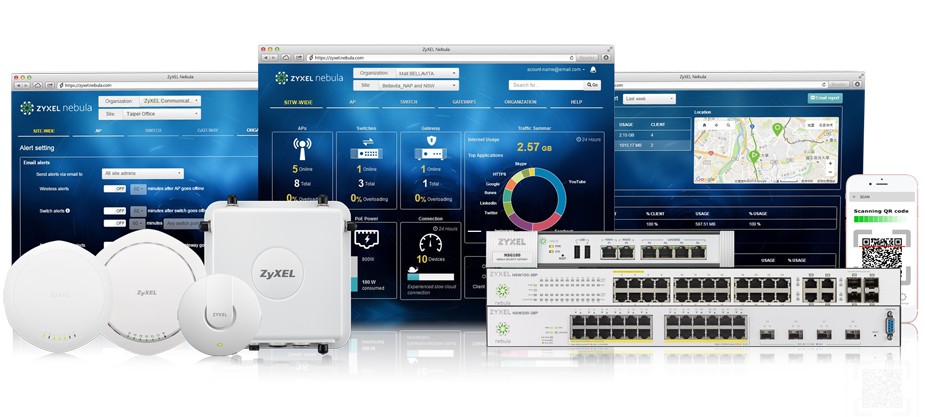 Zyxel launched a completely new series of devices, but rather than adding to the performance, Zyxel added centralized management to the new Nebula series. Nebula is a fully cloud-based network infrastructure solution that includes wireless access points, security gateways, and managed Gigabit Ethernet switches. This will allow for easy deployment of multiple networks in multiple cities or countries while still being able to monitor and manage them from a single "intuitive" dashboard.
Such a solution could be very useful for businesses and organizations with multiple locations across the country or around the globe, allowing IT administrators to securely monitor and manage the networks of all their locations in real-time from a single dashboard. And that's really the new thing here because any device with a web-interface can be controlled from anywhere if it's set up properly. Whether the dashboard is as intuitive as Zyxel says is something that will have to be tested and seen first, but Zyxel does have quite a long history in the market and with their recent rebranding towards customer care, I tend to believe them here.
Key benefits of the Nebula System
A Complete Network Solution – The Nebula product line includes a comprehensive family of Cloud-managed high-performance 802.11ac indoor and outdoor wireless access points, security gateways, and managed Gigabit Ethernet PoE switches, enabling users to deploy a complete Nebula network infrastructure that can be managed and monitored from anywhere through the intuitive management dashboard.
Easily Manage Multiple Independent Networks – Ideal for resellers and MSPs, Nebula allows on-demand management of multiple sites and makes it easy to replicate multi-site configurations. The system gives resellers and MSPs the ability to continuously monitor the network performance and proactively identify network issues even before their customers are aware, ensuring business continuity and significantly shortening the network troubleshooting and repair process.
Intuitive, Browser-based Network Management – The Nebula Control Center provides real-time visibility and metrics for all of the organization's Nebula-based networks. Users can monitor and manage real-time metrics including traffic summary, device statuses, location and network usage, enabling the rapid discovery and repair of issues impacting the network.
Easy Configuration – Using the iOS and Android Nebula Mobile App, Nebula devices can be easily installed and registered using QR codes, enabling them to be automatically discovered through the Cloud. This removes the need for on-site technical expertise when deploying hardware, significantly reducing the costly labor expenses of traditional network deployments.
The series launches with four wireless 11ac access points (NAP102, NAP203, NAP303, NAP353), two 24-port PoE Gigabit Ethernet switches (NSW100-28P, NSW200-28P), and one gateway (NSG100).